Undine review - respecting the nymph |

reviews, news & interviews
Undine review - respecting the nymph
Undine review - respecting the nymph
A captivating if unexpected mythic romance from director Christian Petzold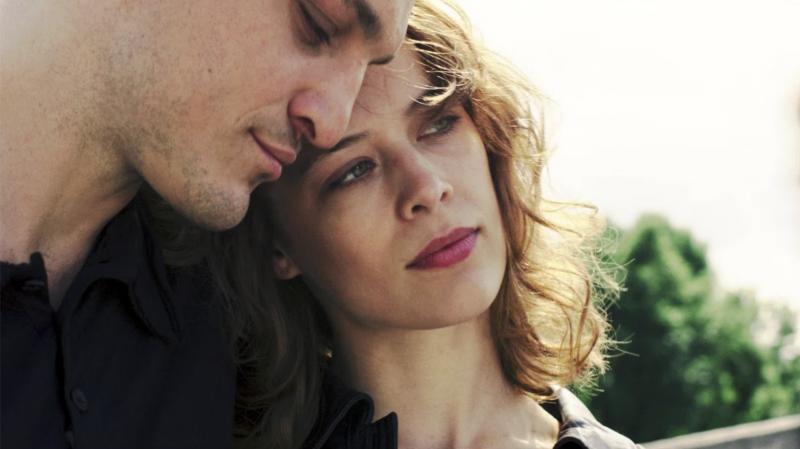 In too deep: Franz Rogowski and Paula Beer in 'Undine'
Illogical in its twists and turns, elusive as a fading dream but not stylistically dreamy – Christian Petzold's optimistic romantic tragedy Undine is a ciné-conundrum par excellence.
It seems, at first glance, a dismayingly insubstantial work for the maker of such discomfiting German cultural and political critiques as
Yella
(2007),
Barbara
(2012),
Phoenix
(2014),
and
Transit
(2018), but nothing could be further from the truth.
Undine (Paula Beer) is an apparently self-sufficient Berlin freelance historian in her mid-twenties who lectures on the city's post-war reconstruction for the Senate Department for Urban Development and Housing. Except for her name, she gives no sign she's a water nymph living high and dry, or different to any other coolly efficient professional – until, sitting outdoors at the City Museum's cafe, she tells the lover Johannes (Jacob Matschenz) who's hurriedly dumping her that he better reverse his decision or she'll kill him. Imagine the real (unseen) Madeleine Elster turning the tables on her murderous husband in Alfred Hitchcock's Vertigo (1958), one of Petzold's lodestars.
An hour or so later she's waiting in vain to meet Johannes at the cafe's indoor bar when she's approached by the gentle, broken-nosed Christoph (Franz Rogowski), who tells her he enjoyed the talk she just gave. He's diffidently asking her out when the bar's massive fish tank explodes, drenching and prostrating them. As they come to amid its flapping suffocating former inmates, they fall in love. A baptism prophesying sex and death, it's a sensational meet-cute.
An industrial diver, Christoph proves a sweet, affectionate lover, a keeper – everything Johannes isn't. A punctuating sequence depicts Undine travelling by train across Berlin – her zone of independence – to the Wuppertal lake where Christoph is diving to inspect submerged buildings that require safety maintenance. His mutually suspicious encounter with a giant catfish bodes ill for his and Undine's burgeoning relationship, but he confidently takes her into the depths to show her the masonry on which her name was long ago graffitied.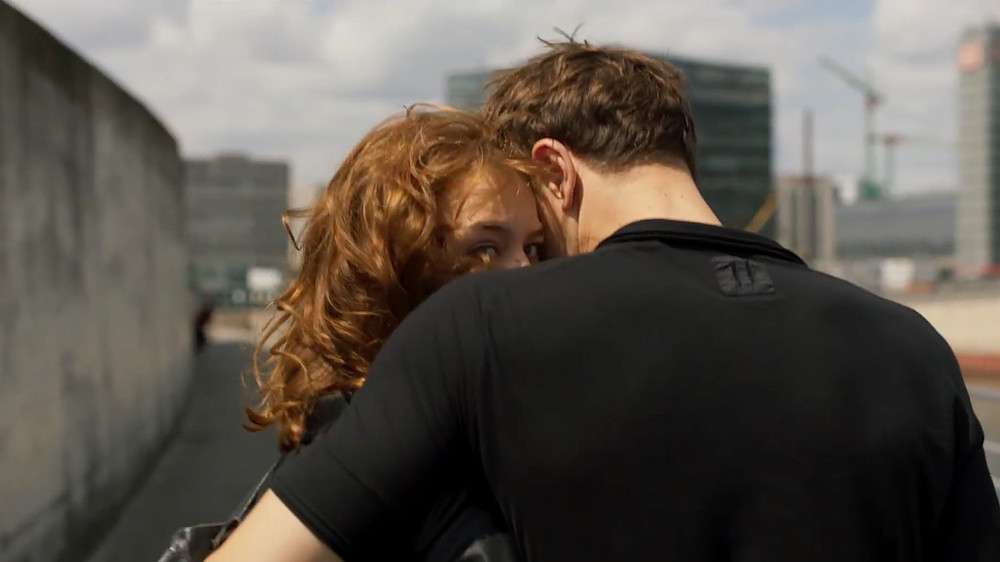 Christoph is such an enlightened mate that, in the film's most erotic scene, he asks Undine when they're thinking of making love again if she will recite for him her memorised next lecture, which fills him with admiration for her intellect. Their idyll is interrupted when they walk past Johannes and his new girlfriend on a walkway, prompting Undine to gaze after him – another Vertigo touch – as she snuggles into Christoph's shoulder. (Pictured above: Beer and Rogowski.)
Sensitive to Undine's rhythms, Christoph phones her later to say he noticed her heart missed a beat when they passed the couple, and to ask her if she had been waiting for the man at the museum cafe on the day they met. (Viewers once traumatised by the moment they realised their adored partner had unfinished business with a prior lover will identify with Christoph.) The shocks to Undine and Christoph's systems trigger a series of watery deaths: a murder, a possible suicide, a definite suicide, but also a spiritual rebirth and an imminent physical birth that cast Petzold's feminist Undine in a positive light.
Undines (nymphs, or naiads) derive from the 16th century Swiss alchemist, physician, and lay theologian Paracelsus. Drawing on medieval mythology in A Book on Nymphs, Sylphs, Pygmies, and Salamanders, and on the Other Spirits (Gnomes and Homunculi among them), he conceived of invisible humanoid spirit-creatures that correspond to the essential elements – water, air, earth, and fire – and which can only acquire immortal souls by marrying mortals.
In Undine (1811), a popular fairy tale novella written by the Prussian Romantic author Friedrich de la Motte Fouqué, the eponymous water spirit marries a knight to gain immortality but – sexually jealous of the other woman in his life – ends up giving him the kiss of death. Via interpretations of the myth by E.T.A. Hoffmann, Tchaikovsky (and other canonical composers), Hans Christian Andersen, Arthur Rackham, and Jean Giraudoux, its diluted onscreen children include Splash (1984), Disney's The Little Mermaid (1989), and Neil Jordan's Ondine (2009).
Petzold's take on Undine is consistent with his commitment to psychological and sexual-political empathy with women in films that parse modern German history, notably the six in which he has directed the actor Nina Hoss. No other contemporary straight male filmmaker has created so many compelling female protagonists who confront their compromised identities and reclaim "the gaze" during times of sociopolitical flux. In retooling Vertigo from the perspective of Phoenix's disfigured Auschwitz survivor (Hoss), who becomes her own double after the war, Petzold conflated Hitchcockian pathological misogyny with the dark night of the German soul. (Pictured below: Matschenz and Beer.)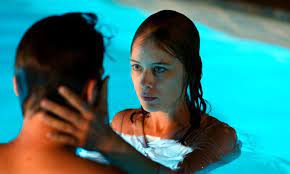 Working on Transit with Beer and Rogowski, Petzold enjoyed their chemistry and collaborating with them so much he told them toward the end of filming that he wanted to reteam them in an Undine project based on a story he'd written. It grew out of 20 years of discussions with Hoss, reading the Brother Grimms' tales to his now-grown children when they were young, and from his appreciation of the Germanic fairy tale quality of some of Fritz Lang and F.W. Murnau's silent films – a quality outmoded by the need to reckon with the devastating war. The prime influence on Petzold was the Austrian feminist author Ingeborg Bachman's story of existential alienation Undine geht (1978). Its water sprite can only become whole – unified – by separating from male-dominated culture to negate its definition of her as an objectified "other".
Petzold's Undine, blessed by Beer and Rogowski's delicate performances, can be perplexing because some events are nonsensical: a phone call Undine makes, and remembers making, is and was inachievable; a brain-dead man suddenly sits upright in his hospital bed fully compos mentis. Accidents that happen – the fish-tank's demise, the staining of a wall with red wine during a romantic tussle, the breaking of a talismanic deep-sea-diver figurine – indicate Petzold designed the entire film as an oneiric experience, a dream that reveals its secrets slowly, as if the dreamerr is being psychoanalysed.
It correlates with political manoevering. Undine's lecture on the symbolic post-reunification rebuilding of the Hohenzollern dynasty's baroque Berlin Palace comments drily on how history repeats itself, just as unreconstructed seekers of love repeatedly choose the "wrong" partner, (Demolished by the East Germans in 1950, the palace on Museum Island, completed in 2020, houses the Humboldt Forum museum of non-European art.)

Akin to the fateful waters of Yella, the water that washes around the characters represents Undine's unconscious, which she must navigate to define herself finally as a spirit unencumbered by any man, feckless or devoted. That Petzold's regular cinematographer Hans Fromm shot Undine with piercing clarity, avoiding a self-consciously "mythic" or ethereal mise-en-scène, deepened both its mysteriousness and the psychological truths that myths universalise, and which is their point. A deep dive into Petzold's most surpriisng film is recommended.
Accidents that occur indicate Petzold designed the entire film as an oneiric experience, a dream that reveals its secrets slowly
rating
Explore topics
Share this article