Transit review - existential nightmares for a German refugee |

reviews, news & interviews
Transit review - existential nightmares for a German refugee
Transit review - existential nightmares for a German refugee
Christian Petzold eschews the conventions of Holocaust drama to create an edgy, unnerving thriller
Franz Rogowski as Georg, haunted and hunted hero of 'Transit'
If you're looking for escapism from anxieties about Brexit, the worldwide refugee crisis and rising authoritarianism, Christian Petzold's Transit is not going to provide comfort.
Adapted from Anna Segher's 1944 novel about a Jewish writer fleeing incarceration in Germany and trying to get passage to Mexico, this is a wholly original take on the
Holocaust
genre.
Eschewing period costumes and art direction, Transit is an existential thriller filmed in present day France with Nazi uniforms replaced by police body armour. Georg (a mesmeric Franz Rogowski) sees a way to flee by taking on the identity of a writer who has killed himself (Segher was acquainted with the writer-philosopher Walter Benjamin who suffered a similar fate trying to escape the Nazis in 1940). Benjamin's last few weeks, spent in Marseilles, haunt the film especially in its disconcerting narration, drawn from the novel.
Never has the bright sunshine of the south of France looked more menacing. Georg ducks and dives between shabby hotels and cafés, encountering other would-be emigrés in consular offices. There are pursuits by police through the alleys, brutal round-ups on street corners, and a menacing, claustrophobic atmosphere builds throughout. There are glimmers of hope from ships in the harbour and trains on the tracks, but they're tantalising.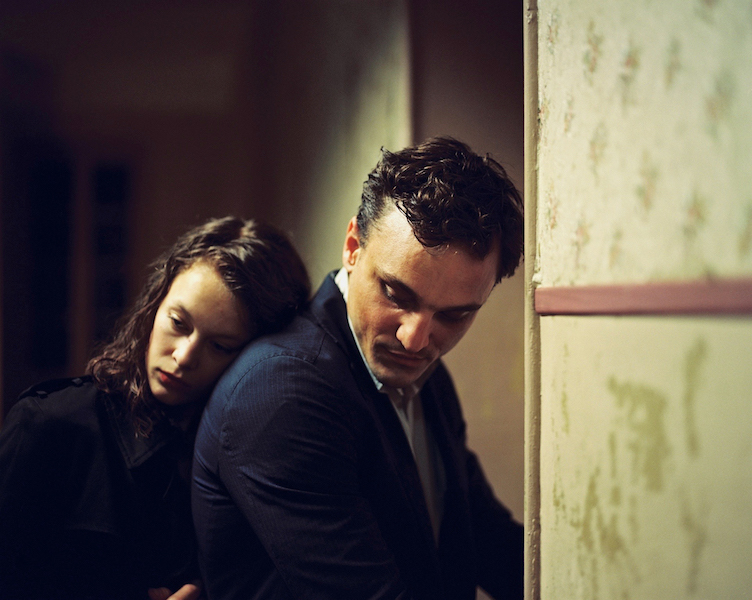 Identities are constantly shifting, people slip on roles and personae in a fraught effort to survive. Transit has a strong film noir tone despite being filmed in glistening daylight, especially when love enters the equation. Georg's trajectory is diverted by the plight of other refugees; a North African mother and her young son appeal to his paternal instincts but perhaps he also identifies as a lost boy himself.
There's a nod to that other great tale of frontier towns and impending doom, Casablanca, when Georg falls in love with Marie, the widow of the writer whose identity he has assumed. Paula Beer (pictured above) plays Marie as a classic noir heroine, vulnerable and desperate. Admirers of Petzold's earlier films like Barbara and Phoenix will be disappointed that his long-standing actor Nina Hoss doesn't feature here, but in Rogowski he has found an uncommon performer. He has a fascinating face that shifts from beautiful to grotesque depending on angle. Rogowski's slight speech impediment (caused by a cleft palate and lip) and wiry physique makes him fascinating to watch, bringing to mind Joaquin Phoenix but also the young Sean Penn. Transit is an extraordinary, uneasy fever dream of a film.