Reissue CDs Weekly: Sly & The Viscaynes - Yellow Moon The Complete Recordings 1961-1962 |

reviews, news & interviews
Reissue CDs Weekly: Sly & The Viscaynes - Yellow Moon The Complete Recordings 1961-1962
Reissue CDs Weekly: Sly & The Viscaynes - Yellow Moon The Complete Recordings 1961-1962
Historically important collection of Sly Stone's musical baby pictures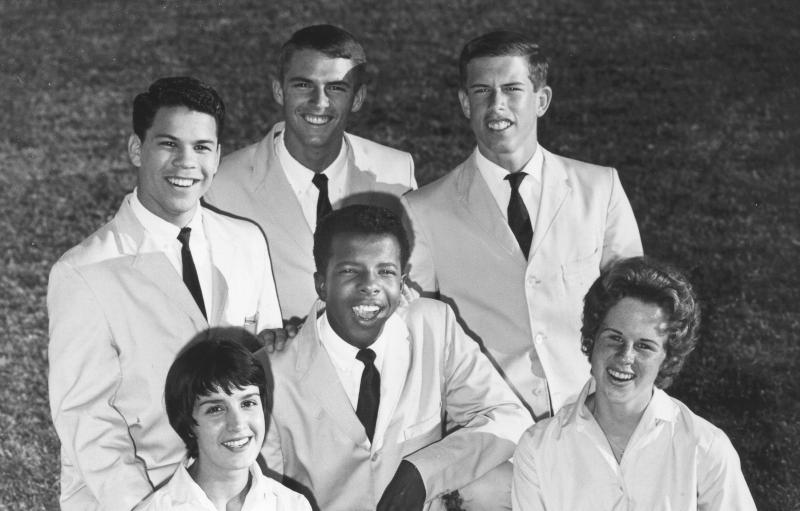 The man in the middle – the future Sly Stone looks happy with his place in the Viscaynes
The Viscaynes ought to have been a footnote. A minor footnote. From Vallejo in north California, they were one amongst many early Sixties vocal groups giving it a shot. Some were lucky and had hits. The Earls, The Impalas and Randy & The Rainbows did. Like The Marcels, who charted with "Blue Moon", they were all rooted in the doo wop sound. Despite their three singles – including the Marcels referencing "Yellow Moon" – The Viscaynes did not break through to national success.
Nonetheless, Yellow Moon – The Complete Recordings 1961–1962 is a meticulous 19-track compilation dedicated to what should really be a very obscure group, one known only to vocal group collectors. The interest stems from the identity of one of the sextet's members: Sylvester Stewart, later better known as Sly Stone.
Setting aside Stone's 1956 appearance on record as part of Stewart Four, these are his earliest recordings. The collection's most recent track is a 1962 single made as a result of being in The Viscaynes. This, the proto-soul, uptown New York-sounding "Help Me With My Broken Heart", was credited to Sylvester Stewart. His first songwriting credit, it was a contrast to The Viscaynes's white-bread pop.
That Stone was in on the white pop scene before Sly and the Family Stone formed is no secret. He worked as a producer for San Francisco's Autumn label from its inception in 1963. For them, he produced Bobby Freeman's hit single "C'mon And Swim". He worked with beat group / folk rock-era Autumn bands The Beau Brummels, The Mojo Men and more. He produced Grace Slick's pre-Jefferson Airplane band The Great Society. Autumn issued his pointedly titled "Buttermilk" single in 1965. Yellow Moon takes it back further.
Getting to grips with the pre-Autumn Sly Stone has been difficult as Viscaynes tracks were randomly strewn across compilations from as early as 1963. As it's summarised here, this period of Stone's work has previously been "treated with cynical disdain by a parade of disingenuous collections, most with low-fidelity sound, artificially extended versions, and material by unrelated artists. Even recent releases have continued to use the wrong versions of tracks first heard on these exploitative releases. This compilation rectifies that injustice by offering up their entire output from the correct master sources." In addition to the Viscaynes single's sides and the Sylvester Stewart single, Yellow Moon includes alternate versions, a single credited to Jasper Woods which was actually Richard Berry with the Viscaynes on backing vocals and tracks credited to "Danny (Sly) Stewart."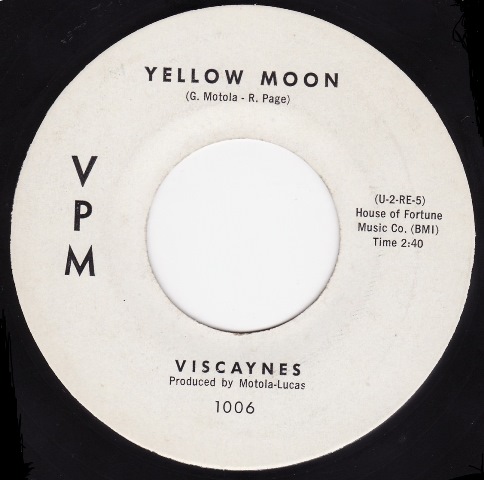 This is a story which has not been told properly until now. The Viscaynes were a high-school band from Vallejo, near San Francisco. They evolved from The Viscounts. Fellow high school pupil Sylvester Stewart joined them in 1960,when he was playing guitar in a band called The Monarchs. Expanded to a six-piece, The Viscounts rehearsed, played high-school shows and Vallejo's Ranger's Hall. After entering a March 1961 talent contest as The Original Viscounts, they progressed through heats and won the final's prize in San Francisco that May. The ensuing name change to The Viscaynes referenced Chevrolet's Biscayne model.
Following the win, the group issued three singles (a fourth wasn't quite kosher). The Viscaynes also backed other singers, and Stone was given a chance to work solo. By November 1961, realising they were being exploited, members left and the band began falling apart. Stone helped the group towards its demise when he made a solo live appearance on 24 November 1961, billed as Danny (Sly) Stewart. These are the story's bare bones – this cautionary but typical narrative of the music business exploiting, chewing up and spitting out is told in full in the booklet.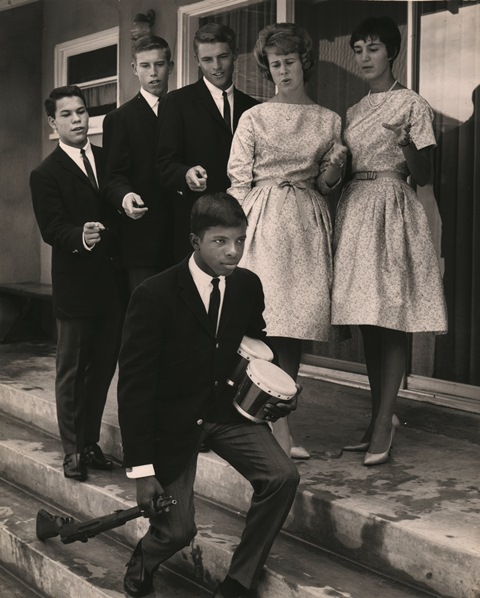 The first of the three Viscaynes singles was "Stop What You Are Doing", released in the middle of summer 1961 by the San Francisco-based Tropo label. With a female lead, it could have come out any time over the previous three years. Although it was badly recorded and made few waves, a second single – sloppily credited to The Biscaynes – soon followed. August 1961's "Uncle Sam Needs You" was on the VPM label. More upbeat and in the Coasters bag, it had a military band-style opening and jaunty lyrics about getting a call-up letter from Uncle Sam. "Goodness gracious what could Uncle Sam want with me." The single generated a super-bizarre promo shot in which Stone was seen with bongos and a gun (pictured right). Despite promotional appearances on regional TV shows it wasn't much of a seller. However, its flip side "Yellow Moon" was picking up attention.
After "Yellow Moon" was re-recorded, it became the top side of The Viscaynes third 45 proper in October 1961, their second for VPM. Tropo hadn't gone silent and "Stop What You Are Doing" was reissued with a new B-side in September – this was "Real, True Love", the first lead vocal by Stone to be issued. However, the new "Yellow Moon" was The Viscaynes closest brush with success. There was a TV appearance and rankings in charts in San Francisco and Oakland. The Viscaynes most convincing recording to date came out as they were splintering. Stone moved on.
Nothing on the historically important Yellow Moon – The Complete Recordings 1961–1962 is amazing, but everything heard is fascinating. The booklet's essay is a lesson in how to relate this type of story. Musically, there are no hints of Sly Stone's illustrious future. During this period, though, Stone was given a grounding in how the music business worked: a grounding he took forward to Autumn and beyond. Part of this was learning what audiences wanted. His membership of The Viscaynes was an essential stepping stone. And, significantly, The Viscaynes were multi-racial. Just as it would be with Sly and the Family Stone.
Next week: Be Bop Deluxe's final album Drastic Plastic gets the box set treatment

The Viscaynes 'Uncle Sam Needs You' single generated a super-bizarre promo shot in which Sly Stone was seen with bongos and a gun
Explore topics
Share this article