Best of 2020: Dance
Best of 2020: Dance
In a perilous year, bright ideas and perseverance sometimes prevailed
Thursday, 31 December 2020
Beach ready: Some of the 38 dancers from 14 African countries rehearsing Pina Bausch's Rite of Spring, on the coast of Senegal in March. The world tour was cancelled just days before the premiere
Hard as it is to recall how it felt to sit elbow to elbow in a red plush seat, plenty of us did that during the first 10 weeks of 2020, with no heed at all to who might be breathing over us. I have since wondered what proportion of the dance sector had any inkling of the wrecking ball that was about to hit. None, to judge by the many weeks it took for dance companies and theatres to reinvent themselves online, and to start dredging their archives for decently recorded material.
The flush of early streamings, generously put out for free, were reminders of what we were missing, but no substitute. For dance to work well on film the
choreography
must be conceived, or at least adapted, for the camera, and the best online dance of 2020 took this on board.
Choreographer Corey Baker – a name new to me in April – was quick to see lockdown as an opportunity, with so many good dancers around the world suddenly available to take part in his online pieces. The very nature of isolation fired his imagination, as did the outdoors. Spaghetti Junction was a trio for three lads throwing shapes under Birmingham's flyovers, the funky Lying Together was shot using drones atop Hong Kong skyscrapers. And then came his bathtub Swan Lake. These launched a new genre: the three-minute dance clip – entertaining, undemanding – that folk sent gleefully to one another's phones. The Zoom technology that became so wearily familiar to home workers took on new life as Baker used all those little squares of moving image to create Busby Berkeley effects with arms and legs.
At the other end of the scale, conceived for viewing on a much bigger screen, was Romeo and Juliet: Beyond Words (pictured above), a re-framing of Kenneth MacMillan's 1965 ballet directed and shot on location by BalletBoyz Michael Nunn and William Trevitt. Strictly, its release came at the tail end of 2019, but distribution in UK cinemas was largely scuppered by the first lockdown, and despite the backing of BBCTV's Culture in Quarantine, the film has yet to reach its full potential audience – which is to say those who've never knowingly watched a ballet, and have trouble getting over the lack of speaking. Here the dancers all but do speak, given the fine meshing of naturalism and stylised movement. At no point do the steps hold up a conversation, let alone the tragic momentum. William Bracewell and Francesca Hayward are unforgettable as the doomed teenagers.
Inevitably many big projects were shelved – notably a three-acter for ENB which was to superimpose the story of Florence Nightingale on the 19th-century ballet Raymonda. Another was a world tour of Pina Bausch's landmark version of The Rite of Spring performed by 38 pan-African dancers. With excruciating timing, it was due to premiere in Dakar mid-March. When lockdown struck, determined to salvage something from months of work, the company decamped to the beach near their base at Toubab Dialaw, Senegal, for a final run-through (pictured top and below). A filmmaker and small crew were on hand to capture it just as the sun was setting.
The result, streamed by Sadler's Wells, was explosive. It's impossible to know to what extent the adrenalin powering this one-off performance derived from the dancers' fears about what lay in store for them and the world at large. In her original response to Stravinsky's elemental score, Pina Bausch had posed the question: "How would you dance if you knew you were about to die?" and the work's revival at this particular juncture felt prescient. Despite its being work in progress, there was a beauty and ferocity in the execution that lifted it above anything seen all year.
The plight of live performers everywhere and of dancers in particular was and remains critical, and one unexpected effect of the closures and cancellations was to highlight their working lives as never before. It was humbling to witness dancers doing morning class via Zoom from their homes, using a kitchen worktop or chairback as a barre. Over time, the online class format mushroomed into a global showcase. I watched a Paris Opera Ballet class held on a bridge over the Seine, a Mariinsky class led from the stairwell of a St Petersberg apartment block, and several weeks of Tamara Rojo teaching from her smart Docklands pad. It's of course highly possible that among her many online hits were some that only wanted to check out her kitchen units, but such efforts threw a lifeline to stuck-at-home dancers.
A mystery remains, however, as to how professionals who would normally be training nine hours a day, five days a week, could replicate that rigour at home. Yet the proof was put before us. The Royal Ballet: Back on Stage, a gala mounted during in a brief "live" window in October, showed the entire company looking leaner and keener than ever.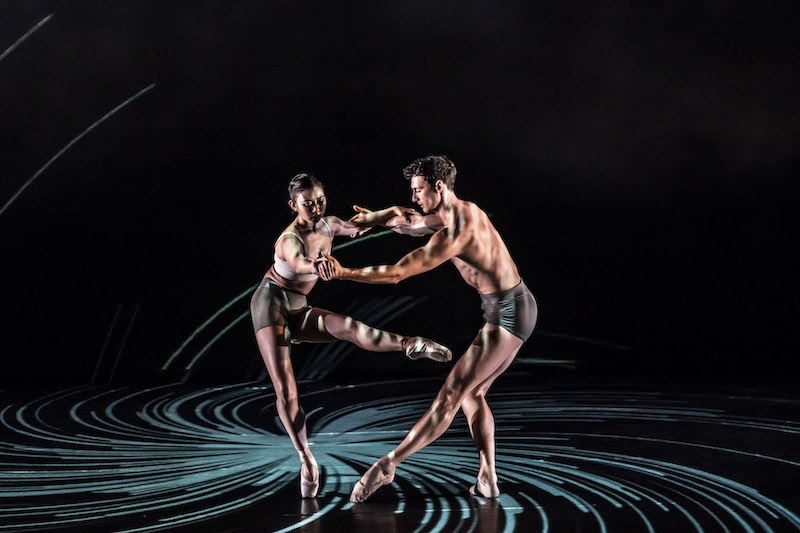 In another narrow, live-on-stage window, Birmingham Royal Ballet managed, just, to premiere Carlos Acosta's first big commission for the company he now leads. Lazuli Sky (pictured above), by Will Tuckett, took its inspiration from the clear blue skies seen during lockdown when the absence of planes and pollution made everyone look up. It began with its 12 dancers imprisoned on a grid, but soon the walls and floor were projecting clouds, wind-tossed treetops, flocks of birds, the dancers embodying the thrum of John Adams's massive orchestral fantasy Shaker Loops. It was the sensory feast we sorely needed.
English National Ballet also ended the year on an upbeat, with the launch of a neat online rental service Ballet on Demand. Alongside the expected classical offerings is an excellent new series of short contemporary films, for which ENB paired some strongly contrasted choreographers with young film makers. I particularly loved Laid in Earth (pictured below), loosely inspired by the story of Dido and Aeneas but set in a shadowy, lichen-encrusted underworld that oozes death, decay and catwalk chic with its gothic theads by Dries Van Noten.
What's encouraging is that here Tamara Rojo's company is reaching out to a different, non-theatre-going audience. It's not hard to imagine any of these dance shorts playing on a wall-size screen in a club or at a party – once such things resume – or even an outside wall of a building. Thinking beyond the pandemic can only be good. The tragedy is that this resumé is unable to report on signs of life from small independent dance companies. How they will weather the double curse of Covid and Brexit is anyone's guess.