Best of 2020: Opera |

reviews, news & interviews
Best of 2020: Opera
Best of 2020: Opera
With no touching from mid-March onwards, this art-form was hard hit - but ingenuity ruled
Jennifer France, Robert Murray, Carole Wilson and Nicky Spence at a Mad Tea Party
Surreal fantasy came off best this year, before and after the fall.
It seems like a decade ago when audiences of all ages were packed tight to crack up - or not get it - at Covent Garden for the UK stage premiere of
Gerald Barry's Alice's Adventures Under Ground
in a tirelessly resourceful production by director/designer Antony McDonald. Another brief flourish to a much smaller Royal Opera House audience in October reached many more spectators online with the realisation of the house's new Director of Opera Oliver Mears' idea for staging song cycles/cantatas in the dazzling
4/4 sequence.
In between there were production flops with star turns - the Royal Opera's Fidelio, worth it for Lise Davidsen's palpitating, luminous-toned Leonore - and last-minute adjustments from country-house operas, highlight of which was surely the full score of Fidelio minus the spoken dialogue in two intervalless hours at Garsington Opera's glorious Wormsley Estate Pavilion. There was a special atmosphere here when complete darkness reigned outside, and mostly within, at the point of descent to Florestan's cell, We drew new insights from the chamber scoring as delivered by Philharmonia players under Douglas Boyd.
That's Richard Bratby's top choice too, along with English National Opera's filleted, drive-in Puccini La bohème at Alexandra Palace, which we didn't review here because critics were not invited - and I would have paid if I'd been interested, but given the idea of filtered sound and a big screen, it didn't appeal. Christopher Lambton probably got a better Bohemian deal in one of the few events to happen at all in front of an audience up in Scotland, thanks to an open-sided pavilion on a Scottish Opera parking lot.
This similarly adapted Bohème had an equally strong cast led by the Mimi of Elizabeth Llewellyn (pictured above with Jessica Rhodes by James Glossop). It's been a good year for the soprano, also including an outstanding Luisa Miller in strongly-cast Verdi at ENO and a typically communicative Wigmore Hall recital.
A 90-minute concert version of Mozart's The Magic Flute justified a return to Glyndebourne in early November - several performances cancelled because of the subsequent lockdown were reinstated earlier this month, just in time - and gave us the chance to hear how remarkable young singers like soprano Gemma Summerfield, tenor Thomas Atkins and baritone Huw Montague-Rendall are progressing (answer: brilliantly); but the real surprise was Nazan Fikret's Queen of the Night, ready to be heard on opera stages all round the world.
Alexandra Coghlan enjoyed getting back to the essence of Mozart's Cosi fan tutte when English Touring Opera were still able to move about the country (there's a New Year online offering from ETO of single singer-piano performances). Cosi is one of the full-length operas most likely to be presented when the cautious reopening to live audiences starts up again in 2021 - who knows at the moment when? - while the ones with big orchestras and large casts by Richard Strauss and Wagner seem ever less likely. Vladimir Jurowski and the London Philharmonic Orchestra were lucky to reach the third opera in their concert stagings of Wagner's Ring with Siegfried in February - hitting the heights in many respects - but will now have to wait for the end of the world in Götterdämmerung, originally planned for early next year.
The Salzburg Festival, meanwhile, surprised everyone by coming up with a full-throttle Strauss Elektra in the summer; Peter Quantrill liked it more than I did, praising the transparency of Franz Welser-Möst's conducting. More coherent, to my mind, were the performances when Simon Rattle managed to assemble remarkably full London Symphony Orchestra forces at LSO St Luke's, spread out on the ground with brass to the side of us lucky few of us in the balconies, for Bartók's Bluebeard's Castle. The interplay between numb heart of darkness in Gerald Finley's Bluebeard and impassioned curiosity from the multi-hued mezzo of Karen Cargill's Judith (pictured above) was as good as you can get in this mesmerising masterpiece. Graham Rickson relished the online experience as I had the live event.
Smaller-scale one-acters came from the Edinburgh International Festival's treasury of short films "My Light Shines On" – Menotti's The Telephone in suitable locations around the city, reviewed by Miranda Heggie – and from Opera North, a carefully distanced semi-staging of Weill'sThe Seven Deadly Sins with phenomenal performances from the singing and dancing protagonists. Wallis Giunta and Shelley Eva Harden. Our dance critic Jenny Gilbert loved this; my reservations would rest with the unfathomably off-pitch singing of the male vocal quartet, but see it when you next get the chance for the women. Before the virus struck, Opera North also pulled off a big ensemble spectacular in Weill's great "American opera" Street Scene, much admired by Robert Beale.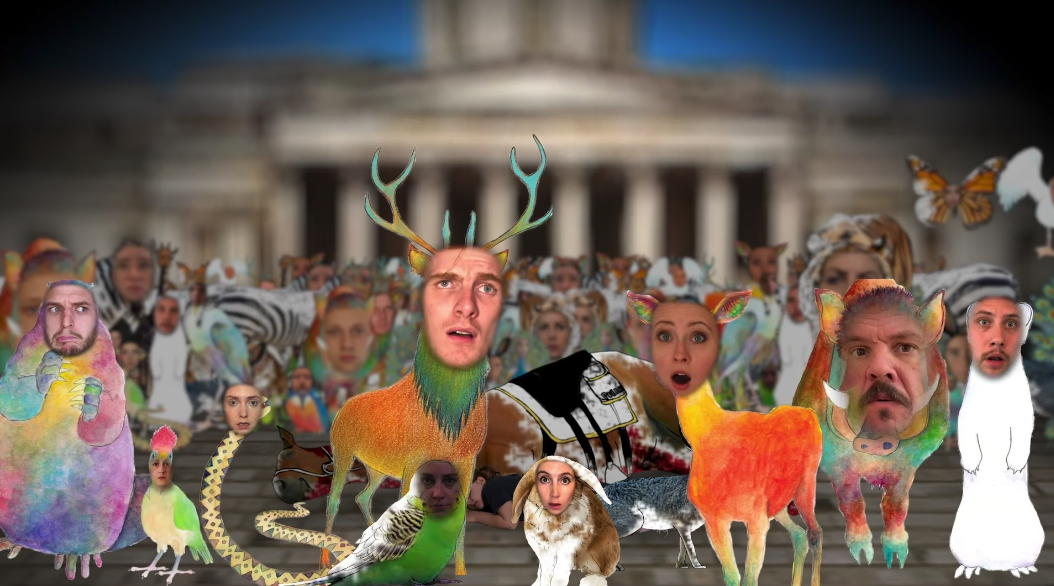 Online, one offering specially devised for the medium shone above all the others: a rethinking of the Ravel/Colette story about a naughty child pursued by the animals (pictured above) and objects he/she has treated so badly, L'enfant et les sortilèges. I didn't get the basis of all the new lockdown-related ideas in VOPERA's obviously well-funded venture with the London Philharmonic Orchestra, but I went with them, since the animation, the singing and the orchestral playing were all first rate.This makes the third in my top trio of surreal absolute bests.
Barry's zip through both of Lewis Carroll's Alice books had two casts and two conductors (Thomas Adès and Finnegan Downie Dear) ; I wrote here about one set, but if anything the other I went back to see was just that smidgin more brilliant, Jennifer France pipping out the 98 top Cs the title character has to deliver, tenor Nicky Spence - who has also had quite a bit of work during the Covid time so far, because, as one director put it, "he just HAS to perform" - bringing quirky humour to each of his roles (and presenting a brilliant trailer, one of the best I've seen).
Meanwhile, 4/4 resonates in dreams and memory. A unity-in-diversity of lighting and design brought imaginative connections, and the range of performances was phenomenal, from the lacerating anguish of Christine Rice as Britten's Phaedra to the focused madness of Allan Clayton as a Goth magician in Richard Jones's wacky take on H K Gruber's already weird and wonderful Frankenstein!! (pictured above by Tristram Kenton with Dawn Woolongong). No doubt about it, that gave me as many laughs (and tears of laughter) as anything this year from Randy Rainbow or The Guardian's Marina Hyde. None of these works was intended for the stage, but the result of the whole was total music theatre. Let's hope the components may return with different companions in the next couple of years.