Alice's Adventures Under Ground, Royal Opera review - a blast for children of all ages |

reviews, news & interviews
Alice's Adventures Under Ground, Royal Opera review - a blast for children of all ages
Alice's Adventures Under Ground, Royal Opera review - a blast for children of all ages
Gerald Barry's manic dash through two Lewis Carroll classics has a staging worthy of it
Wednesday, 05 February 2020
Alice (Claudia Boyle) with the Red Knight (Joshua Bloom) and the White Knight (Mark Stone) and other Liddell sisters (Bianca Hopkins and Eloise Hymas)
"About as much fun as you can have with your clothes on," promised a member of the two Royal Opera casts teamworking their way through multiple roles and costume changes for what in effect is Alice's Adventures Under Ground and Through the Looking Glass in under an hour.
He's not wrong; and I haven't ever cried laughing with my clothes off, as I did, fully dressed, both here and in Gerald Barry's even more counter-intuitive operatic whizz through
The Importance of Being Earnest
. A 2016 concert performance of what turns out to be the second instalment in an Anglo-
Irish
classic trilogy from the tirelessly nutty Barry (his
Salome
is due next year) was fun, but in the blissful concordance of a riotous score as incised by Thomas
Adès
with director/designer Antony McDonald's superbly choreographed production (movement by Lucy Burge), this hits a new high.
Much as Barbara Hannigan tried to dominate at the Barbican, this is a total ensemble piece, evenly distributed between its seven principals (less so in the pit band, where the brass have the lion and the unicorn's share of the fun). Claudia Boyle, the Alice of the cast I saw in the first of last night's performances - a completely different team was to take over for the second - totally redeems her ENO Violetta sabotaged by inept direction (incidentally, Barry has his own take on La traviata, but it entails coughing, not singing). In any case, Boyle's track record in music-theatre comedy as Cecily in Earnest and Mabel in G&S's The Pirates of Penzance at ENO is flawless.
This Alice goes coloratura crazy in wacky arpeggios, tumbling down the rabbit hole in a stylised journey on a Victorian toy theatre stage - the tricks here are mostly old-fashioned, so there's little of the video work engaged in the very long Royal Ballet extravaganza - with a Lewis Carroll (Lukas Hunt) who eventually becomes a dancing, tattooed Jabberwock. But she soon yields to a chorus of drink-me bottles and eat-me cakes (one of many highlights in an endlessly resourceful design parade, pictured below) and subsequently yelling babies as spectator of the Duchess's kitchen where contralto Hilary Summers' Cook terrorises by chucking the various props she's handed from the wings.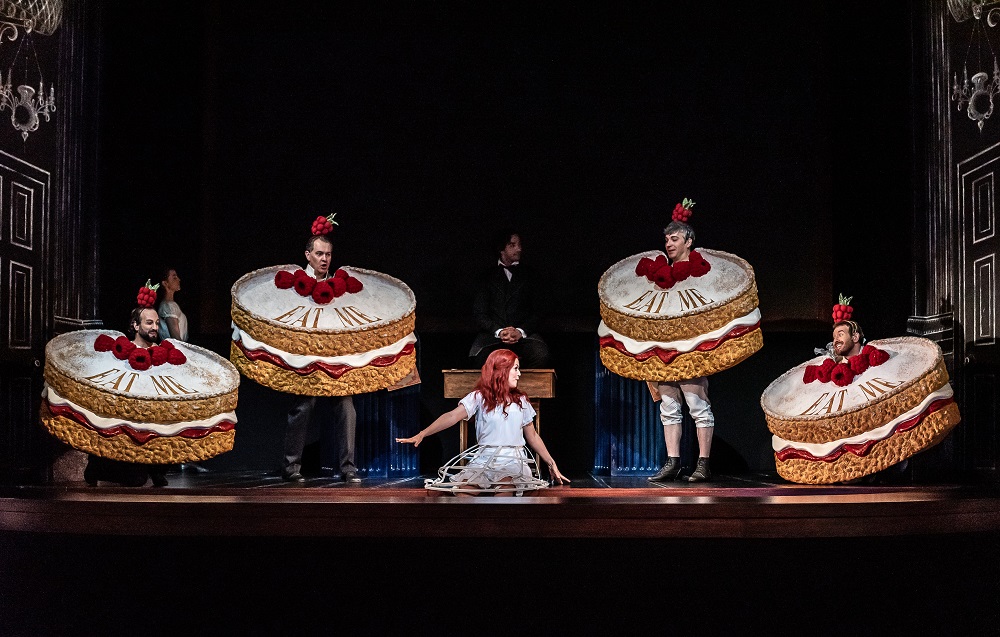 Everyone gets a place in Barry's peculiar sun - regrets at not being able to credit them all - though the group antics are funniest: mild hysteria struck this spectator with the four soup-ladlers backing up the Mock Turtle's song, and who wouldn't want to try and sing "Jabberwocky" in Russian, French and German? I'd been keenly anticipating Nicky Spence as some of the most outlandish characters, having loved his whistle-stop costume tour in a Royal Opera preview film (included here at the foot of the review), but Sam Furness of the 7pm cast couldn't have been better or more clarion. Barry gives his White Rabbit (pictured below) short shrift until the trial, but the Mad Hatter has instant impact with machine-gun-fire "noroomnoroomnoroom"s.
Joshua Bloom offers the full hauteur of Humpty-Dumpty; having had fun not giving us Beethoven's setting when several of the Earnestites rattle off Schiller's Ode to Joy, Barry now offers up a hardboiled setting of tune in Carroll/Humpty's poem "In winter, when the fields are white" (for some reason the couplet "My heart went hop, my heart went thump:/I filled the kettle at the pump" is cause for special mirth) . If only I'd remembered Barry's Carroll application when we felt compelled to sing the European Anthem over and over again, and ever louder, to the accompaniment of a Swedish friend's zither, to ward off the abuse of the English Defence League on a procession to say goodbye to the European Commission last Friday afternoon.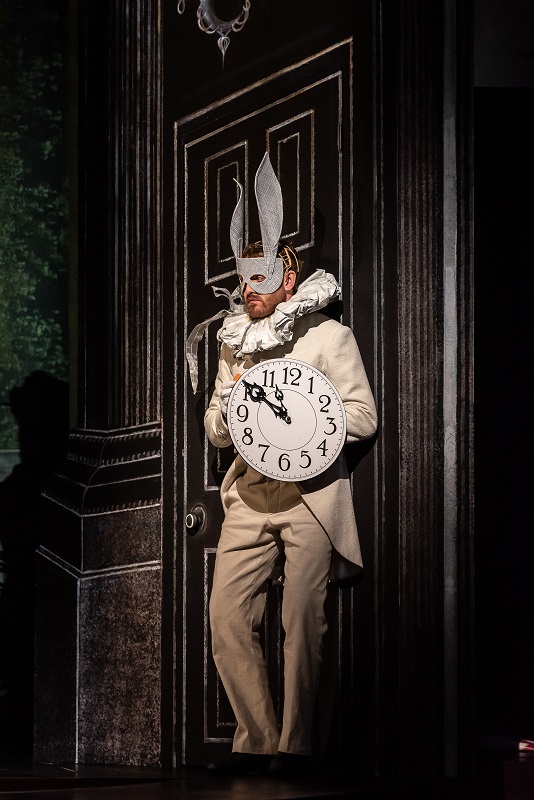 Co-ordination between singers and Adès, Barry's great pal, was well-night perfect, though you almost tire of the brilliantly-played brass struts and woodwind shrills, and the musical games at the Queen of Heart's croquet party didn't quite come off last night. As in Earnest, though, there's eventually a much-needed wedge of post-coital tristesse, this time to the slow-motion fight of the Red and White Knights, and after the last-minute blasts of wind-machines followed by lurid bells of Alice's coronation, and the ring-composition return of the opening arpeggios, it all retreats into childhood dreams.
The many kids at the 7pm performance, incidentally, seemed to be loving it, adding some amusing reactions into the odd pause (one vociferously approved the upside-down arithmetic on the video-blackboard being turned the right way up), while the adults relished the verbal wit in Barry's deliberately oddly-stressed settings. You couldn't possibly feel short-changed by the running time when it's all so densely - never too densely - packed with visual and auditory gags. There will always be room for Will Todd's summer charmer with Opera Holland Park al fresco, but this is something else. Go twice, go three times; it won't wear out.
Watch tenor Nicky Spence give a lightning tour of the costumes in a Royal Opera preview
As in 'The Importance of Being Earnest', there's eventually a much-needed wedge of post-coital tristesse
rating
Explore topics
Share this article