Alice's Adventures in Wonderland, Opera Holland Park |

reviews, news & interviews
Alice's Adventures in Wonderland, Opera Holland Park
Alice's Adventures in Wonderland, Opera Holland Park
Will Todd's moveabout opera for children of all ages beguiles in a secret garden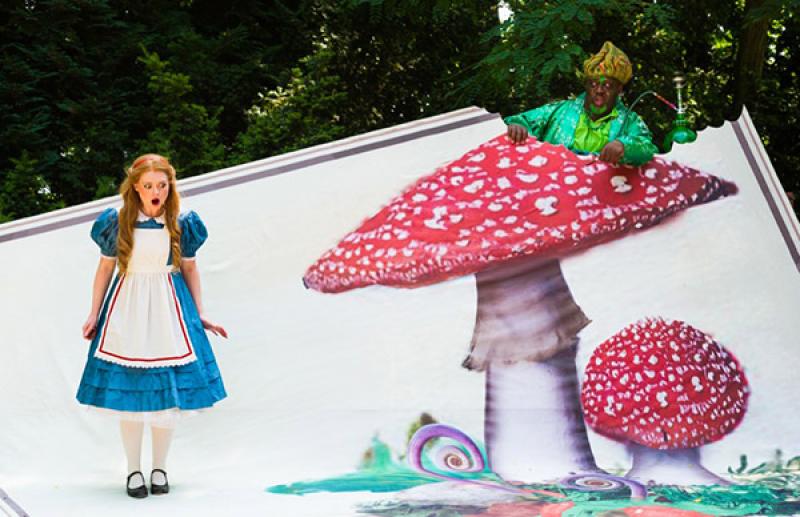 Fflur Wyn's Alice lectured by bluesy, greensy Caterpillar Keel Watson
"What does opera have to say to the under-30s?" asked Alexandra Coghlan on theartsdesk yesterday. The question "what does opera have to say to the under-10s?" has had to wait until today.
For although yesterday afternoon's performance of Will Todd's newish opera for children of all ages was the last in its second, sell-out run on the Yucca Lawn behind Holland Park House, it seemed essential to make my four-year-old goddaughter Mirabel available for comment, and that was the only date available in her diary. The answer? Another wildly enthusiastic "plenty", from her, mother, aunt and me.
Finland already has it right: the two children's operas I happened to catch there on two different recent visits made truly operatic demands of the singers and gave the orchestral musicians plenty of rewarding stuff to play. We're getting there. There was Jonathan Dove's The Adventures of Pinocchio for Opera North, and Todd's Alice's Adventures in Wonderland is a shining example, even if the "adventures" aren't quite what Lewis Carroll had in mind. Maggie Gottlieb's libretto uses the original text only as a point of departure for further fantasy in a canny mix of Gilbertiana with contemporary references.
Alice's dream here is rather more logical than Carroll's fluid, picaresque journey, entering a world where animals are persecuted by over-rational humans led by a Red Queen (or Queen of Hearts, it doesn't matter) whose murderous intentions are flagged up quite scarily long before "her" appearance. Yet it also offers more of a plot, expertly steered by experienced director Martin Duncan. Christopher Wheeldon's stylish Royal Ballet version was admirably faithful to the first of the two Alice books, but also plagued even in its revision by longueurs and sometimes the victim of its own visual lavishness. Leslie Travers' designs here are simpler but brilliant, the handful of tricks all offering an old Victorian-style magic which surely delights the kids just as much.
The real pleasure is in everyone, musicians included, making four moves around the garden, the children happily adapting to take their places right at the front where few move around or fidget (Mirabel did flee back to mum in alarm at the appearance of the Red Queen). We begin in black, white and grey contemporary "Grimthorpe" – no first "e" so as not to offend the home of one of Britain's best bands – with Alice, her parents and her greedy brat brothers, ripe for metamorphosis as Dum and Dee, taking shelter from the rain in a pet shop. The White Rabbit in the cage (James Cleverton) can sing, so why, Alice wonders, can't he let himself out? Lack of opposable thumbs, slow evolution, he declares. So she lets him loose and the adventures begin, involving time travel back to the Victorian era.
Musically the idiom is jazz meshed with Sondheimish pauses for lyrical thought and some creepy mood music for what's wrong in Wonderland. There's a coloratura-soprano "drink me" bottle (Maud Millar), a counter-tenor Cheshire Cat (Magid El-Bushra) whose grin appears on a stick when his blue personage disappears – and who scared the hell out of a toddler in the after-show mingling – and a laid-back, ganja-loving (one presumes) Caterpillar, the marvellous Keel Watson, whose "Wonderland Blues" are the highlight of the opera, for me at any rate.
After the first three picture postcards, we spend longer under the trees with the wind made audible through them and sun dappling the shadowier scene at the Mad Hatter's steeply-raked tea party. It's here that the Red Queen (Robert Burt, Alice's dad in drag, very amusing) first shows up (pictured above). There's a rather beguiling aria of all things beginning with "H" from Patricia Orr's Duchess, metamorphosed from didactic Humpy Dumpty – I assumed she was the White Queen, but it doesn't matter here – and seeking old love Hatter (Victoria Simmonds) and the only song adapted from the original for John Lofthouse's White Knight, distracting a few kids from Alice's pretty, big monologue as he appears on the lawn with a kettle on his head behind the audience.
The denouement is witty and swiftly done: animals put to work in the Queen's "kitchen from hell" rise up and find out that the executions were a mere house-of-cards threat; everyone sings a big, somewhat sub-Sondheim number before the "it was only a dream, or was it?" epilogue.
There's plenty to sustain the interest. Fflur Wyn, most delightful of light lyric sopranos, charms or channels the childrens' disquiet throughout, as Alice: no wonder she was Mirabel's favourite (we got to meet her afterwards, pictured above). Second and third in her books were the Cat, who sang some funny things, and the "Capertillar", who sang some more she couldn't quite understand but liked all the same.
The 11-piece "Alice band", conducted yesterday by Natalie Murray Beale, has various textures: dark and rumbly for the blues, brass-punchy for the Queen's music, adding a bit of dissonant spice to Alice's moments of confusion or despair, and while the players carry their chairs and the crowd moves on the continuity is provided by a Victorian choral quartet. I'd love to say go see it where you can, but – unlike the Bubble Theatre, whose Alice Through the Looking Glass provided equal site-specific magic some years back – this team isn't going on tour. Next year, perhaps: this one should run and run.
The real pleasure is in everyone, musicians included, making four moves around the garden
rating
Share this article