LFF 2020: Nomadland review - Francis McDormand gives a career-defining performance |

reviews, news & interviews
LFF 2020: Nomadland review - Francis McDormand gives a career-defining performance
LFF 2020: Nomadland review - Francis McDormand gives a career-defining performance
Plus Francis Lee's sombre love story 'Ammonite' closes the festival, and the spellbinding 'Wolfwalkers' from Cartoon Saloon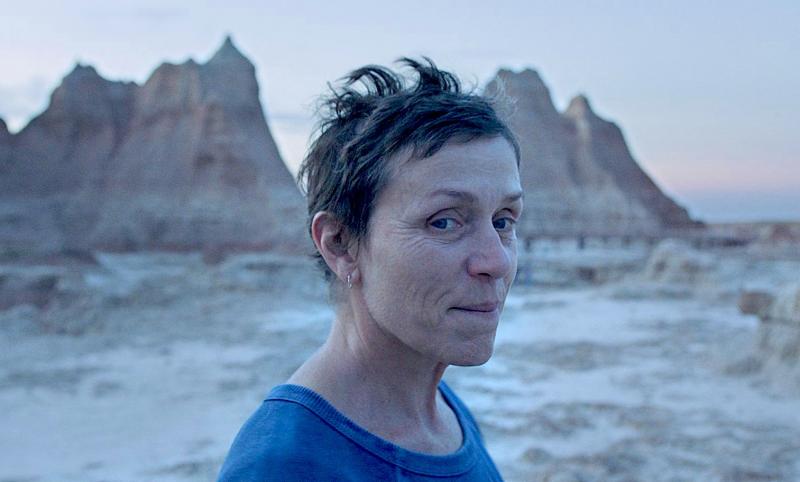 Francis McDormand as Fern in 'Nomadland'
Chloé Zhao's The Rider was a film of rare honesty and beauty. Who would have thought she'd be able to top the power of that majestic docudrama? But with Nomadland she has.
To call it a loose adaptation of Jessica Bruder's Nomadland: Surviving America in the 21st Century, isn't quite right. That book profiled many eccentric characters who have rejected capitalist America and hit the road to live a freer and perhaps more noble way of life. Free from the constraints of modern living they've adopted something that echoes the spirit of the first pioneers.
In the film, Zhao mixes fact with fiction, using Bruder's book as a starting point, focusing the narrative through a fictional character. Fern is placed at the centre of the story, played by Francis McDormand with her best performance to date in an already illustrious career. A widow and former high school teacher in her sixties, Fern has been forced out of her home in Empire, Nevada. It's a former gypsum mining town that has literally been written off the map, even having its ZIP code deleted after the mine shut down. Fern packs up shop and takes her life on the road in her "ratty" white van that has been kitted out with the bare necessities.
Like her last film, Zhao celebrates the spirit of the American West, whilst never shying away from the realities of life on the road. We quickly learn that living in a van is precarious. Fern hops from job to job, whether it's in an Amazon factory for the Xmas rush, the beet harvest, or working in a fast-food joint flipping burgers. She works to support her lifestyle and nothing else.
During her state-hopping journey, she meets like-minded self-imposed exiles, some of a similar age, some much younger. These are real people who are happy to offer up their philosophies and reasons for opting for this nomadic life. There are Vietnam vets, people with terminal illnesses, and modern-day cowboys. Some just can't stand the strictures of modern life – as Fern points out, there's something ridiculous about paying a mortgage each month on a house you can't afford, while working a job you don't want to do.
Zhao is open-minded in her approach – there's no judgement and little romanticism to this way of life. One character, Swankie, shares why she feels she has a rich life. There's an almost-Thoreauvian simplicity to her tale about watching a moose family in Idaho, or a flock of pelicans in Colorado. Her life, like so many of her fellow wayfarers, is one that is more in tune with nature, content with the simplicity of her daily routines.
On her journey, Fern encounters Dave (David Strathairn), the only other fictional character in the film. This hybrid blend of professional actors and real life characters works remarkably well, with Zhao crafting a naturalism to (what might be loosely called) performances which are in part improvised.
Zhao captures all this excellently, shifting from the sublime to the parochial within a single scene, and allowing us to go on the journey with Fern as she learns about life lived this way. One day we see the vast beauty of the Dakota desert, the next we see Fern scrubbing out toilets. This isn't a romantic way of life, it's simply another option.
Zhao has created such a powerfully intimate film, made with rare empathy and beauty, one that invites you to sit by the campfire and listen to the stories of these quiet heroes.
Ammonite ★★★

Francis Lee, who was behind the sensational tale of gay love on the Yorkshire moors, God's Own Country, follows up his debut with a lesbian drama set on the Jurassic coast in the 1840s.
This period drama never quite falls into biopic territory, even though it follows the story of amateur palaeontologist Mary Anning. Relatively little is known of Anning's life. Apart from the contributions of fossils she excavated from the shores of her home in Lyme Regis, we know that she was ostracised by the scientific community of the day for being a woman, and a dissenter. With these few facts, Lee has stepped in and reimagined Anning as a proto-feminist and lesbian (there is no historical evidence about her sexuality), who falls in love with a younger woman who manages to unlock her flint-like heart.
Playing Anning is Kate Winslet, giving an incredible performance, almost unrecognisably aged with her ruddy cheeks and thick west country accent. Anning is a dour woman, whose sexual repression and frustration are poured into her work and putting up with her fussing, ailing mother (Gemma Jones), who seems to instinctually detect Anning's sexuality. They live in a tumble-down cottage that also fronts as a shop selling "tourist tat" and fossils gathered from the shore.
One day a fellow amateur scientist, but rather patronising one, Roderick Murchison (James McArdle), enters Anning's shop to ask for training, along with his pallid-looking wife Charlotte (Saoirse Ronan) who's recently lost her child. Anning, as gruff with them as she is with everyone else, reluctantly accepts. Murchison soon takes the opportunity to leave Charlotte behind, leaving for the continent. In his absence, Mary and Charlotte are left to their own devices. Initially their relationship is borderline hostile. But when Charlotte falls ill after bathing in the icy English Channel, Mary's heart slowly starts to soften.
The love that the pair finally share isn't sudden or surprising, but born out of oppression. Both women have been oppressed by the patriarchy in their own way. Mary is ignored and ostracised by her male scientific counterparts, Charlotte by her oppressive, insensitive husband.
Metaphors about fossils abound, particularly Mary's gift for spotting rocks likely to contain rare specimens hidden deep with them, only revealing their treasure after being cracked open. Lingering shots of her painstaking excavation of ammonites (a symbol often associated with gradual change) hint at just how much work it will take to unlock her heart.
Lee's film is exceptionally crafted, and, like the windswept moors of Yorkshire, he instils a harsh beauty into the Dorset coastline, a refreshing departure from the typical rolling green hills and sunny beaches.
Winslet and Ronan make for a powerful duo and bring an authenticity to the film that isn't necessarily there in the screenplay. Fiona Shaw also makes an appearance as Elizabeth Philpot – there are hints she may have been a former lover – now she supplies Mary with ointments and salves to ease her mother's cough.
It's a very sombre, visceral film, and comparisons to Céline Sciamma's Portrait of a Lady on Fire, released earlier this year, are inevitable. Whilst the themes might be similar, their approaches could not be more different. Lee's film is more restrained and sombre, even a little grim, but is also ostensibly in a British tradition that explores the pain of repressed emotion. When moments of passion do finally burst on to the screen they blaze, but only because the previous drama was as restrained as a Victorian corset.
Lee also touches on another English tradition, namely an obsession with class. Mary's closeted homosexuality is in part due to her place in society and her loyalty to her mother, who lost all of her children but Mary. Charlotte has means, money and standing, all of which allow her freedoms that Mary could only dream of. One potent moment occurs when Mary is kissed by Charlotte in front of a staff member, to which Charlotte responds "It's only the maid", but we know exactly what the maid thinks of Mary.
Lee is a very fine filmmaker, and one of Britain's leading talents, if Ammonite feels like a slight disappointment it is only because God's Own Country is such a remarkable film.
Wolfwalkers ★★★★
When The Secret of Kells was released over 10 years ago it felt like a revelation in animation. Directors Tomm Moore and Ross Stewart, along with Cartoon Saloon, quickly proved they could stand shoulder to shoulder with Disney in the west and Studio Ghibli in the East. It was a magical film, full of lush visuals and captivating storytelling. Now the same team are back again with an equally remarkable story that blends folklore, environmentalism and history.
Set in 17th century Ireland, a hunter, Bill (Sean Bean) and his puckish daughter Robyn (Honor Kneafsey) have left England to hunt a pack of the last wolves that are plaguing Kilkenny (incidentally, where Cartoon Saloon is based). Bill is under the watchful eye of the Lord Protector (a tremendously menacing Simon McBurney), a pseudo-Cromwell figure that rules with an iron fist.
Eager to follow in her father's footsteps, Robyn heads into the woods to hunt with her trusty hawk Merlin. It's here she meets Mebh, an auburn-haired wild child with the gift of transforming into a wolf by night, who defends the woods from the encroaching city.
Visually, Moore and Stewart's film is their finest yet. Kilkenny under English rule is a wash of blues, greys and blacks drawn in a way that makes it look like a Soviet-era propaganda poster. Tellingly, the only flashes of colour are the blood reds of the St George's flag that adorn the castle. The wood meanwhile is a sea of vibrant greens, all curves and swirls, in which you can see the pencil strokes. It's a magical place, full of wonder, a fairy tale like something out of Tia na nog.
For all its charm and wonder, Moore and Stewart have made a smart film that never talks down to its intended audience. Colonial rule is shown for what it was, a harsh and oppressive regime. The Lord Protector bangs the drum about taming the land and the wolves, and the message is as clear as day. There is also a strong ecological theme of protecting the wood that's reminiscent of Ghibli's Princess Monoke. It's likely to be compared to another female-led animation, Brave, however in Wolfwalkers the female-driven narrative feels much more authentic, with the relationship between Mebh and Robyn being beautifully rendered.
Everything about this film feels like a classic, one that adults and children will return to again and again. It's a spellbinding tale that shows that Cartoon Saloon are one of the best working in animation today, rivalling anything the House of Mouse puts out.
There's an almost-Thoreauvian simplicity to her tale
rating
Explore topics
Share this article