Reissue CDs Weekly: Helen Shapiro - Face The Music The Complete Singles 1967-1984 |

reviews, news & interviews
Reissue CDs Weekly: Helen Shapiro - Face The Music The Complete Singles 1967-1984
Reissue CDs Weekly: Helen Shapiro - Face The Music The Complete Singles 1967-1984
A lack of hits doesn't weaken this homage to the UK's first home-grown female pop star
Sunday, 27 September 2020
Helen Shapiro faces the music in 1970
What happens when the hits dry up? And what happens a little further down the line, as the years of being on the charts recede into the past? For Helen Shapiro, the questions are answered by the intriguing Face The Music: The Complete Singles 1967–1984, a 25-track compilation collecting all her pop singles from the period covered by the title. Her work in jazz is not heard.
The latest tracks were originally issued by Charlie Gillett's Oval label and became her final singles.
Helen Shapiro is the UK's first home-grown female pop star. At age 14, she charted high in 1961 with "Don't Treat me Like a Child". Next, "You Don't Know" and "Walking Back to Happiness" showed she had staying power. In 1963 while they were sharing bills on tour, Lennon and McCartney offered her their new Beatles song "Misery". Unbeknownst to Shapiro, her EMI producer Norrie Paramor turned it down. Even so, she was rated by Lennon and McCartney. Her last hit was an early 1964 version of "Fever". In essence, and unlike her near contemporary Dusty Springfield, there was evidence implying she was not built for the post-Beatles world.
But she had a distinctive, strong, blues-edged, soulful voice. She recorded a great version of The Miracles' "Shop Around" with Dusty Springfield's arranger Ivor Raymonde in summer 1964 and wrote its fantastic, moody B-side, "He Knows How to Love me". So, she actually was built for the post-Beatles world. Nonetheless, time moved on.
There was, though, a backroom music business commitment to her. Face The Music opens with the ever-tremendous "Stop and You Will Become Aware", a 1967 B-side which became a Northern Soul perennial. It is one of the great British Sixties sides. She remained vital, even if her label EMI stuck out a prime performance as a flipside.
The first four tracks on Face The Music come from her last two singles for EMI, the label she was with from the start. In 1968, Pye picked her up. John Schroeder, who she initially worked with at EMI, was with the label. The Pye deal ended in 1970. She went to DJM in 1975, then Arista (1977 to 1978) and Oval (1983 to 1984). Jazz became a focus – she headlined a week at Ronnie Scott's in 1975 – and pop took a backseat.
After listening to Face The Music, it's obvious there's a lack of consistency. As a complete-45s collection rather than a best-of, there's no cherry-picking or varnishing. Self-evidently, "Stop and You Will Become Aware " is great but two tracks later the slightly New Orleans-tinged "Make me Belong to You", her next A-side (with very distracting banjo), is on a line between Alan Price and what Sandie Shaw was being made to record around 1967. It's OK. But its flip, the self-penned "The Way of the World" is brilliant, in a Bacharach/Dionne Warwick way.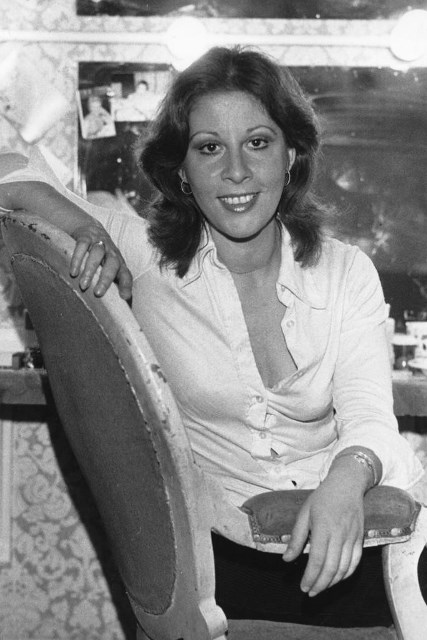 Moving on, her first Pye topside "You'll Get Me Loving You" is a Euro-schlock/schlager ballad but its follow-up "Today Has Been Cancelled" is agreeably swinging pop in the Sandie Shaw vein, albeit with that schlager tinge. The bold "Take me For a While" (1969) is superb, as is the Bobbie Gentry-ish "Take Down a Note Miss Smith" (1970). "Couldn't You See", "Waiting on the Shores of Nowhere", "A Glass of Wine" and "You're a Love Child" (all 1970) are strong too, and colour their soul approach with country (Shapiro had recorded in Nashville in 1963). It sounds as if she should have been encouraged to write and then be taken to record at either FAME or the Muscle Shoals Sound Studio – the latter would have been a journey akin to Lulu's in 1969. (pictured left, Helen Shapiro in 1979)
That didn't happen and Shapiro was without a label in 1971. The singles she made for DJM in 1975 have their moments and the ones for Arista in 1977 and 1978 are alright but not distinctive. Much more interesting is her 1984 version of Allan Toussaint's "Brickyard Blues", released by Oval – a single tracking back to the feeling she should have recorded in America's southern states.
Face The Music isn't all killer but the best of what's heard is terrific. The hit years were behind her, yet Helen Shapiro was still issuing classy singles which need to be heard.
Then there's that what if. What if she had recorded her own songs in America, in an appropriate studio setting with sympathetic producers and players? A question which will remain in the air. Even so, Face The Music: The Complete Singles 1967–1984 reveals that if artistic opportunities hadn't have been missed, the story may have been very different.
Next week: Peephole In My Brain - The British Progressive Pop Sounds Of 1971

If artistic opportunities hadn't have been missed, the story may have been very different
Share this article