Reissue CDs Weekly: Jeanette |

reviews, news & interviews
Reissue CDs Weekly: Jeanette
Reissue CDs Weekly: Jeanette
The Anglophone world is given a taste of 'Spain's Silky-Voiced Songstress'
Jeanette: certainly not Julio Iglesias
Jeanette's "Porque Te Vas" is a prime example of a type of Europop which – beyond a brief flirtation around 1968 to 1971: think Clodagh Rogers – Britain had little time for. It's not quite schlager, but still has the tell-tale martial rhythm. The singing voice conforms with the breathy stereotype still favoured in France.
Like the best bubblegum pop, the melody and brass-studded arrangement are instantly hooky.
"Porque Te Vas" is a fantastic single. Issued in Spain in 1974 by Jeanette it got wider exposure after being heard in the film Cría Cuervos, which was screened at the 1976 Cannes Film Festival. It then topped the charts in Germany and became a hit in France and Switzerland. Its afterlife includes a 1979 cover version by the massive Russian band Vesyolye Rebyata. Now, the original is the opening track of a 23-track British compilation dedicated to Jeanette.
The awkwardly titled Spain's Silky-Voiced Songstress 1967–1983 is the first Anglo-aimed compilation to tackle what is, relatively, an unfamiliar quantity. Jeanette may be well known in Spain and, to lesser degrees, France and Germany but awareness of her over here has previously been limited to nitty-gritty collector's market. According to the liner notes she's celebrated in Japan, where she was dubbed the "whispering Lolita". A double-CD tribute with covers of her songs by 23 bands and singers was issued in Peru in 2015.
In pan-Euro terms, how Jeanette fits in is straightforward: she's not too far from France's France Gall or Marie Laforêt. She would have been perfect fit for Serge Gainsbourg. There's also a bit of Claudine Longet and Twinkle about her. For Spain and without having in-depth knowledge, it's harder to give her a setting – she certainly wasn't Julio Iglesias or a belter like Massiel.
Fittingly, considering her multi-national appeal, Jeannette Dimech was born in London but spent most of the years up to age 12 in Chicago and California. She then moved with her mother to Spain. At 15 or 16, she joined a band called Pic-Nic who signed with the Hispavox label (pictured left, Pic-Nic's album). She co-wrote some of the songs they recorded. This is where the new compilation picks up the story. The six Pic-Nic tracks included (from 1967 and 1968) are top-drawer folk pop imbued with a languid lilt which is capped by Jeanette's faintly American-accented Spanish. Although the version of Peter, Paul & Mary's "Tiny Sparrow" is rather limp, Pic-Nic charm. "Te Esperare" edges into the same territory as Oregon's Neighb'rhood Childr'n.
After Pic-Nic fell apart, the 17-year old Jeanette married a Hungarian footballer based in Austria and moved to Vienna. She wasn't forgotten in Spain and in 1970 received a letter from Hispavox inviting to record for the label again. This was just as well, as the liner notes quote her saying "I didn't like living in Vienna at all. I didn't like the people. I didn't like the weather. I found it a very boring city. It's very beautiful but it was very boring after living in Spain."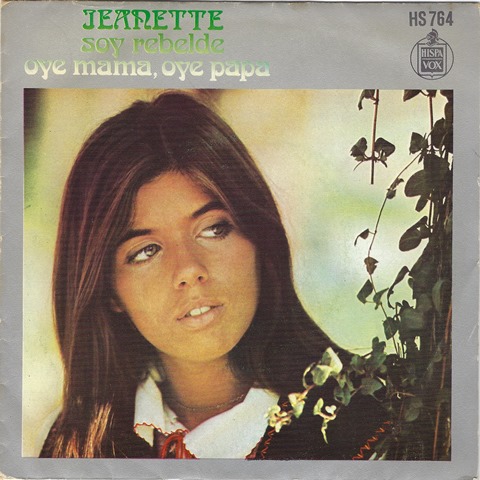 Back on track, she began making what would be a series of records up to the late 1980s. After a gap and a further album in 1996, she ceased recording. The Seventies and early Eighties records are the compilation's main sources.
While the case is made for Jeanette, some tracks are weaker than others. 1983's ABBA-indebted "Un Día Es Un Día" doesn't succeed in melding their double-tracked chorus style with an unfocused melody. Most of "Palabras, Promesas", from 1973, is so wispy it almost isn't there. The English-language calypso cuteness of "Underneath the Mango Tree" is very hard to take.
However, as it is with "Porque Te Vas" much of what's heard is amongst the best Europop. "El Amor Toca El Violín" (1977) conjures a mirror-like ocean studded with yachts, "Escucha" (1973) is the sunset captured in song, "Soy Rebelde" (1971 – her comeback record, pictured above right) is a "Windmills of Your Mind"-esque joy. In short then, Jeanette needs to be heard.
Next week: Marty Wilde's A Lifetime in Music box set

In Japan, Jeanette was known as the 'whispering Lolita'
Explore topics
Share this article