This House, National Theatre at Home review – timely revival of brilliant House of Commons drama |

reviews, news & interviews
This House, National Theatre at Home review – timely revival of brilliant House of Commons drama
This House, National Theatre at Home review – timely revival of brilliant House of Commons drama
James Graham acutely perceives the obsessions and motivations of our times
Numbers game: Phil Daniels and Vincent Franklin in 'This House'
There is a line of argument that – unfairly – blames playwright James Graham for Dominic Cummings. Would Cummings, some might ask, have achieved the influence he has now if it hadn't been for his depiction in Graham's brilliant TV drama Brexit: The Uncivil War in which he was played as an obsessive genius by Benedict Cumberbatch?
The question's unfair not least because Graham himself is horrified by the phenomenon of Cummings-driven politics and all it represents. A more interesting question is how a then 36-year-old had the insight to identify the impact and ascendancy of a figure who for most of us at that point was eclipsed by the politicians with whom he worked.
That question is answered in part by the National Theatre's timely resurrection of This House, Graham's blisteringly witty and insightful 2012 play about the Labour government's fight to cling to power between 1974 and 1979. With the success of the TV adaptation of Graham's play Quiz fresh in audience minds, it demonstrates anew how acute his perception is of the obsessions and motivations of our times.
As Cummings's extraordinary performance in the Downing Street Rose Garden sits fresh in our minds, This House takes its cue from another Rose Garden moment, when David Cameron and Nick Clegg announced their new Tory/Lib Dem coalition as a "historic and seismic shift". In his quest to understand the disappointments and disillusion that followed, Graham found a rich seam of material in the workings of the 1970s hung parliament led first by Harold Wilson and then James Callaghan.
In his relentless search for cause and effect, Graham is fascinated by origin stories. This represents one such story: in its depiction of the mechanism of government immediately before Thatcher came to power, it raises profound questions about the House of Commons as an institution. Jeremy Herrin's fast-paced production – filmed in 2013 for NTLive – flings us into the heart of the action as Tory prime minister Edward Heath calls a general election. Both the wit and the obscenities are free-flowing – "Shit a fuckin' brick now" exclaims one character, while another observes that Walter Harrison, Labour's Deputy Chief Whip, "is already spreading [the news] around like shit on a field".
A vast array of human comedies and tragedies plays itself out during the evening, but for political obsessives there is also pleasure to be gained from the meticulous detail with which Graham charts the workings of a hung parliament. It might have seemed natural to search for the heart of the drama in the political debates of the time; but Graham brilliantly decides to put the machinations of the Labour and Tory whips under the microscope.
With the Labour government having – as one character says – "as much chance of lasting till spring as an Austin Allegro climbing a hill" the whips must work at full tilt to defend their parties' interests. Every single vote counts, and it is up to the whips to do deals with minority parties, cajole invalids out of bed, and discipline wayward party members to make sure that they get the result they want.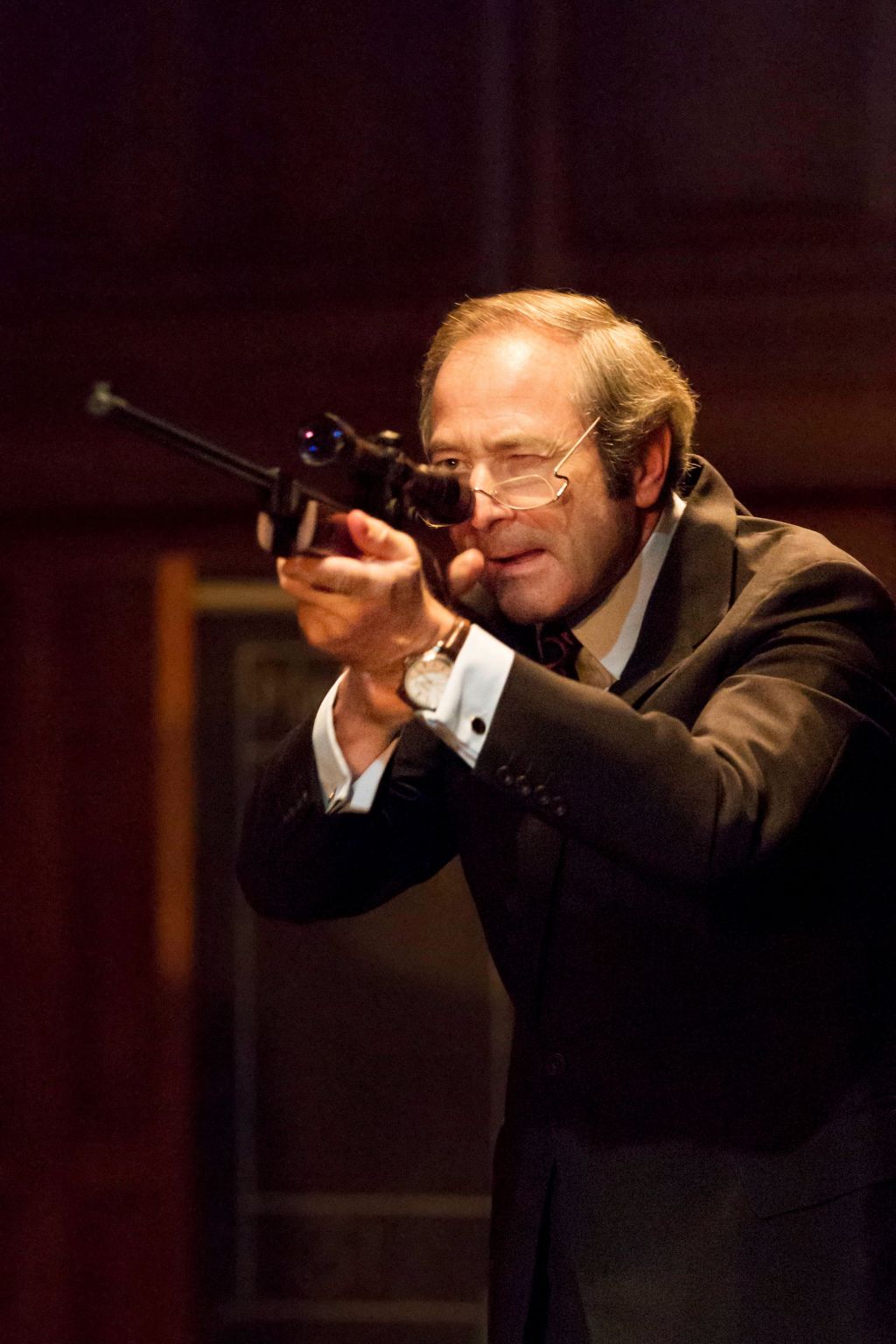 The white heat of the drama arises from the practice of "pairing" – the gentleman's agreement by which, when one member of parliament cannot attend to vote, a member of the opposing party removes themselves. It's a highly technical concept with profoundly human ramifications. We see a man rushed in from hospital after an appendix operation to vote, as well as a woman who is breastfeeding her week-old baby. Most poignantly we see one MP clearly on the brink of death fighting to save the party he loves.
Amid the continual whirl, different characters imprint themselves on our awareness. Phil Daniels, pictured above, gives a robustly no-nonsense performance as Bob Mellish – later Lord Mellish – who resigned as Government Chief Whip in 1976. Memorably, when one character exclaims "Jesus Christ!" he replies, "No, it's Bob actually, but the likeness is uncanny. Saveloy?" Reece Dinsdale's proudly working-class, acerbically funny Walter dominates a large chunk of the action as Labour's Deputy Chief Whip, providing a down-to-earth counterpoint to Julian Wadham's seasoned and witty Humphrey Atkins (pictured above left), the Chief Tory Whip. Lauren O'Neil is impressive as Ann Taylor, the female whip who is described at one point as having "bigger bollocks than any of us" while Vincent Franklin gives a performance full of comic pathos as Labour's Chief Whip, Michael Cocks.
At a point when Keir Starmer's impressive holding of the government to account at PMQs is bringing public focus back on the importance of parliament, This House provides a fascinating insight into what motivates those who work there. Franklin's Michael Cox forlornly observes "I imagined it would be like being a rock star". Yet we are left with a greater sense of the huge personal sacrifices that he and his fellow politicians must make as they are torn between the unforgiving traditions of the past and the demands of a voracious future.