Antony and Cleopatra, National Theatre at Home review – Fiennes and Okonedo triumph in dragging tragedy |

reviews, news & interviews
Antony and Cleopatra, National Theatre at Home review – Fiennes and Okonedo triumph in dragging tragedy
Antony and Cleopatra, National Theatre at Home review – Fiennes and Okonedo triumph in dragging tragedy
A triumvirate of talent and a slick set can't in themselves speed things along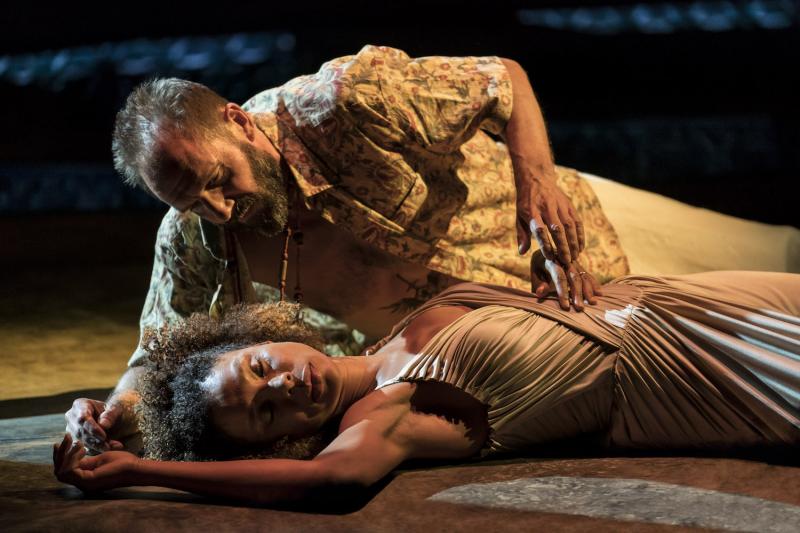 Wholly convincing as larger-than-life lovers: Sophie Okonedo and Ralph Fiennes in 'Antony & Cleopatra'
Like an asp eating its own tail, the National Theatre's 2018 production of Antony and Cleopatra, streaming on YouTube until 14 May, begins as it will end.
Director
Simon Godwin's first tableau is the play's finale: Cleopatra (Sophie Okonedo) lies in queenly repose, a snakebite on her neck; her servants, Charmian (Gloria Obianyo) and Iras (Georgia Landers), slump around her. How did this triple suicide come to pass, ask thwarted Caesar (Tunji Kasim) and Agrippa (Katy Stephens), before answering their own question: behold, and see.
It's a neat trick for Godwin, a National semi-regular since 2013 now based much of the year in Washington DC; his Shakespeare debut at this address, the gloriously madcap Twelfth Night with Tamsin Greig, was part of the first round of NT At Home offerings, two weeks (or several decades) ago. This time, though, despite strong performances from both Okonedo and Ralph Fiennes in the lead roles, the show doesn't fully get going until the last 20 minutes. Which, across three hours, is something of an achievement.
The fault is partly Shakespeare's: the plot of Antony and Cleopatra can be summarised in a few lines, and yet the Bard takes five acts to get through it. What continues to fascinate about the play isn't its action, but its eponymous heroes: lovers, rulers, the original celebrities. It's about image, how things look and seem, how the knowledge of being observed shapes what we do.
Thus the queen of Egypt must always look the part, and Okonedo does right up until that snake's loving bite, enrobed in Evie Gurney's gorgeous gowns. The sartorial homage to Beyoncé's "Lemonade" early in the first act is the cherry on top of a masterclass from this comparative Shakespearean newbie. Fisayo Akinade (pictured above, last seen in Armando Iannucci's David Copperfield), as Antony's sharp, tenderhearted aide Eros, is the third triumvir of great performances here. Fiennes and Okonedo (the latter pictured below) are magnificent, wholly convincing as these larger-than-life lovers. Cleopatra often overshadows her Antony – Shakespeare had a favourite child – but Fiennes more than holds his own, balancing bravado with aching vulnerability.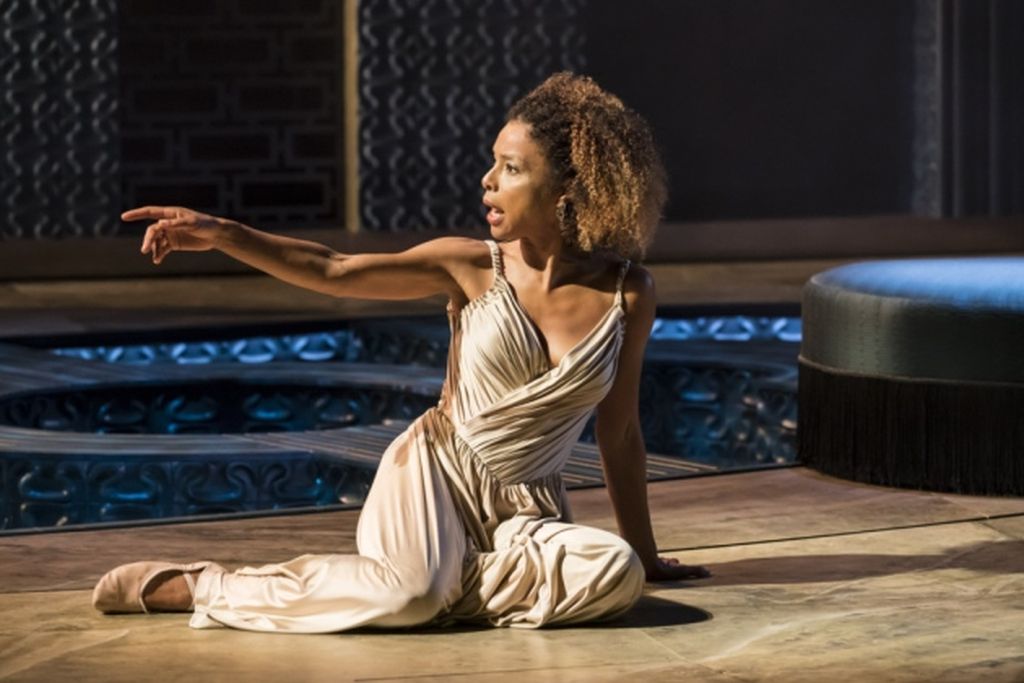 There are moments of similar excellence among the rest of the 23-strong cast: Kasim's Caesar is particularly well-considered, showing a childlike disappointment in his one-time hero as he laments Antony's extended stay with Cleopatra. Obianyo and Landers are delightful, sparking off each other brilliantly in Act 1, smouldering into cast-iron grace after the interval. Ideally they would get their own spin-off, but Obianyo's stare-down with Kasim in Act 2 is a fair trade. Almost everybody else sounds like they're shouting all the time, which could more easily be blamed on the Olivier's proportions if Godwin hadn't directed there before. Every word is heavy with theatrical history, so much so that certain lines are lost.
Thank heavens, then, for set designer Hildegard Bechtler, who contrasts Egypt's fluid, shifting landscape with the solid, brittle marble of Rome, and spins one out of another as the play goes on, so we're never quite sure where we stand. The play's tragic majesty still shines from your laptop screen, helped along by Michael Bruce's twisting, sinuous score. Godwin's use of music can't be faulted: an unexpected yet effective dance sequence emphasises the keen knife-edge of violence over which these military men eventually tumble. The battle scenes are brought to frighteningly intense life thanks in no small measure to lighting and sound from Tim Lutkin and Christopher Shutt. But this late second wind is frustrating: another glimpse of a better production, perhaps, hiding underneath this one.
We're never quite sure where we stand, but the play's tragic majesty still shines from your laptop screen
rating
Share this article