Reissue CDs Weekly: Game Theory - Across The Barrier Of Sound |

reviews, news & interviews
Reissue CDs Weekly: Game Theory - Across The Barrier Of Sound
Reissue CDs Weekly: Game Theory - Across The Barrier Of Sound
The Three O'Clock's Michael Quercio joins the final iteration of Scott Miller's art-popsters
The previously unheard 1990 and 1991 Game Theory. From left: Michael Quercio, Scott Miller, Gil Ray, Jozef Becker
Since this column last caught up with the totemic California art-popsters Game Theory, band mainstay Gil Ray passed away. He died in January 2017. He had joined Game Theory as their drummer and backing vocalist in 1985. The new collection Across The Barrier Of Sound: Postscript tracks the Game Theory of 1990 and 1991: a period when Ray was playing guitar and keyboards in the band.
These became Game Theory's final, under-the-radar years and, until now, have not been the subject of an official release.
Gil Ray's passing means that just half this latter-day, four-piece Game Theory is still with us. Bandleader and founder Scott Miller took his own life in 2013. The other members were recently arrived drummer Jozef Becker and bassist Michael Quercio. Becker is best known from his then-recent spell with Thin White Rope. Earlier still, he played with Miller in Alternate Learning.
Quercio, the fourth member of the Across The Barrier Of Sound line-up, joined in 1989 when his band The Three O'Clock fell apart after their patchy 1988 album Vermillion, which was issued by Prince's Paisley Park label (Prince wrote a track for the album). Miller and Quercio had co-written "The Girl With The Guitar", which was on the 1985 Three O'Clock album Arrive Without Travelling. Game Theory also recorded the song. In essence, the reconfigured Game Theory of 1990 and 1991 was a form of family affair.
It came together as Miller took stock after the assured 1988 album Two Steps From The Middle Ages and around the time of the early 1990 Game Theory compilation Tinker To Evers to Chance. The collection included a few new tracks made with Becker and Quercio but without Ray. At this point, Miller was seemingly pondering his band in a retrospective light. All the flux and shape-shifting means that the 24 tracks on Across The Barrier Of Sound: Postscript are as per the last word of the title: an add-on to what's known. Especially so, as nothing was intended for release. It is not an unissued album.
Four of Across The Barrier Of Sound's tracks – "Inverness", "Idiot Son", "My Free Ride", and "Take me Down (to Halloo)" – are finished studio recordings. "Treat it Like my Own" was first heard on a fan club cassette (different versions of two other songs from that cassette are collected). Otherwise, the sources are home demos (mostly solo) and a couple of live tracks. This is a window into what was going on in Game Theory's world, rather than a Game Theory release as such.
Revealingly, the sense of this as a period of flux is reinforced by Miller's post-Game Theory band The Loud Family subsequently recording much of what's made it onto Across The Barrier Of Sound. "Go Back To Sleep Little Susie (Aerodeliria)", "Idiot Son", "Inverness", "Jimmy Still Comes Around", "Slit my Wrists" "Some Grand Vision" and "Take me Down (Too Halloo)" are familiar in their later forms. Lyrics may have changed. Odd parts of melodies and song structures differ too. But the blur between Game Theory and The Loud Family is clear.
As an album was not the goal, everything comes across as transitional. Indeed, it is hard to see how a band with Miller as its leader could have – in the long term – accommodated Quercio, another strong, idiosyncratic singer and songwriter. A single band with both had to have had a finite shelf life.
However, some of what's collected ranks with the best of Game Theory and The Loud Family. In contrast, despite a home-recorded version of The Three O'Clock's "A Day in Erotica", little nods towards Quercio's recent past.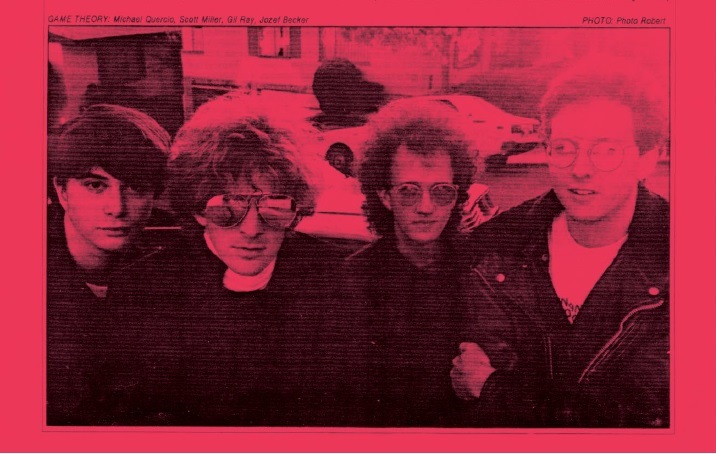 Of the studio-proper tracks, "My Free Ride" is brilliant: classic Scott Miller with a beautiful melody and exquisite singing. The version of "Take me Down (to Halloo)" feels tentative though – doubtless due to the familiarity of the later Loud Family version. "Inverness", again cut later by The Loud Family, also suffers due to the same reflexive comparison. "Idiot Son", instead, is more angular, spikier than when it was tackled by The Loud Family. A home demo of "Jimmy Still Comes Around" is a wild ride, suggesting Miller had a jagged identity in mind for the end-days Game Theory. A lovely, poised solo recording of "Some Grand Vision" could have stood on its own if buffed up with a full arrangement.
Obviously, Across The Barrier Of Sound: Postscript is not an entry point into this important band. For that, head to Real Nighttime (1985) , The Big Shot Chronicles (1986), Lolita Nation (1987) and Two Steps from the Middle Ages (1988), all of which capture the Game Theory Scott Miller in excelsis; as a pop auteur on the Todd Rundgren level.
And also, despite the songs included, Across The Barrier Of Sound: Postscript is not a lost prequel for The Loud Family. Instead, what's compiled is a vital snapshot of transition. As to where this short-lived Game Theory could have gone if Miller and Quercio had stuck with it? No one will ever know.
Next week: Tea & Symphony - The English Baroque Sound 1968-1974
'Across The Barrier Of Sound' is a window into Game Theory's world, rather than a Game Theory release as such
Share this article