Bauer, CBSO, Koenig, Symphony Hall Birmingham review - Christoph pulls it off |

reviews, news & interviews
Bauer, CBSO, Koenig, Symphony Hall Birmingham review - Christoph pulls it off
Bauer, CBSO, Koenig, Symphony Hall Birmingham review - Christoph pulls it off
A Widmann premiere triumphs in an unexpected but outstanding Birmingham debut
Mr Fixit: Christoph Koenig
Mirga Gražinytė-Tyla's programmes in Birmingham are so personal – so utterly bespoke – that in the event of her being indisposed, they present something of a problem. That's what happened this week.
The programme was vintage
Gražinytė-Tyla
– opening with Elgar's two partsongs Op.26 (a reflection of her blossoming relationship with the CBSO Youth Chorus), and ending with that ravishing Cinderella of the Brahms
symphonies
, the Third: a nice nod, in the CBSO's centenary season, to Elgar's particular love of this work. In between came the UK premiere of the new orchestral version – co-commissioned by the City of Birmingham Symphony Orchestra – of Jörg Widmann's colourful post-romantic song cycle
Das heisse Herz
. With
Gražinytė-Tyla
, the synergies just jump off the page. Without her: well, who on earth would even know that little lot well enough to conduct it at two days' notice?
The answer, it appears, is the Dresden-born Christoph Koenig, making his CBSO debut in repertoire that – Brahms apart – surely can't be everyday fodder on his usual beat. If he'd never previously encountered the two Elgar songs, it certainly didn't show in this natural, affectionate performance: gently bringing out the pastel woodwinds and glinting harps of Elgar's delicately scored accompaniments as the CBSO Youth Chorus sent luminous melodic lines soaring out into the vast space of Symphony Hall. Their regular conductor Julian Wilkins (playing the organ tonight) has to share the credit for that, and he rightly shared the applause.
And if Koenig really had mastered the Widmann in just 48 hours, that didn't show either – though here, too, he had the support of an old hand; the baritone Thomas E Bauer (pictured below), who premiered the work in its original piano version in 2015. It's always fun, before a Widmann premiere, to look at the panoply on stage and guess where he's going to go with it. There was a set of chains straight out of Gurrelieder, additional trombones, two harps, accordion and the towering presence of a contrabass clarinet. It all pointed towards the slightly seedier end of German late romanticism; and that's pretty much what we got. Widmann's eight songs set texts ranging from the contemporary German poet Peter Härtling to that old Mahlerian standby, Des Knaben Wunderhorn, in a musical idiom that ranges from Weimar cabaret to Berg-like expressionism.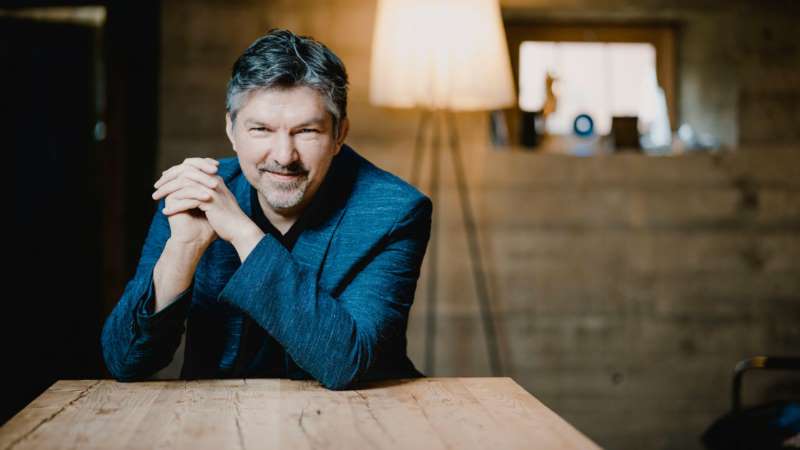 So the orchestra laid out shimmering textures, pregnant with doomy gongs and trickling harps, its earnestness under constant assault from trombone eruptions, queasy deflations and – at one point – a woozy oompah waltz on the brass. Koenig marshalled his vast forces with astonishing precision and an almost hallucinatory clarity, with only his treatment of the big fifth song Eifersucht hinting at any hesitation or caution, and then only obliquely. Crucially, he always kept a path through the texture open for Bauer, who snarled, spat and hissed out his part with macabre relish; stamping, gesturing flamboyantly and at one point sauntering over to the orchestral piano for a spot of informal musical bantz.
It was all hugely entertaining, and more than enough to offset Widmann's frustrating habit of cancelling a lyrical line just as it had started to unfurl. But then, in the slow final song – Einsam will ich untergehen, a sort of eerie, fever-dream dual homage to Strauss's Im Abendrot and Mahler's Ich bin der Welt abhanden gekommen – Widmann finally surrendered to the lyrical impulse. Bauer's warm, bronzed baritone took wing at rapturous length as Koenig eased into the final sunset. The composer, who looked delighted, was called back twice by an enthusiastic audience.
As for the Brahms: well, if Koenig initially seemed almost diffident about those majestic opening phrases, it soon opened out into a performance of glowing, songful breadth punctuated by moments of chamber music intimacy. Koenig brought the strings down to a lilting near whisper as clarinettist Joanna Patton uncoiled her melody – pure poetry. Yet, leaving aside the third movement (which was so tender and hesitant that it felt at times as if was about to stop altogether) it never felt contrived, and the natural flow of the music was uncompromised. Koenig, once again, showed himself a master of the long, perfectly paced decrescendo; and if this wasn't the most dramatic Brahms Third I've ever heard, it was certainly one of the most touching. Before taking his applause, he stopped to embrace first violinist David Gregory, the CBSO's longest-serving member, who retired tonight after 42 years of service (making him the last remaining member of the orchestra to predate Simon Rattle). The audience cheered and the orchestra beamed as Koenig finally brought them to their feet. I suspect we'll be seeing him in Birmingham again.

Trombone eruptions, queasy deflations and – at one point – a woozy oompah waltz on the brass
rating
Share this article