Peter Gynt, National Theatre review - towering protagonist, middle-way production |

reviews, news & interviews
Peter Gynt, National Theatre review - towering protagonist, middle-way production
Peter Gynt, National Theatre review - towering protagonist, middle-way production
James McArdle's lead, strong ensemble and David Hare's Ibsen adaptation compel
Peter (James McArdle) learns from the Boyg (Nabil Shaban)
Like Hamlet and both parts of Goethe's Faust, with which it shares the highest peak of poetic drama, Ibsen's Peer Gynt is very long, timeless en
ough to resonate in a contemporary setting and sufficiently ambiguous in its mythic treatment of the pursuit of self to take a wide variety of interpretations. David Hare's adaptation, moving between
Scotland
, Florida and Africa, finds its own nuanced language to mix with contemporary colloqualisms but hardly marks a radical break from the Norwegian master; so much the better. His
Peter Gynt
keeps so many possibilities fully in play and is a gift for a stunning central performance by James McArdle. The only snag is that while this Pe(t)er isn't the mediocrity the supernatural Button Moulder labels him, destined not for heaven or hell but simply recasting, Jonathan Kent's production is the mild offender which too often takes a middle course.
Yet despite its often literal-minded hits and misses, it's baffling how anyone could be bored during the three-hour playing time when McArdle holds the stage throughout. He achieves the difficulty of making the swaggerer we first meet sympathetic very quickly, despite being what Peter's mother Agatha (believably played by Anne Louise Ross as a self-educated Scot living in a wee bungalow who loves her Ali Smith and Richard Strauss) describes as "a serial fantasist with attention deficit disorder" and a lack of empathy – one who will go on to try and find out what "to thine own self be true" means, without much success. His plundering of old war movie narratives – The Guns of Navarone, The Dambusters – is amusing, his confidences to the audience charismatic and always engaging.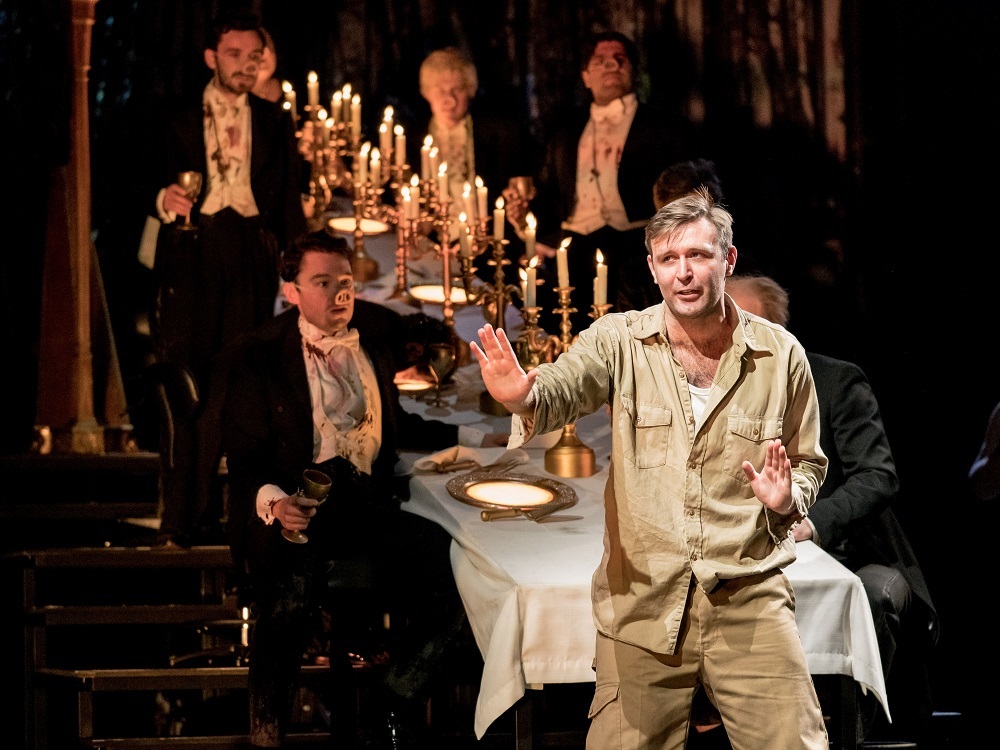 McArdle makes us scared for Peter's discoveries in the Hall of the Mountain King (Jonathan Coy), even if these Bullingdon Trolls with pig snouts aren't threatening enough (though Nabil Shaban as the Nothingness that is the Boyg has the right strangeness, even if this is not Ibsen's "Voice in the Dark") Peter's heaven's-gate narrative to his dying mother is deeply moving, as it should be, his Act Two (Four in the drama) transformation into a self-styled "hyphenate businessman-philosopher" with his own adjective (Gyntian) preaching to a dodgy Frenchman, Icelandic banker and a Russian whose kind he praises for "a happy-go-lucky attitude to the sanctity of human life" believable. If it's poetic licence to think of McArdle's character as 70 years old at the end, at least we keep company with the same actor; tradition has been to split the protagonist between two performers.
Kent may be right to turn the central wanderings into a kind of comic cabaret, with Anitra and her chums con-artists posing as new-age Americans (pictured below, McArdle with Tamsin Carroll as Anitra and Lauren Ellis-Steele) – a neat parallel to the cowgirl trio Hare makes of Ibsen's wild mountain pasturers – but there needs to be more strangeness as the travelogue progress, in both the encounter with the Sphinx and the Cairene madhouse where the man who would be King of Self is crowned by multiple lookalikes.
The brief interlude whisking us back to the faithful Sabine (originally Solveig) in Scotland is cringeworthy, featuring a naff song which is all too typical of Paul Englishby's soft-focus score (the pop pastiches are fine). Grieg's original incidental music in its entirety is far more unsettling; although we rarely get it today, Solveig's Song has been hauntingly engaged in unaccompanied form in both Baltasar Kormákur's mortuary-set National Theatre of Iceland and Irina Brook's productions. As with the latter and the stunning Norwegian National Theatre TV-studio spectacle, where Solveig was played by Nigerian-Norwegian singer-songwriter Amina Sewali, Hare makes her a refugee, but there is nothing "other" about Anya Chalotra's very English delivery.
At least Peter's final return to the waiting woman is done with poetic restraint – the lullaby this time for solo voice only – and there are good ideas in the spooky endgame of the last act; Hare adds to the undone deeds and words articulated by natural phenomena the ghosts of Peter's past, and gets in some well-timed humour (I laughed throughout a lot). But shouldn't this all be in a dying or delirious Peter's mind? No matter; the acting, as throughout, carries it, with a chillingly matter of fact late appearance from the great Oliver Ford Davies as the Button Moulder and a laid-back devil disguised as Weird Passanger and Priest from Guy Henry.
Richard Hudson's designs give us a sense of the northern outdoors - the Olivier is the right venue, too - and are put to ingenious use alongside Dick Straker's video work in the homecoming (pictured above: McArdle and Marc Mackinnon as Ship's Cook). But Kent could have made it all so much more imaginative. What Peer Gynt needs is a visionary transformation like that of Simon Stone, whose The Wild Duck remains the most powerful Ibsen re-think I've ever seen in the theatre, excellent Icelandic and Norwegian Peer Gynts notwithstanding. So this production goes neither to heaven nor hell but into the Button Moulder's ladle; not so its performers, above all McArdle, for whose sake – and Hare's, whose text I bought on the way out – this has to be seen.
It's baffling how anyone could be bored during the three-hour playing time when McArdle holds the stage throughout
rating
Explore topics
Share this article