Rosmersholm, Duke of York's Theatre review - little-known Ibsen lands with force |

reviews, news & interviews
Rosmersholm, Duke of York's Theatre review - little-known Ibsen lands with force
Rosmersholm, Duke of York's Theatre review - little-known Ibsen lands with force
Ian Rickson finds the fury and dynamism in a piece of Ibsen esoterica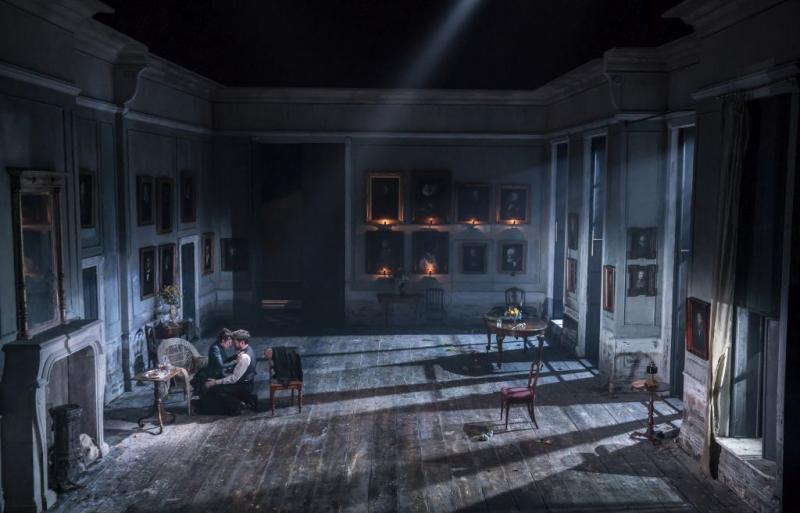 Awakenings: Rae Smith's set for `Rosmersolm' as lit by Neil Austin
The past haunts the present and looks likely to torpedo the future in Rosmersholm, the lesser-known Ibsen play now receiving a major West End revival in welcome defiance of the commercial odds.
The protean Sonia Friedman, this venture's producer, was wise to grant the directing reins to Ian Rickson, who has made many a
Pinter
play land in a similar environment (and directed the National's glorious
Translations
last year). Blessed with the design team of one's dreams and an ace trio of leads, Ibsen's sometimes-murky psychology here rivets throughout, even without the numerous "play for today" cues that get signalled along the way.
Indeed, one can't help but feel that Ibsen's 1886 play (last seen, in my awareness of it anyway, in a fine Anthony Page revival for the Almeida in 2008) can speak for itself very well, thank you, without needing the various pointers to modern-day relevance that crop up now and again so as to elicit knowing nods from a rapt house. Duncan Macmillan's feisty version of the text captures its gathering psychic disorientation, and Rickson and his colleagues do the rest. In context, it's small wonder that Hayley Atwell, playing the proto-modern Rebecca West, is rarely seen walking when she can run: emotions this febrile cannot be constrained.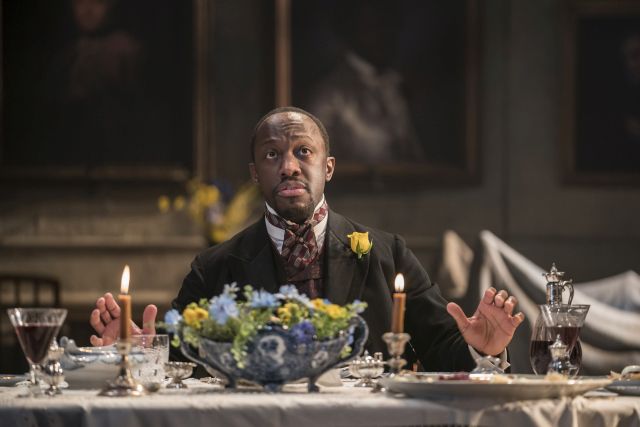 As ever with Ibsen, a wounding back story informs every minute of what's on view in an election-eve narrative that conjoins the personal, social, and the political into a grievous and knotted maelstrom. A year prior to the play's start, John Rosmer (Tom Burke) lost his wife to suicide, since which time he has relinquished his religion and many of his beliefs in favour of the more progressive, emboldened worldview championed by the ever-questing Rebecca. Complicating their shifting dynamic is the intermittent, increasingly malign presence of Andreas Kroll (a crisply commanding Giles Terera, not long off his Olivier Award-winning turn in Hamilton and pictured above), who is introduced as a political agitator but seems hellbent on a far-scarier emotional disturbance, as well. (The same character now would doubtless be working for Breitbart.)
Throw in the scraggly-haired Ulrik Brendel (Peter Wight, a Rickson semi-regular in characteristically expert form here), a self-described "exile" who has entered the "cursed house" of Rosmer so as to announce an emancipation all his own, and you've got a societal cross-section completed by a brooding Jake Fairbrother as an agenda-prone newspaper magnate (no surprise there!) and a scowling Lucy Briers as a household employee on apparent loan from Daphne du Maurier's Rebecca.
At its core, Rosmersholm charts the sustained battle for Rosmer's wavering and haunted soul, and Burke rendingly charts a man bereft of faith but overcome with a feeling he can't fully accommodate. To that end, he's the perfect match for Atwell's insistent, impetuous Rebecca, whose own troubles pour forth in accordance with the darkening of the formidable arena of sorts marked out by Rae Smith's sepulchrally beautiful set. The space ringed by portraits of the very patriarchy against which Rebecca, for one, won't go down without a fight, the glowering architecture of the room acquires an infernal glow courtesy Neil Austin's lighting as events gather to their ruinous head. Rickson saves a telling coup de théâtre for the final image, which those who have clocked the play's advertising campaign may well guess in advance. Either way, the production sweeps you along on, um, currents of energy not always associated with this playwright. In talking up to his audience, Rickson and co with luck may well take the town.