Translations, National Theatre review - an Irish classic returns with cascading force |

reviews, news & interviews
Translations, National Theatre review - an Irish classic returns with cascading force
Translations, National Theatre review - an Irish classic returns with cascading force
Brian Friel's luminous play fully lands in the National's largest space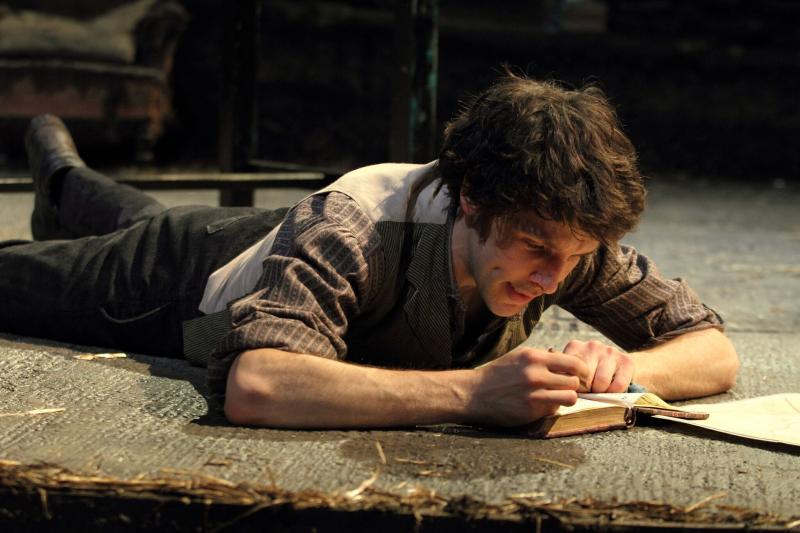 Go-between: Colin Morgan as Owen in 'Translations'
What sort of physical upgrade can a play withstand? That question will have occurred to devotees of Brian Friel's Translations, a play that has thrived in smaller venues (London's Hampstead and Donmar, over time) and had trouble in larger spaces: a 1995 Broadway revival, starring Brian Dennehy, did a quick fade.
Particular credit, then, to
Ian Rickson
and his remarkably empathic team for steering Friel's complex weave of characters on to the National's largest, most exposing stage
–
the Olivier
–
and ensuring that it lands. After all,
writing
this gorgeous ought to be seen by as many people as possible.
Indeed, in my numerous experiences of Translations, I've never been quite so fully aware of the depth of feeling, and tragedy, that jointly course through a play that can be challenging, to be sure: lapsing on numerous occasions into one classical tongue or another, Friel's labyrinthine structure additionally requires audiences to be aware just when it is that its characters are speaking Irish to one another, or not (we hear English in either instance).
One must also clock the malingering presence of a bustling offstage thrum of activity that contributes to an ending that, in this iteration, has been given an added scenic charge so as to amplify the stinging political import of an 1830s-set drama keenly attuned to our newly boundaries-obsessed and ever-fractious age. At the same time, it would be seriously reductive to mistake Translations, or Rickson's take on it, as any kind of political tract, even if the play was the 1980 product of a now-defunct company (Field Day) formed to provide a cultural beacon amidst the sectarian Troubles. Friel's achievement is to foreground an aching humanity at every turn; that's why it's especially disturbing on this occasion to note the degree to which all the characters are either done in or diminished by events.
The setting is a ramshackle hedge school in County Donegal during a pivotal time that finds the English military on their doorstep in order to map out the terrain anew in Engish: linguistic appropriation a cataclysm of a kind, though Friel is too clear-eyed to play the Irish romantic. (He leaves that to an Englishman, the smitten orthographer Yolland, whose boundless affection for his new land comes, tellingly, to grief.) While a rumbustious fantasist called Jimmy Jack (Dermot Crowley) steeps himself in Homer, the schoolroom chores fall to the physically lame Manus (a highly sensitive performance from Seamus O'Hara), who is bound in none-too-productive emotional fealty to his hard-drinking, tempestuous father (a feral Ciarán Hinds, pictured above right, with Crowley).
It's the return home after six years of Manus's successful, contrastingly urbanised brother Owen (Colin Morgan), to Friel's beloved (if fictional) Ballybeg that sets events on a collision course. All but mythologised by the community he has left behind, Owen has returned in the employ of British forces who want his services as translator, and Morgan, in yet another exemplary stage turn (he was equally terrific last year in the American office environs of Gloria) charts the rude awakening greeting this pragmatist whose bosses don't even know his correct name.
Meanwhile, Friel's career-long indebtedness to Chekhov emerges in the play's cross-currents of affection. Seamus, keen for promotion and a life he can call his own, wants to forge some kind of future with the free-spirited Maire (Judith Roddy), whose own view of the gathering linguistic concerns is that her native tongue is "a barrier to modern progress". On a more immediate level, it inhibits understanding between her and the English visitor, Adetomiwa Edun's sweet-faced Yolland, for whom Maire has fallen hard. The couple's giddily shared incomprehension at the top of the second act remains an audience-grabbing delight, though I've never seen a more ravishingly impassioned Maire than Roddy creates here (both pictured above).
Rae Smith seems to be this venue's de facto designer of choice of late (Macbeth is hers, as well), and she has smartly grafted this play on to a mud-encrusted thrust stage so as to present the schoolroom itself as a sort of Petri dish from which its inhabitants will be none-too-gently scattered. Situated beneath the landscape over which the English military occasionally come joltingly into view, the image also suggests Friel's very own Brigadoon: that's to say, a once-enchanted realm nestled from view, though not for much longer, and gone largely to ruin.
And when Hugh and Jimmy Jack return for the final, shattering sequence, three sheets to the wind but alive to the confusion that, Hugh famously decides, is "not an ignoble condition", one is struck by the gulf between their linguistic bravura and the circumstances in which they find themselves – one calling out to a son no longer there, the other embarked upon a quest for companionship he will find only in drink. Someone should sign these two wonderful actors up to do Juno and the Paycock, and soon. In the meantime, London has a Translations to treasure, in a large-scale production to prove only that certain force fields of feeling know no boundaries.
Brian Friel's achievement is to foreground an aching humanity at every turn
rating
Share this article