Thatcher: A Very British Revolution, Finale, BBC Two review - a heartbreaking account of her decline |

reviews, news & interviews
Thatcher: A Very British Revolution, Finale, BBC Two review - a heartbreaking account of her decline
Thatcher: A Very British Revolution, Finale, BBC Two review - a heartbreaking account of her decline
How time eventually ran out for the Iron Lady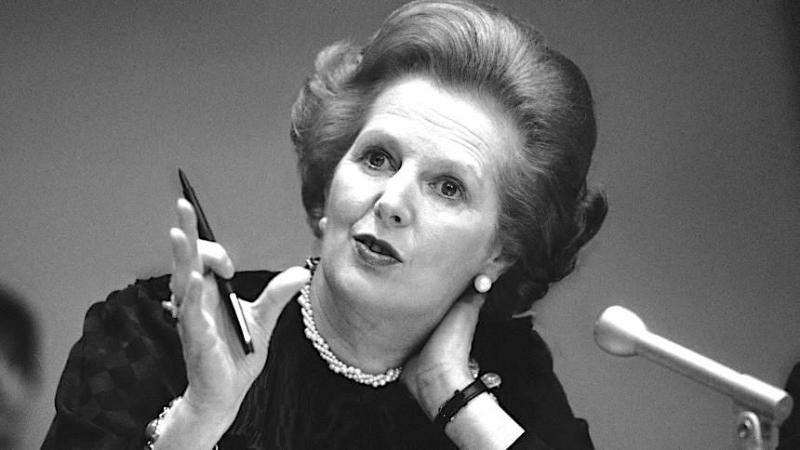 'Politicians can plan their entrances but very rarely their exits'
The surprisingly touching conclusion to BBC Two's five-part chronicle of the Thatcher years was a masterpiece of contemporary history.
Congratulations to producer Alice Fraser, director Pamela Gordon, and composer Alexandra Harwood for very fitting and emotive music (for once). Perhaps it has taken a
female
team to produce this portrait, warts and all, without a hint of the condescension still evidenced even now by a significant number of Margaret Thatcher's male contemporaries.
Some of the best known survivors of her government delivered their highly personal views with astonishing frankness, indiscretion, and even a sense of enjoying their posthumous honesty. Norman Tebbit's sympathy was evident and the two Kenneths, Clarke and Baker, were also empathetic. Above all this was a story of relationships wrapped round events: the personal is the political and the political is the personal.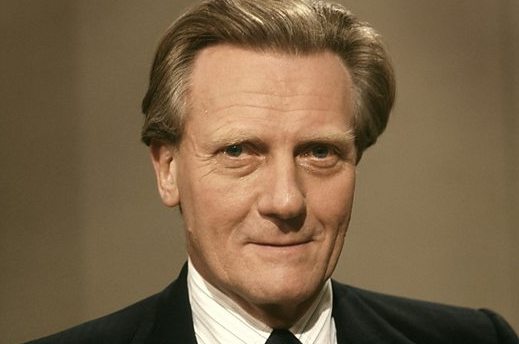 Let us not worry about being faded out, Thatcher said as she was being prepped in various poses for a television interview. In 1990 she was celebrating 10 years in power. Tebbit reminded us that the great figures were always celebrated and remembered by surname. Hubris must have been inevitable: an unforgettable image was an aerial view of Thatcher in a white suit, walking down a red carpet, in the centre of a group of Prime Ministers and Presidents, all male and all in dark suits.
Carolyn Slocock, the first female private secretary, discussed the seductive charm of 10 Downing Street, her boss getting out of touch and forgetting how to be ordinary, which had been her strength. Paranoia increased, confidence diminished, and here came the clashes between Heseltine (pictured above) and Thatcher, both prima donnas. Thatcher was fed up with the wetness of the Foreign Office, and their dealings with those she regarded as pesky foreigners. In the law of unintended consequences she unified the EU against her. She resented being held up and ambushed, and had been badly treated: the two camps – Foreign Office and Prime Minister – both with hindsight behaved very childishly.
She lost any trust in Lawson and Howe, who passionately wanted to join the Exchange Rate Mechanism. We actually witnessed how she began to lose her touch, and were told as a rule of thumb that democratic leaders get too confident after 10 years while the public gets more and more critical, and the tensions between market forces and necessary social responsibility were ignored and unresolved. (Sound familiar? This documentary was alarmingly prescient.) The ill-advised controversial community charge – the Poll Tax – came in 1990, wreaking havoc on the poor, the disadvantaged and the floating voter. Meanwhile she gave her (in)famous speech in the House, when she went off piste, her cri de coeur a triple "No, No, No" on handing over sovereignty to Europe.
We witnessed the revenge of Geoffrey Howe in his resignation speech, jammed with cricketing metaphors. Simon Jenkins vividly described his interview with Thatcher as she neared her political end: his subject, visited at Chequers, was lonely, beleaguered, and uncomprehending. She kept telling Jenkins "I'm not finished". But she was.
Her press secretary Bernard Ingham had the last words, asking who would be Prime Minister of a Tory government, and certainly many have wondered that, with justification. At her last cabinet meeting she read out a short resignation statement. As Chris Patten said, many crocodiles kept handkerchiefs for their tears close by. The coda was Ingham's account of his regular visits to Thatcher after her mind had gone: he always made up a problem, taken from the headlines he had read on the train, for her to solve: and so she would, repetitively, half a dozen times, within the hour. Love her or loathe her, this was a heartbreaking account of her decline.
Patten said that you should leave the stage while people were still clapping. Politicians – rather like the rest of us – can plan their entrances but very rarely their exits.