Mo Amer and Guz Khan, Leicester Square Theatre review - racism examined from both sides of the Atlantic |

reviews, news & interviews
Mo Amer and Guz Khan, Leicester Square Theatre review - racism examined from both sides of the Atlantic
Mo Amer and Guz Khan, Leicester Square Theatre review - racism examined from both sides of the Atlantic
Energetic double bill feels like a hip-hop gig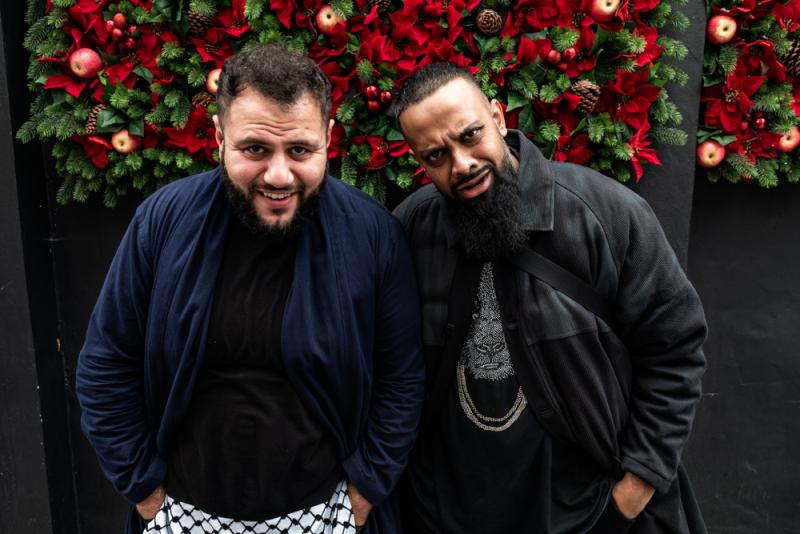 Mo Amer (left) and Guz Khan have teamed up for a refreshingly different double bill
Well this is a nice change from the standard stand-up fare.
Well this is a nice change from the standard stand-up fare. Not many comics have a DJ introduce them with a cracking set of his own, and even fewer tour as part of a double bill with material that moves seamlessly from one set to the other as they dig down into race and ethnicity from either side of the Atlantic. But Palestinian-American comic Mo Amer and British actor-comic Guz Khan are doing just that in Persons of Interest, and it works a treat.
American DJ Cipha Sounds sets the tone for the evening when he plays tracks that guy certain ethnic stereotypes – "This is for all the white women in the audience" – as he blasts out a knock 'em dead karaoke classic. That's after saying of his Puerto Rican ancestry: "I'm from the Bronx, which is like the factory where Puerto Ricans are made." If you are easily offended, this isn't the gig for you, but if you happily and proudly live in an ethnically diverse country, then this humour will appeal.
Guz Khan, of Pakistani heritage, is the first of the two stand-ups on stage, and his material is more a collection of anecdotes than one with a narrative arc. He does some great crowd work, spotting a white guy sitting with his British-Asian fiancée and offering him a crash course in subtle racism within the Asian community. Judging by the laughs of recognition from the Gujaratis (mean, he says) and Bangladeshis (they love fish, apparently) in the audience, the stereotypes work for them.
Khan is creator and star of the BBC Three sitcom Man Like Mobeen, which is set in Birmingham. He has been doing stand-up for just a few years and some of his material – about Brexit, his days as a secondary-school teacher and his young family – can feel overstretched and lacking in punchlines. But his warmth and rapport with the audience shine through and there's a high laugh count none the less.
Mo Amer, by contrast, has been gigging for 20-odd years, since he was a teenager, although his breakthrough to an international audience came recently with his Netflix special The Vagabond, which detailed his family's refugee past.
Here, at a mile a minute, he playfully dissects Arab life, wherever it's lived, and starts by talking with a deliberately bad Cockney accent. But as he says, he's allowed to mock the English as "you gave away my country." There's a lot more work with accents (others are much better), and his take-off of rich white US girls fretting over Donald Trump's wall – "Oh no, I can't go to Cancún any more" – is a treat.
Other set pieces – about the "controlled chaos" of Cairo and selling US flags in a Texas shopping mall the day after 9/11 – overstay their welcome, but his lengthy tract about the correct way to prepare and eat hummus is a triumph.
Persons of Interest has the freewheeling energy of a hip-hop gig and, occasional longueurs aside, is great fun.
Mo Amer and Guz Khan are touring until 13 April
At a mile a minute, Amer playfully dissects Arab life, wherever it's lived
rating
Explore topics
Share this article