theartsdesk in Ramallah - the music biz turns its sights on Palestine |

reviews, news & interviews
theartsdesk in Ramallah - the music biz turns its sights on Palestine
theartsdesk in Ramallah - the music biz turns its sights on Palestine
A new music Expo aims to highlight a music culture with massive potential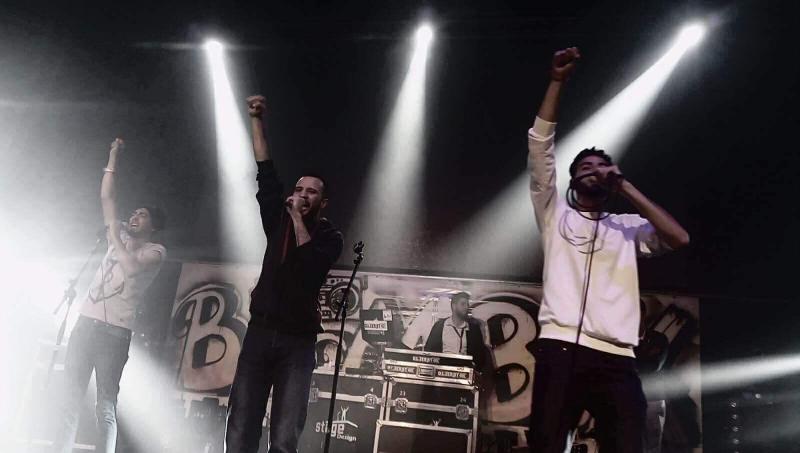 Sa'aleek: West Bank outlaws
Maen, a member of the rap collective Sa'aleek, was working one night in their small makeshift studio in the Qalandia refugee camp near Ramallah. He dozed off, only to find the studio door had been concreted over and he was trapped. It took fellow band members 36 hours to dig him out, but Maen didn't seem that worse for wear. As studio disaster anecdotes go, that takes some beating...
Palestinian musicians tell you of many difficulties, not just anarchic building in the camps, notably that there are at least eight different travel documents, allowing different rights of movement. One member of the band may be allowed to visit Jerusalem, for example, another not. One duo has to collaborate by YouTube because analogue roads were too difficult. Many of them told stories of being beaten up and jailed, but then being told to sign non-disclosure agreements, so they would tell me and then ask for such stories not to be included in any article. Then there are often more basic difficulties, like limited access to decent water and power.
The trip to Hebron was more terrifying - a car driven by an Israeli settler attempted to run down a group of delegates
We were in Ramallah for a few days for the Palestine Music Expo. Over three nights there was a showcase of many sorts of Palestinian music: highlights included the rap of Sa'aleek, grunge rock from Fishsamak, a duo called Zenobia who bill themselves as "Palestine's answer to Daft Punk", and the more traditional oud sounds of the thrilling Trio Joubran. If one point of the Expo was simply to draw attention to the depth and richness of music talent in Palestine, and to celebrate it with thousands of delirious local fans, that test was passed with flying colours.
There were also workshops on subjects such as songwriting, "secrets of a great live performance", and how to be a DIY musician. The other core idea of the Expo is to help with the lack of conventional music business infrastructure, and there were numerous high-flying music business types at the Expo – the co-founder of a major music distributor, festival bookers and agents, an infamous PR guru and copyright lawyers, record company CEOs like PMX co-founder Martin Goldschmidt of Cooking Vinyl and Caius Pawson from Young Turks (home of The xx and FKA Twigs), not to mention longtime activist for Palestinian rights Brian Eno, who has been brilliantly surfing the cultural zeitgeist since the days of Roxy Music.
This was the second PMX and something like nine of 21 acts which appeared last year ended up with some kind of deal. DAM are now on Cooking Vinyl (two of them appear tonight at Richmix), while TootArd's reggae rock, mixed with Saharan style guitars, was signed by a top agent and has been touring Europe to considerable acclaim. This year out of the 90 acts which applied, 25 were accepted and already things have been moving forward for several of them. Zenobia (pictured below) are signed to F-Cat Productions, are scheduled to appear at what sounds like the gig of the year – a Peace Festival in the Demilitarised Zone between North and South Korea in June (one of the organisers, Stephen Budd, who also puts together Africa Express was at the Expo). Eno offered them some samples. They didn't seem over-impressed when I said I could suggest to Nile Rodgers to guest on one of their tracks.
Part of the Expo was days for visits. PMX wanted to ensure the delegates got a real flavour of the country. I went to Bethlehem (where there is a surprisingly gorgeous studio called Akukon with all mod cons, including a grand piano, lovingly self-built by a couple of local sound engineers), which will be the first designated Arabic City of Culture in 2020. There's even a much under-used huge performance centre called the Bethleham Convention Palace (complete with Heli-pad) which, is now something of a whote elephant, but in more normal times, could be the equivalent of something like the Barbican in London and home to top orchestras, bands and arts festivals.
We visited Aida, a nearby camp where a lively dance was laid on at the Al Rowwad Culture Centre. The director Dr Abusrour was critical of Banksy's impressive murals (pictured below) on the forbidding West Bank Barrier which towers near the camp (both the International Court of Justice and the UN have declared the barrier illegal) on the basis that it was prettifying something inhumane.
I missed the trip to Hebron that was more terrifying – a car driven by an Israeli settler attempted to run down a group of delegates. Since 2015, Israel has declared that special areas of Hebron's Old Quarter constitute a closed military zone. Palestinians shops have been forced to close; residents must register to obtain special permits to navigate through the 18 military checkpoints Israel has set up in the city centre.
Back at the Expo, Sa'aleek, who were discovered last year during a tour of the Qalandia refugee camp and did their first gig at last year's event, got signed to Ceasefire Records. Their live show had a rousing start – they told the audience they wouldn't have played live until several of their newly-free comrades in the front row had been released from jail – which provoked mayhem from the audience.
Talking to Mohammad Deckeideck, the manager of Sa'aleek, he explained that their moniker is a pre-Islamic name for a gang of outcasts, "something like Robin Hood". As he puts it on his Facebook page, "Life is beyond fucked – and I love it from my dead soul." (Another quote talks of being a victim of a corrupt, oppressed country which will take centuries to fix.). The new Sa'aleek single is "Mish Mistani" ("I ain't waiting") which sums up the frustrations. One thing clear when talking to Mohammad, as to some other rappers, is the lack of faith in all politicians, including Palestinian ones, to change anything – yet he and his group radiate an inspiring, positive energy live. What they want, like all musicians, is a real chance.
What Deckeideck says concerns him as much as anything, though, is the problem of touring: if he goes on offered European tours, he is worried he will lose his job at a Jerusalem hotel. That actually is a more universal worry for up-and-coming bands – they usually want to make a living from their music but the jump between amateur and professional is always a tricky one.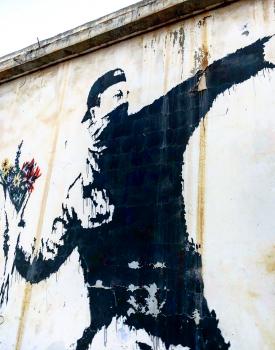 PMX are trying to give Palestinian musicians such more normal problems. Deckeideck was initially rather suspicious of PMX – thinking they were probably a bunch of vampiric capitalists looking for the next dose of new blood, but over the last two years he has warmed to the integrity of the project. As Martin Goldschmidt said when I asked him about being vampiric capitalists, he hopes delegates and artists do make some money. PMX team member Lucie Caswell re-inforced that when she said, "PMX wants to let the music do the talking and to support a musician-led, sustainable ecosystem for music in the region."
One of the delegates was from Sound Diplomacy, who work with city partners and actually quantify the socio-economic benefits of a thriving music industry. Several countries have rebranded themselves through culture – Morocco, for example, spends a lot of money on music festivals as a way of pushing the idea of the country as a welcoming place that has nothing to do with Islamic extremism. I recall meeting the Minister of Tourism in Cuba who said that the Buena Vista Social Club had "saved the Revolution", being a great advert for Cuba and at least partly responsible for millions of tourist visits.
As it happens, it's surprisingly easy to get to Ramallah – jump on an Easyjet to Tel Aviv and it's an hour away from there. There was more than one delegate predicting that Ramallah, especially if one or two of the musicians became known, would become in future years a hip, slightly edgy tourist destination. There are quite a few hip bars and cafés already, even if Ramallah as a tourist hub seems slightly far-fetched without a peace deal that doesn't seem on the horizon any time soon. But PMX can change things in terms of image, cash and simply putting an underrated country with massive potential on the world musical map – and that in itself will be a considerable achievement.