All About Eve, Noel Coward Theatre review - less a bumpy night than an erratically arresting one |

reviews, news & interviews
All About Eve, Noel Coward Theatre review - less a bumpy night than an erratically arresting one
All About Eve, Noel Coward Theatre review - less a bumpy night than an erratically arresting one
Gillian Anderson and a superb Lily James headline Ivo van Hove's latest celluloid deconstruction
Thursday, 14 February 2019
Watch your back: Gillian Anderson and Lily James in 'All About Eve'
Women spend a lot of time gazing at themselves in the mirror in the Belgian auteur director Ivo van Hove's latest stage-to-screen deconstruction, All About Eve, which is based on one of the most-beloved of all films about the theatre: the 1950 Oscar-winner of the same name.
And well these varying generations of stage talents might want to anatomise every pore. Advancing age kills figuratively, if not literally, in the landscape of a play that may bear the same title as Joseph L Mankiewicz's iconic backstage story but conveys its own entirely (and deliberately) different import and impact.
Buffs of varying stripes can quote at length the celebrated aperçus studded throughout a film already noted for having spawned a 1970 Broadway musical (Applause) and a separate European stage adaptation, scripted by Christopher Hampton. But working here as both adaptor and director, van Hove is quite clearly not interested in such lines as "Fasten your seatbelts, it's going to be a bumpy night", as immortally spoken by Bette Davis's whiplash-clever Margo Channing, the actress-diva made to look to her laurels by the arrival of the young protégée-turned-usurper, Eve Harrington.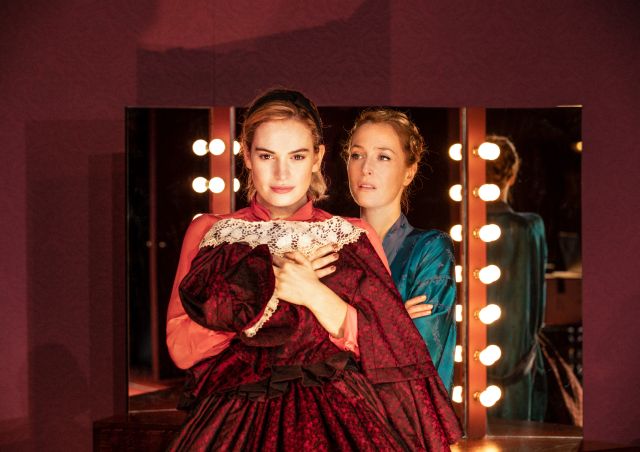 Yes, Gillian Anderson (pictured above with James) says the line, inheriting a stage assignment originally marked out in this iteration for the far more Bette Davis-ish Cate Blanchett. But Anderson has presumably been encouraged to throw it away, this Margo less interested in playing to the high-camp associations of the role than to an inner turmoil and fury that, at one point, show her vomiting in the toilet – van Hove's way with a restless camera allowing access to the private moments of characters whose lives feed off public infatuation. (If such hero-worship were not the case, how else would the supposed innocent that is Eve have ever wormed her way backstage into Margo's dressing room and, from there, into an inner sanctum that Eve sends into turmoil?)
The result is not the giddy stage-to-stage transcription that some might want and expect and a far darker, more ruminative and melancholy piece that serves at the same time to somewhat sideline Margo and give pride-of-place instead to the thrusting Eve – this notwithstanding a finish, preserved from the film, suggesting that Eve's place in the sun will itself be transient. As gorgeous here as she was several seasons ago as Blanche in A Streetcar Named Desire, Anderson communicates a certain remoteness that doesn't pull you to her side, the way the take-no-prisoners Davis does onscreen. Glimpsed by the bathtub sipping wine or plinking on the piano one of the composer PJ Harvey's plaintive original compositions, this Margo seems weary and worn-out pretty much from the start, a would-be dipsomaniac so evidently at the end of her tether that you sometimes wonder what it was or is that Eve responds to in her. (Indeed, the narrative – here told across two hours, no interval – requires several suspensions of disbelief.)
Lily James's vulpine, thoroughly assured Eve, by contrast, is a lamb busily engaged in leading others to the slaughter, who really only finds her match in the critic, Addison DeWitt, intriguingly conceived by Stanley Townsend not as the epicene, aspish (and English!) presence immortalised by George Sanders on screen but as a thuggish American who seems to have drifted into theatre reviewing by way of the mafia (now there's an idea). A supporting cast much stronger than the ensemble fielded by this director for his National Theatre Network (since-transferred to Broadway) includes Julian Ovenden as Margo's husband, whose comparative youth – he is eight years younger than she – gets repeated like some sort of ominous talisman and the astonishing Monica Dolan, here an Imelda Staunton lookalike who can shift in a second from laughter to tears and whose eleventh-hour face-off with the scheming Eve really does sell the sizzle. (Pictured above: Ovenden and James)
As ever, accommodation must be made for a singular aesthetic that locates a film very much of its period in a deliberately vague time frame, as if to suggest the depredations of celebrity then and now, even if no one here is seen pausing to check their Q rating. That prowling camera makes for an intriguing double-perspective from a prime seat in the stalls, where one can at once peer directly backstage and also at the large-scale images of those same encounters, more often than not seen to be taking place in a full-to-bursting kitchen: quite how all this plays out from less good seats is a different matter. And once again van Hove accompanies proceedings with an aural thrum as if to hint at the living horror of encroaching age. (The sound designer, Tom Gibbons, is also responsible for Home, I'm Darling just down the street.)
The ever-raised-and-lowering confines of Jan Versweyveld's monochrome set no more replicate a sense of Manhattan than did his and van Hove's career-defining, abstract A View From the Bridge ever suggest Brooklyn: realism is neither the interest nor the goal for either man, however drawn they seem to be to numerous celebrated New York titles that extend to a Broadway revival of West Side Story still to come. But when you see Anderson's Margo tugging at a face that seems to acquire its own forward-advancing momentum, you may find yourself sharing in the scream she emits. And when James's Eve, in turn, takes to the table to daub at her unblemished visage, you recognise full well that not only is youthful vitality fleeting but, along with it, so is any chance or prospect of goodness.