Stan and Ollie review - a worthy double act |

reviews, news & interviews
Stan and Ollie review - a worthy double act
Stan and Ollie review - a worthy double act
Steve Coogan and John C Reilly give phenomenal performances in the Laurel and Hardy biopic
Saturday, 12 January 2019
John C. Reilly and Steve Coogan as comedy's famous sons
Stan & Ollie unfolds mostly during Stan Laurel and Oliver Hardy's 1953 British concert tour, when the boys were on their last legs as a comedy act – Hardy was physically spent – but still showing flashes of their old genius.
The lure of the tour, according to Jeff Pope's screenplay, was to raise industry interest in a
Robin Hood film
to have starred the duo. The script for it has been written and revised by Laurel, but his red-phone-box calls to the producer, one Harold Miffin, have been ignored.
Once the tour reaches London, Laurel sets out from the Savoy hotel to call at Miffin's office to get some answers. Miffin is not to be seen (for the Robin Hood project has fallen through), but two twentysomething female employees there – a working-class receptionist and a hoity-toity production executive – treat Laurel with appalling disdain. Unexposed to Laurel and Hardy's films, they have no idea who he is – the receptionist calling him "Mr Lauren" and failing to respond to a familiar comedy routine he performs with his hat.
These women's ignorance – indeed, their loss – begs the question, do millennials know Laurel and Hardy? There are fewer reruns of their movies on TV these days than there were in the '60s, '70s, and '80s. If they are no longer the household name they were, it's to be hoped that Jon S. Baird's deft and touchingly intimate film will make many converts. It deserves to thanks to the uncanny performances by Steve Coogan as Laurel and John C. Reilly as Hardy.
It's not just a question of brilliant impersonations. Though the film thrives on incorporating Laurel and Hardy-like gags and mishaps – a heavy luggage trunk slides down a station staircase as if it were an errant piano, a hotel desk reception bell gets pressed more than is strictly necessary – Coogan and Reilly have to work through a good deal of straight drama that requires each, at different times, to evince regret, sorrow, rancor, and guilt. Sometimes Laurel and Hardy's stage mannerisms bleed back into the personal habits in which they must have originated: as when Hardy, feeling betrayed by Laurel after an ugly fight the night before, sighs with contempt when Laurel too noisily relishes a sip of tea just before they judge the Miss Worthing beauty contest.
Stan & Ollie begins at the Hal Roach Studio at Culver City in 1937 with a symmetrical shot of Laurel and Hardy in their dressing room. It develops into a bravura weaving Steadicam shot – courtesy of cinematographer Laurie Rose – that follows the boys and the choreographed action around them as they make their way through the backlot to the stage where they are shooting Way Out West. (It's almost an hommage to the opening shot of Robert Altman's The Player, which itself was an hommage to the opening shot of Orson Welles's Touch of Evil.) As they walk, the much-married boys talk about the alimony payments they have to make and their need to get a pay rise from Roach (Danny Huston). Laurel is out of contract with the studio and wants away; Hardy wants them to negotiate new terms with Roach. If in Laurel and Hardy's films, Hardy was the dominant, aggressive partner, the situation was reversed in life. Laurel was the dynamic creator of their films. Reliant on his Southern gentility, Hardy was passive and conciliatory, reluctant to make waves.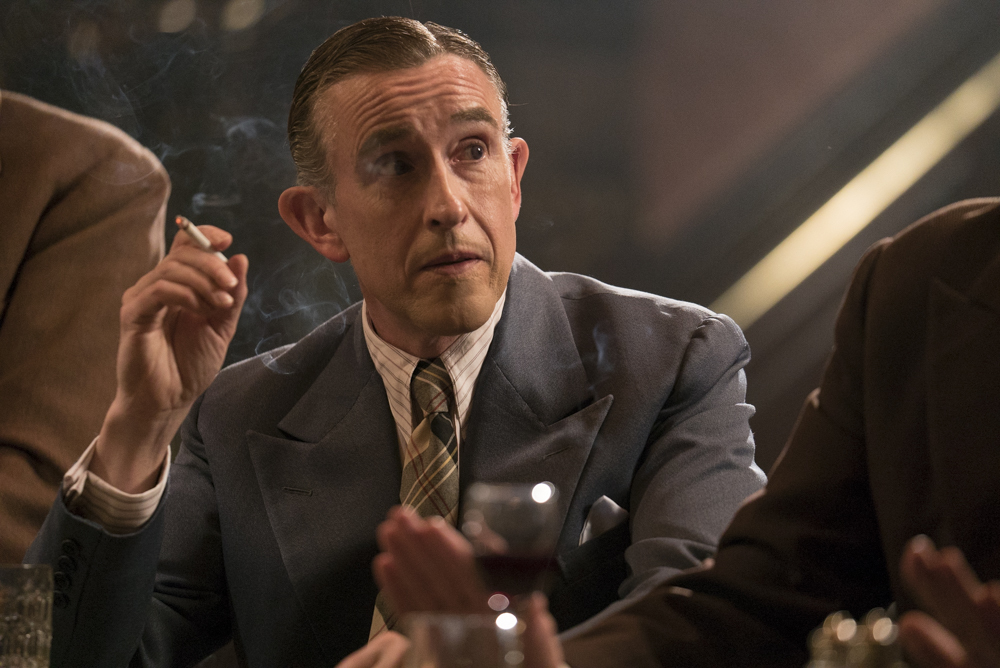 Sixteen years later, they have been reduced to playing in small British halls and staying in second-rate hotels. Hardy has acquired a few chins and has a burgeoning heart problem. Their promoter, the real-life Bernard Delfont (Rufus Jones), oozes disingenuous charm but won't, initially, find them bigger theatres or better hotels. Though the reaction to their shows improves so much that Delfont is able to book then into the London Lyceum, the grind of the tour causes old wounds to flare up, Laurel reminds Hardy that he betrayed their partnership to appear in a Harry Langdon comedy produced by Roach; Hardy accuses Laurel of being a cold fish who only cared about their act. The arrival of their protective wives from Hollywood – Shirley Henderson as the kvetching Lucille Hardy, Nina Arianda as the ebullient Isa Kitaeva Laurel – doesn't improve the boys' friendship. As Delfont remarks, Lucille and Ida comprise another double act: its introduction gives the movie a shot in the arm at a point where it is feeling repetitive.
The essence of Stan & Ollie is the co-dependency of the fat man and the thin man that evolved into a kind of marriage over nearly thirty years of partnership. It's present in their antagonistic on-screen relationship, and it's present in the tender rapprochement between the boys toward the end of the film, which becomes unashamedly sentimental as the narrative acceptably wanders away from the truth. They loved each other, of course, and Coogan and Reilly reinvigorate our love for them.