Nine Night, Trafalgar Studios review - hilarity and heartbreak |

reviews, news & interviews
Nine Night, Trafalgar Studios review - hilarity and heartbreak
Nine Night, Trafalgar Studios review - hilarity and heartbreak
Natasha Gordon joins the company as her debut drama transfers from the National
Family face-off: from left, Natasha Gordon, Karl Collins, Michelle Greenidge, Cecilia Noble
This is Natasha Gordon's first play, and in it she has created an entire world. A world of grief and laughter, conflict and closeness.
A world that is very specifically located within
Britain's Jamaican community
, yet one whose themes of loss and belonging cross boundaries. Between the tears and the recriminations, it is also frequently very, very funny.
"Nine Night" refers to the protracted funeral wake ritual that follows a death, which brings family and friends together to remember the departed, to recall the stories over nine nights fuelled by food and drink, music and words. Gordon's Nine Night is something slightly different, not least because her play opens with Gloria, the matriarch of the family, still living, although an off-stage, upstairs presence: the family that comes together in the downstairs kitchen-cum-living room has gathered as much for news of her illness as for any final farewells. Thus, we follow the action from (before) the breath leaving the body through to the spirit leaving the dwelling.
The ritual itself hasn't begun, rather we see the balance of caring first. The quiet burden of this has been carried by daughter Lorraine (played in this transfer from the National Theatre by the playwright herself), who has given up her job to do so. Lorraine's daughter, Anita (Rebekah Murrell), looks like she's there much of the time, too, though home is with her partner and their young daughter elsewhere.
Recriminations fly, directed at the dead, at the living, at the way that life itself, and emigration in particular, has played out
Then, in a dramatic structure that has new characters appearing practically out of the blue – literally so, since the front door of the house doesn't lock properly, so entries can be made unheralded – the ranks of family fill out. First to arrive are Maggie, Gloria's sister, with husband Uncle Vince, a pairing which might almost be (except that Gordon never simplifies her characters) a proverbial odd couple: Cecilia Noble's Aunt Maggie is as massive of voice as she is in girth, making Karl Collins look (and sound) a model of moderation. They are followed by the son of the family, Robert (Oliver Alvin-Wilson), and his wife Sophie (Hattie Ladbury), the latter the relative outsider here not least (though actually not much) because she's white.
To say that Noble steals the show would be an underestimation: it's more that first she wrestles it into helpless submission, before discarding its crumpled form in an exhalation of satisfied gusto. It's a huge performance in every sense, which brings the house down practically on Maggie's presence alone, even before what she is saying registers. Which, it has to be said, it does only partially, except for viewers fully cognisant of her rich Jamaican vernacular. But its humour is positively infectious, meaning that it passes into the auditorium somehow spontaneously, though again how much and how long it reverberates there may depend on the composition of each night's audience.
The fact that we never actually see the full "Nine Night" experience – it unfolds, very much in earshot, in the next room – makes for a somewhat disrupted dramatic form. It's almost as it the kitchen becomes an ante-room for the grief and celebration of the wake, the scenes we witness almost a succession of "noises off" moments that construct a picture of the wider family incrementally. We learn what's what through a series of one-on-one scenes, the one between Robert and his Uncle V the longest and most revealing, the man-to-man restraint all the more effective for the contrast of its tranquillity (pictured below, Oliver Alvin-Wilson and Karl Collins).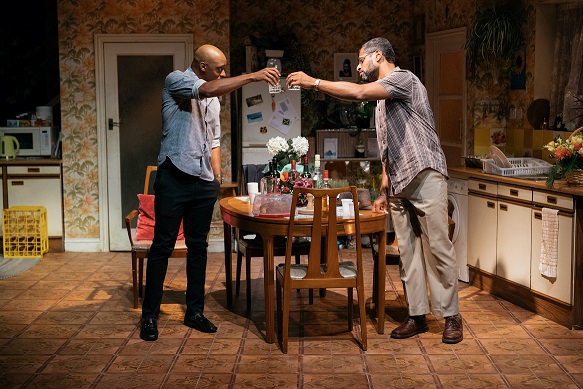 But Gordon can certainly handle larger moments, the one in which Lorraine tries to elicit agreement from the rest about how her mother's funeral service should run a beautiful example of nerves fraying. And Nine Night does achieve cumulative impetus, particularly with the appearance of its final character. Making an unforgettable, spooky entrance, Trudy (Michelle Greenidge) is the oldest daughter whom Gloria had left behind in Jamaica when she first came to London, and with whom she somehow never fully reconnected. She is the one separated from this British-raised and -resident company, who nevertheless has the crucial connection to what they have lost, their belonging. Her appearance delivers the meat – the curry goat, rather – of the night, Greenidge's Trudy more than a vocal match for Aunt Maggie. Recriminations fly, directed at the dead, at the living, at the way that life itself, and emigration in particular, has played out, never articulated with more agony than in Lorraine's cry of bitterest accusation, that England had never wanted them. Poignant always, after this year's Windrush right-to-residency revelations especially so.
Then Gordon achieves something more complex still, a tentative balance that somehow heralds acceptance. It's there in the catharsis of her conclusion: after the angry, muscular grief of Trudy – she out-Lears Lear even, her "never" more repeated than his five exclamations – comes Lorraine's soliloquy, its grief-wracked restraint luminous after the sound and fury (and hilarity) that has come before. It feels so right that this transfer of Nine Night ends with Gordon herself giving us her own words. With its perfect ensemble playing, Roy Alexander Weise's intuitively persuasive production more than convinces us that we want, and need to listen to them.
To say that Cecilia Noble steals the show would be an underestimation: it's more that first she wrestles it into helpless submission, before discarding its crumpled form in an exhalation of satisfied gusto
rating
Share this article