Fröst, BBCSO, Oramo, Barbican review - blood, sweat and sweetness |

reviews, news & interviews
Fröst, BBCSO, Oramo, Barbican review - blood, sweat and sweetness
Fröst, BBCSO, Oramo, Barbican review - blood, sweat and sweetness
Sheer heart attack in Prokofiev's Sixth Symphony crowns a rich and varied programme
Thursday, 18 October 2018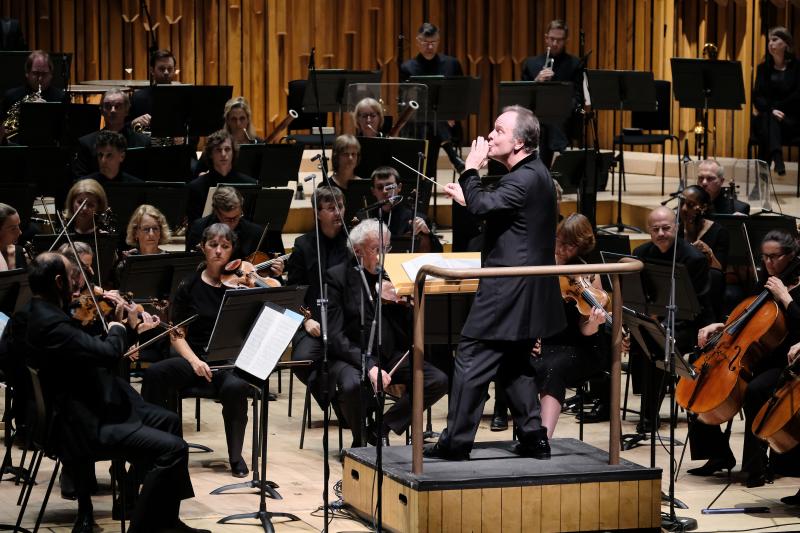 Sakari Oramo asking for hushed intensity from his first violins in Prokofiev's Sixth Symphony
Single adjectives by way of description always sell masterpieces short, and especially the ambiguous symphonies forged in blood, sweat and tears during the Stalin years.
The Barbican's advance blurb hit one aspect of
Shostakovich
's Ninth Symphony - "startlingly buoyant" - and another in
Prokofiev
's Sixth - "contemplative". Yet you could also, piling on the adverbs, call one fiercely disorenting and the other nightmarishly expressionistic. Sakari Oramo conducting a
BBC Symphony Orchestra
on top form focused all facets without selling the unsettling underbelly short - while in between, conductor, strings, piano and harp collaborated perfectly with genius clarinettist Martin Fröst (
pictured below
) in a strand that could only be called sweetly sensatonal.
High jinks first. The Appalachianesque sweetness which launches Copland's Clarinet Concerto, respite after the madcap dangers of the Shostakovich symphony, lasts just long enough not to cloy. Strings and harp brought it to rest in blue remembered hills before Fröst sprang the surprise - a restless cadenza ripping into an ever-changing dance finale. Jazz is part of the picture, as you'd expect from a work for Benny Goodman, reminding us that while Soviet Russia in 1947 still had horrors in store for Shostakovich, Prokofiev and millions of others, America was heading into a lively new world of stomping exuberance. Fröst's mobile partnership with his orchestral colleagues was just perfect, including swinging contributions from hyper-alert pianist Elizabeth Burley.
Then he sent the audience, healthily full of young people on £5 specials, crazy with his encore, a klezmer number arranged by his brother Göran for which he announced a certain terrror - hard to believe - in making improvisations for a classical crowd. No holds barred here, though, starting with a transformation of Stravinsky's opening Rite gambit - appropriate, since the Russian composer knew both Lithuanian folksong and the music of local klezmer bands - before a catch-me-if-you-can (they could) harum-scarum number which had plenty of listeners on their feet at the end. Heck, the entire rat population of the Barbican could have been lured out with that one.
After the interval, Oramo and his orchestra sailed for the deep waters only with a feral intensity in Prokofiev's most explicitly tragic symphony: still a work of immense daring in the postwar Soviet Union, soon to come under the cosh of Zhdanov's show trials against musical"formalism" in 1948. Jukka-Pekka Saraste, before conducting the BBCSO in the work some years back, said that he found the sadness almost unbearable. "Each of us has wounds that cannot be healed," Prokofiev wrote of the Sixth, referring to his own debilitating state of health following a hypertension attack and - less explicitly - the terror that was partly responsible for it. Arrhythmic heartbeats are heard throughout, along the lines of the ones in Mahler's Ninth Symphony (the comparison in terms of stature seems to me valid). The unhealing wound, moreover, is that of Amfortas in Wagner's Parsifal, as a quotation in the sandblasting Largo makes explicit. But there is the love music of Tristan here, too (direct rendering of the opening on the cellos). No other symphonic slow movement sounds anything like it, and with trumpeter Alan Thomas doubling the violin line to blistering effect, later extreme tenderness from horns in harmony, the effect was overwhelming.
Oramo also has his own sense of how radical changes in tempi can help the structure. In the second of Shostakovich's short but pregnant five movements, he moved on the strings' uneasy responses to the desolate clarinet solo to remind us that this is a flexible Valse Triste; subtler negotiations in the finale thrust its brassy distortion of a seemingly innocuous bassoon theme home before a dazzlingly articulate prestissimo. What a show, incidentally, from the entire wind department of the BBCSO; there surely isn't a better one to be found in any orchestra. In Prokofiev's first movement, the painful development can seem manufactured if too deliberate but here, whiplash after spaciousness for the tick-tocking lament that comes before it, it was simply horrifying.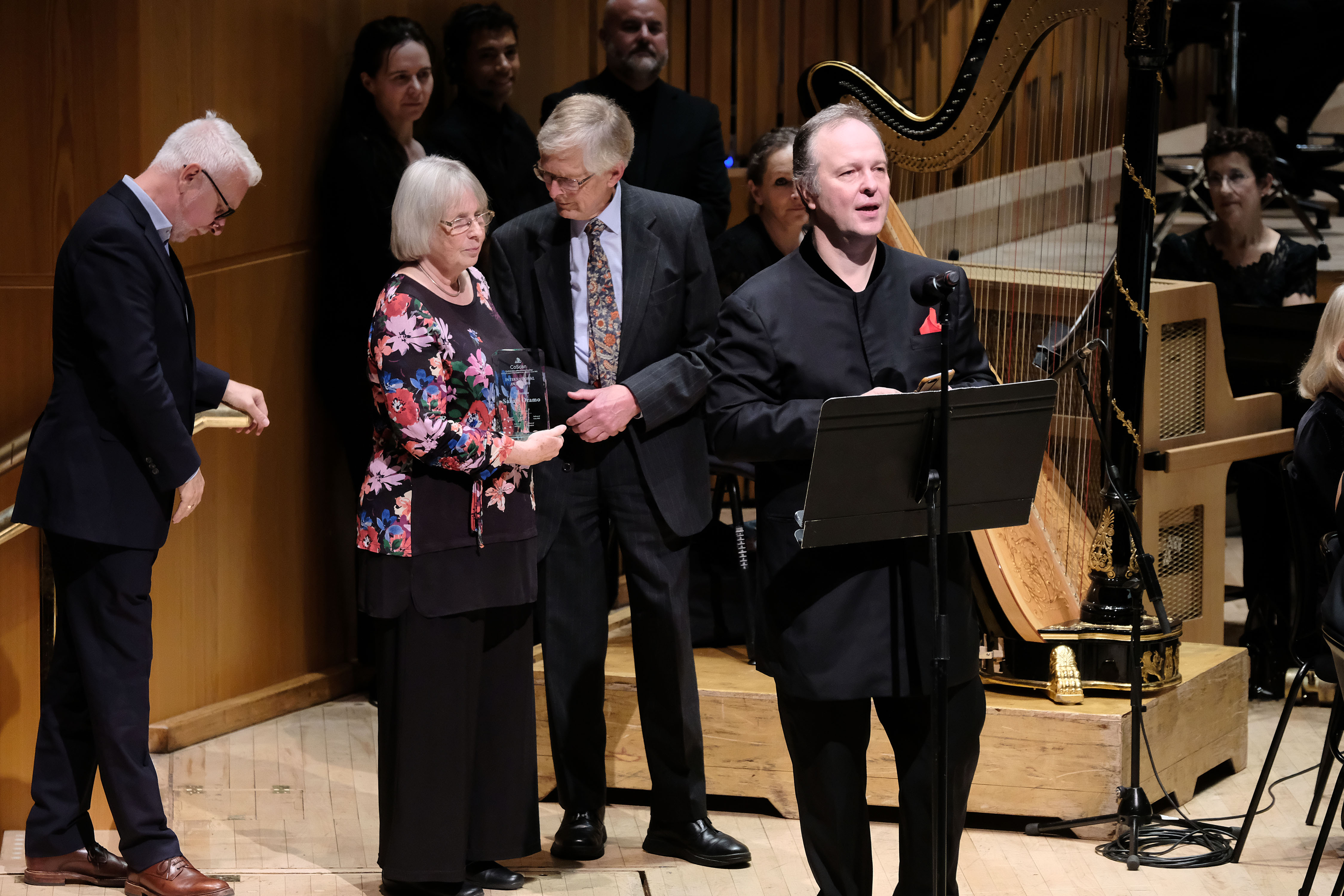 Horrifying is the only word, too, for the crumpling of the galop-with-warning-signals of a unique symphonic finale. With only the motor rhythms left after the two massive orchestral screams, which in turn follow the return of the first movement's loneliest theme, Oramo's final masterstroke was to eke out further monster heart-thudding in the last gasps. Amazingly, the symphony does end on a chord of E flat major; but it must be the most upsetting of its kind in the entire symphonic literature. Towering masterpiece, great performance. It seemed like an appropriate evening for CoScan, the Confederation of Scandinavian Societies (pictured above, Chairman Eva Robards and President Mark Elliott behind Oramo, the BBCSO's General Manager Paul Hughes to the left), to give its latest International Award to Oramo. Previous recipients have included Sandi Toksvig, Hans Blix, Mika Häkkinen and the Nordic Optical Telescope, so the BBC Symphony Orchestra's most unanimously well loved conductor to date is in good company.