DVD/Blu-ray: Zama |

reviews, news & interviews
DVD/Blu-ray: Zama
DVD/Blu-ray: Zama
Argentinian auteur Lucrecia Martel mesmerises with depiction of the chaos of colonialism
Saturday, 29 September 2018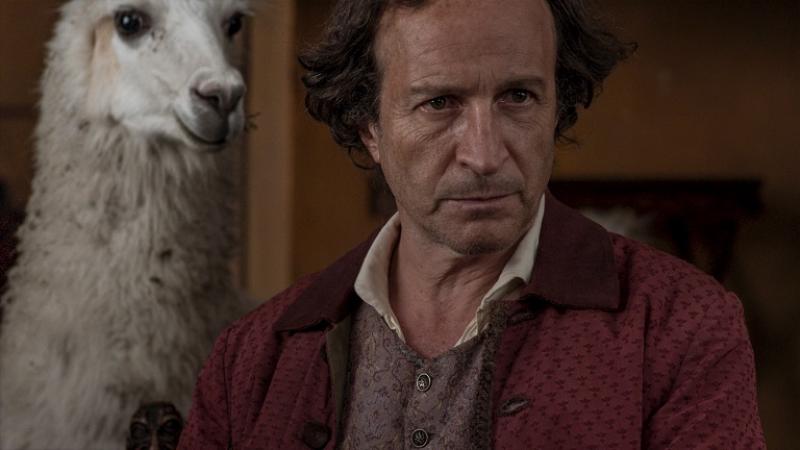 In strange company: Daniel Giménez Cacho (Zama), with llama
Atmosphere definitely dominates over narrative in Lucrecia Martel's fourth film – long delayed, Zama follows almost a decade on from her similarly opaque The Headless Woman – but the Argentinian director offers bracing consolation for some early longeurs in her depiction of a downtrodden functionary hero who is existentially trapped in a crazed colonial world.
Played by Mexican actor Daniel Giménez Cacho, Don Diego de Zama has been festering for years as a magistrate in a riverside hell-hole that must be one of the Spanish Empire's most far-flung possessions (apparently Paraguay, though geographical location is as loosely defined here as is the 18th century historical setting). If his tricorn hat and crimson jacket must have initially suggested an element of louche elegance, the rot obviously takes its toll on those who remain too long in these parts. It's manifested in a distracted lethargy, with energy expended between apparently meaningless bureaucratic tasks and desultory engagement within this enclosed would-be garrison of civilisation.
The chaos of 'Zama' seems to be everywhere, and outside time
Beyond it lies the world of the natives, who are presented more as clusters that respond with servile obedience to any random demand than as individuals, and the diversion of a liaison with a local woman has given Zama a mestizo child. But any attachment there is as empty as the lackadaisical (and bruisingly futile) flirtation he carries on with the wife of a senior official. "Europe is best remembered by those who were never there," she advises, perceptively highlighting the vacuity of society's rituals copied in a location in which they can only ever be irremediably alien.
Zama's every petition for relocation – at some stage in the past he has even acquired a wife and children in Buenos Aires, but their existence is vrtually fabular – is met by absurdist rebuttals that evince the particularly Kafkaesque bureaucracy that rules this remote corner of empire. The casual dismissal with which his requests are treated is nothing, however, to the casual brutality that pervades the whole colonial enterprise, in which human ears, supposedly cut from the corpse of a local bandit, are treated as a gambling token.
An adaptation of the 1956 novel by Antonio di Benedetto, the film's sense of absurdist confinement in a meaningless world surely recalls the work of the Argentinian writer's contemporary Samuel Beckett, as well as his literary master, Dostovesky. The existential gesture of escape that Zama takes in the film's final reel changes the visual tone of Martel's world almost beyond recognition. From the dusty, claustrophobic brown hues that define the settlement, his bedraggled group of adventurers sets out on a sort of Heart of Darkness journey into a luscious wilderness, the deceptive beauties of which disguise dangers lurking both without and within.
Portuguese cinematographer Rui Pocas captures those closing landscapes as almost hallucinogenic in their wide vistas: they seem to shatter any colonial illusion that the European interloper can ever find a place here. Martel is a director for whom sound has always been as important as image – if not more so – and both dominate here over text. Her sound designer Guido Berenblum melds the insistent sounds of nature into an aural fabric of dislocation, made all the more abtruse and disorientating by snatches of human speech that seem to hang in the air, neither dialogue nor voice-over in any traditional form. It's a crazed sensual tapestry that is completed by easy contemporary guitar duo melodies (from Los Indios Tabajaras) that only emphasise their beguiling anomaly. Martel may compel us to accompany her legion of the lost on their particular 18th century journey, but the chaos of Zama seems to be everywhere, and outside time. Oneirically intense, it's auteur filmmaking at its most ambitious.
Overleaf: watch the preview for Zama
Martel is a director for whom sound has always been as important as image - if not more so - and both dominate here over text
rating
Share this article