The Tale of King Crab review - an unholy fool's phantasmagoric progress |

reviews, news & interviews
The Tale of King Crab review - an unholy fool's phantasmagoric progress
The Tale of King Crab review - an unholy fool's phantasmagoric progress
Tuscan rustic myths recast into a mildly magic realist, ruggedly shot odyssey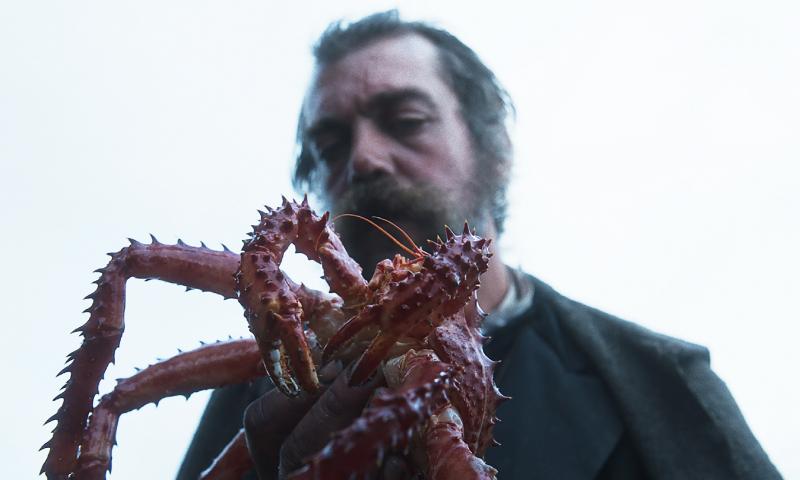 Crawling king crab: Luciano (Gabriele Silli) eccentrically seeks his fortune
"Crazy? Aristocrat? Sad? Killer? Drunk?" A modern Tuscan hunting lodge's regulars remember the myth of irascible rebel Luciano many ways, as it endures from the previous century's misty turn. Italian-American co-directors Matteo Zoppi and Allessio Rigo de Righi's feature debut follows documentary shorts drawn from those real hunters' yarns, tipped now into the phantasmagoric territory of Werner Herzog, or Lucretia Martel's Spanish colonial fever dream, Zama.
We first see reflective stars sparking on Luciano's silhouette in water, and his green eyes elsewhere seem connected to the cosmos. The morning sun and shadows tangibly bake, as he goes his wild way. Even fellow villagers aren't sure who he is – a physician's son, it's rumoured, giving some privileged, monied protection as he anarchically defies the local prince, and gruffly romances shepherd's daughter Emma (Maria Alexandra Lungu). Gabriele Silli (pictured below with Lungu) is an artist and sculptor, not actor, who, the directors say, physically "sculpted" himself to portray Luciano. He's mournfully, blankly masked by his beard, a force almost of nature sunk by human hubris.
"Basically he's…he's a ghost, that's who he is," the Prince tells guests on Saint Orsio's festival day, when Luciano's stubborn pride goes too far, and the shepherd grimly oversees vengeance from two gunsels who leave him shuddering in the river, bringing a catastrophic close to The Tale of King Crab's first half. "And in the end," the hunters' muse, "the story isn't entirely true."
As well as mining the village of Vejano's legends, where a real Luciano suffered exile after a crime, the directors' see their saga as a "sea western", which climaxes with a long-distance rifle fight between outlaws in Tierra del Fuego's mountains. Perhaps it's the directors' documentarist backgrounds that made them shoot their second chapter here on South America's southernmost tip; a "savage and spectacular" place, one character notes. This grounds what would otherwise be a gnomic arthouse experiment in a little of the vivid, adventurous experience of Herzog's Fitzcarraldo, Apocalypse Now or, again, Zama, transporting crew and viewers with gruelling veracity beyond CGI.
Luciano reappears here in the guise of a priest, guiding hunters to the lost site of conquistador gold with an insectile, Martian-red crab for his fantastical compass. The treasure's fate becomes a forest tale within a tale, as the greedy column cross a wheatfield with a Spanish galleon on its horizon, through sea-fret on to brutal crags. Vittorio Giampietro's music comments on and counterpoints the unreliable visuals, incorporating folk songs and Antonio Moretti's woozy, giddy bass tuba. Luciano takes a whistled song from Tuscany to Tierra del Fuego, an immigrant's cargo.
A more naturalistic narrative than might be expected, The Tale of King Crab's eccentricities and vistas – sun-kissed then starkly barren, from one end of the world to another – are the gold-dust of a dryly told tall tale, with a surly, enigmatic protagonist. As the directors push off further from their ethnographic roots, even stranger stories would be welcome.