DVD/Blu-ray: Redoubtable |

reviews, news & interviews
DVD/Blu-ray: Redoubtable
DVD/Blu-ray: Redoubtable
The trouble with Jean-Luc... Michel Hazanavicius' mischievous riff on Godard and 1968
Sunday, 09 September 2018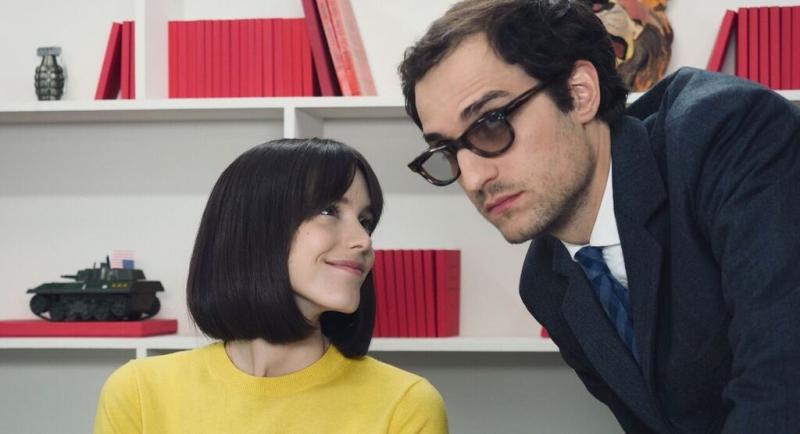 A very Sixties moment: Anne Wiazemsky (played by Stacy Martin) with Godard (Louis Garrel)
For viewers challenged by the work of French auteur classic Jean-Luc Godard, Michel Hazanavicius' Redoubtable catches the moment when Godard himself began to be challenged by Godard. The irony, a considerable one, is that Godard was rejecting precisely those films that most of the rest of us delight in, the ones from the first decade or so of his career. From his debut Breathless in 1960, through the likes of Vivre sa vie, Contempt, Alphaville and Pierrot le fou – what an astonishingly prolific time it was for him – they practically constitute a roll call of the Nouvelle Vague.
Hazanavicius logs into the action in 1967, with the director (played by Louis Garrel) finishing La Chinoise with Anne Wiazemsky (Stacy Martin). It was the year of their marriage, the two decades that separated the couple in age – she was still a student, but had already starred in his Weekend, too – proving no barrier to their love. Hazanavicius based his script on Wiazemsky's roman à clef recollection of the period, Un an après, though he is on record that he emphasised the adaptation's elements of comedy (something that Wiazemsky, then at the end of her life, was apparently very happy about).
La Chinoise did not go down well with audiences – we see walk-outs and napping at its premiere – while the screening at the Chinese embassy was even worse: expecting to be received with open arms by the Maoists with whom Godard was becoming increasingly involved, it was rejected as a "piece of shit". But with the Evènements of May 1968 underway, politics was coming out onto the streets of Paris and into the lecture halls of the Sorbonne.
These are big set pieces that are beautifully recreated here. Godard's presence at the street protests is ironically marked by the recurring joke of how he breaks his glasses over and over again in the demonstrations (a nice late line in Stacy Martin's voice-over suggests that it was the rising optician costs that finally stopped him joining them). More significantly, he was rejected by the student protestors, not least for arguing, in relation to Palestine, that the "Jews are the new Nazis" (plus ça change...). Intent on changing his creative direction, Godard was flummoxed by people coming up to him to ask why he wasn't making movies like Breathless anymore (even a policeman, after a fracas, confesses how much he loved Contempt).
Losing his sense of humour in parallel with the lightness of that earlier work, Godard becomes increasingly narcissistic and his contretemps with Anna increase. There's an excursion to the South, during the days when Godard and fellow protestors were instrumental in closing the 1968 Cannes film festival, followed by an extremely well-shot long car journey back to Paris (the social upheaval had produced general strikes and shortages of petrol). Alienating his companions in the crowded vehicle, he argues for the destruction of the oeuvre of his one-time heroes such as John Ford or Fritz Lang, the frame of his previous admirations reduced to the likes of comic Jerry Lee Lewis.
'Redoubtable' has delved deep into Godard's box of cinematic tricks
Hazanavicius's film was released in the US with the title Godard Mon Amour, and despite all the mockery of his protagonist, the effect isn't snide: the stylistic tributes from the director (best known, of course, for that other cinematic homage, The Artist) illustrate that. Redoubtable has delved deep into Godard's box of cinematic tricks, with numerous citations (the Jean d'Arc moment from Vivre sa vie, for one), games with titles, as well as drops in and out of black-and-white and reversals into negative. There are some smartly ironic script touches – one scene has the two main actors appearing naked as they talk about the purpose of nudity in cinema – while cinematographer Guillaume Schiffman achieves impressive visual pastiche, matching the colour palettes and shots of Raoul Coutard's 1960s work for Godard to perfection.
There's considerable sadness in the long final scene. With Anna happily absorbed in the shoot of a Marco Ferreri film, Godard arrives from the set of his latest radical anti-project full of petulant jealousy and self-centred paranoia: the ship that is their marriage – Redoubtable was actually the name of a French nuclear submarine, its appearance in the title an increasingly ironic commentary to the developing action – scuttles to the accompaniment of Strauss's Four Last Songs. There's a final coda that glimpses Godard engaged in the strictly collective group-management cinema of his Dziga Vertov Group phase. Dead, dead, dead...
The playing of the lead couple is supremely accomplished, Garrel growing increasingly ruffled and sulky as Martin blooms. They both feature with Hazanavicius (along with the director's wife Bérénice Bejo, who plays a smaller role here) in the only extra on this release, a 20-minute stage appearance and Q&A at the 2017 London Film Festival. It reveals little, though Garrel, talking about his own scepticism, mixes it up with "septic". Godard had a self-regard that didn't really admit scepticism, but the poisonous overtones of that second word catch the direction we see him taking in Redoubtable all too aptly.
Overleaf: watch the preview for Redoubtable
Hazanavicius's film was released in the US with the title 'Godard Mon Amour', and despite all the mockery of his protagonist, the effect isn't snide
rating
Share this article
Subscribe to theartsdesk.com
Thank you for continuing to read our work on theartsdesk.com. For unlimited access to every article in its entirety, including our archive of more than 10,000 pieces, we're asking for £3.95 per month or £30 per year. We feel it's a very good deal, and hope you do too.
To take an annual subscription now simply click here.
And if you're looking for that extra gift for a friend or family member, why not treat them to a theartsdesk.com gift subscription?