The Artist |

reviews, news & interviews
The Artist
The Artist
Hooray for Hollywood: this elegant homage to silent cinema is one of the year's finest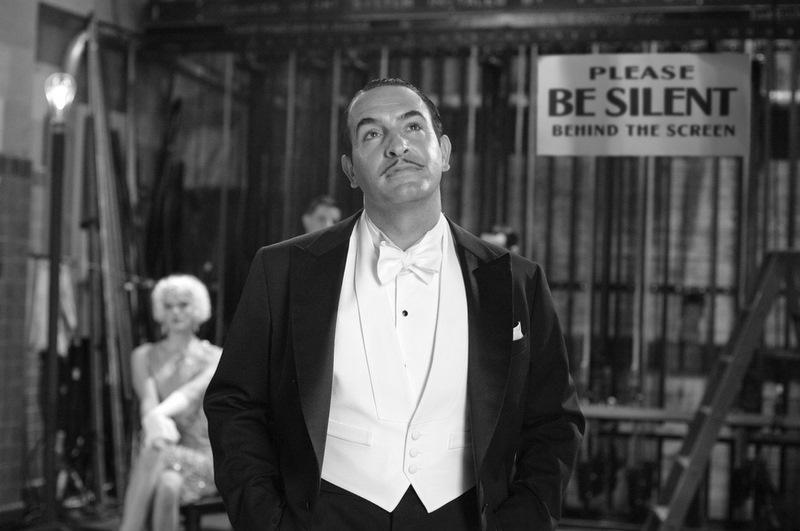 A moment of silent contemplation: Jean Dujardin in 'The Artist'
One of film's most inspiring artists, Walt Disney, once said, "Of all of our inventions for mass communication, pictures still speak the most universally understood language." With the seemingly anachronistic The Artist, French director Michel Hazanavicius proves this to be as true as ever - even in this technologically adventurous age with its all too frequent bombastic sound.
Hazanavicius boldly strips cinema back to its wordless, monochrome days and, boy, does the end result sparkle.
More than 50 years after the French New Wave both celebrated and defied the Hollywood filmic formula, Hazanavicius has produced a more unabashed, less conflicted love letter to cinema's most famous institution. With the language barrier rendered an irrelevance, this almost entirely silent picture sees a French comedic star flanked by a more familiar American supporting cast, their exchanges confined to old-school intertitles. Radiant with its love of the history of the medium, The Artist is a tender, humorous homage which tells the story of a silent film actor and his struggle to embrace sound.
As the film begins it's 1927 and George Valentin (Jean Dujardin, main image) is a shining star sitting atop the Hollywood tree. Adored by the public, with a string of cheesy successes to his name (with titles such as A German Affair and A Russian Affair), he's first seen milking the adoring applause of a vast audience whilst enraging his co-star Constance (Missi Pyle). It's a sequence which explicitly and affectionately resembles one from Singin' in the Rain (1952) - with Pyle made up to resemble Jean Hagen - but which includes the cheeky appearance of a middle finger. George is part of a double-act with a cute, impossibly well-trained canine companion and is the current darling of Al Zimmer (John Goodman, pictured below left), a gruff but similarly tameable studio boss.
After the screening, George continues to bask in adulation outside the movie theatre. It's there that he literally bumps into Peppy Miller (Bérénice Bejo, pictured above right), a fan who, in an attempt to retrieve her purse, ducks under the barrier only to find herself the unwitting recipient of press attention. Posing for pictures with an ease which suggests she's a natural, she's propelled into the limelight with the front page of Variety asking "Who's That Girl?" It's a case of Peppy by name, peppy by nature.
She enthusiastically capitalises on her new-found fame and rocks up at Kinograph Studios to audition, and she's soon a smash hit. But, as the years go by and Peppy's star rises, George's falls. When he is privy to the first sound recordings George derides the development and the studio quickly eschews him in favour of fresh faces. Despite their contrasting fortunes, Peppy carries a torch for George and even as he spirals into The Lost Weekend-style alcoholism and self-pity she looks out for him at a discreet distance.
As George Valentin, the über-charming Jean Dujardin effortlessly makes the conversion to silent star: with his sturdy Gallic features and comedian's expressiveness he was born for it. Crucially, as well as making us laugh like drains, he wrings ample pathos from his character's turmoil. Dujardin had previously impressed in the OSS films, spy spoofs which were popular in their native France and are cult favourites in the UK (incidentally the superior, terrifically fun first film, OSS 117: Cairo, Nest of Spies, co-starred Bejo and both were directed by Hazanavicius). Playing Peppy, Hazanavicius's wife Bejo brings the kind of wide-eyed beauty that lit up the silent screen, but moreover she gives us effervescence and an almost Olive Oyl-like limberness, well-suited to a silent film. It's a likeably game performance.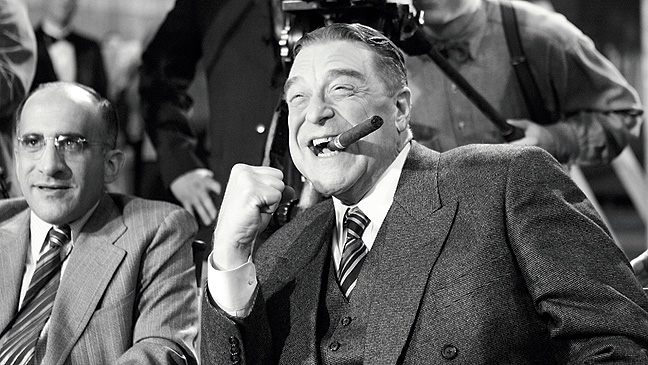 Hazanavicius directs with a fundamental understanding of how silent cinema works, drawing broad yet sensitive performances from his leads and keeping the plot simple, gags universal and intertitle dialogue to a minimum. He even has fun adding just a touch of modern spice to proceedings. As Charlie Chaplin did with the transitional City Lights (1931) and Modern Times (1936), some of The Artist's most memorable moments actually feature fleeting sound, in a canny reflection of the period (the dream sequence is particularly clever). In addition to Chaplin, Garbo and Metropolis (1927) are also obviously referenced but, interestingly, some of the film's key inspirations are "talkies". Along with the similarly themed Singin' in the Rain, The Artist makes explicit visual and/or musical reference to Vertigo (1958), Citizen Kane (1941) and Sunset Boulevard (1950), making it not just a throwback to the silent era but a celebration of Hollywood more generally.
Channelling the heart and wit of Chaplin (ever the sucker for a romance) The Artist is a film that's far from a mere novelty. It's a sincere, educated attempt to recapture the magic of silent cinema and cheeringly - with The Weinstein Company as its heavyweight international distributor - awards-wise it's been generating more buzz than a hive of industrious bees. So it turns out that - right at the last - 2011's final hurrah is one of the films of the year and that, by utilising the techniques of the past, Hazanavicius has made a movie which feels almost radical. Hurrah indeed.
Watch the trailer for The Artist
Hazanavicius directs with a fundamental understanding of how silent cinema works
rating
Share this article