Pericles, National Theatre review - a fizzingly energetic production |

reviews, news & interviews
Pericles, National Theatre review - a fizzingly energetic production
Pericles, National Theatre review - a fizzingly energetic production
Celebrates multicultural diversity with a zing
The cast brings a cornucopia of skills
A break-dancing mini Michael Jackson, a transvestite Neptune, and a hero who wears his hubris as proudly as his gold-tipped trainers, are unconventional even by Shakespeare's standards, but they all play a key part in this joyful act of subversion.
Emily Lim's bold production – which marks the first time a community cast (of more than 200 everyday
Londoners
) appears on stage at the
National
­– celebrates multicultural diversity with a zing that makes you want to dance in the aisles.
Lim and the play's adaptor Chris Bush have added to their immense challenge by taking on Pericles, a flawed work once dismissed by Ben Jonson as 'stale/as the Shrieve's crusts, and nasty as his fish/Scraps out of every dish'. Debate has raged over the degree of Shakespeare's authorship for centuries, not least for a plot that's part bastard Odyssey, part Finding Nemo, and part The Winter's Tale's most ludicrous aspects, yet in this fizzingly energetic production it finds coherence.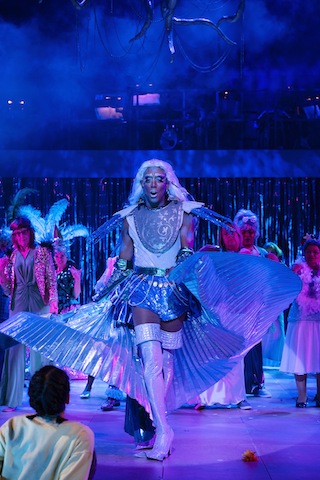 That's not least because at a time when the migration debate daily redefines our political landscape, there's powerful resonance in a tale of exile from a corrupt regime, in which babies are born at sea, parents 'drowned', and children exploited. These elements are important, yet Lim and Bush should be commended too for refusing to over-politicise them, focusing instead on the richness and joy when several communities join forces to share music, stories, and their common humanity.
The evening begins with whispered music, as four individuals walk onto the Olivier's huge stage to begin the narrative traditionally delivered by Gower in the play's original. They light candles in jars, before revealing a circle of actors holding candles to mark the boundaries of Tyre, from where Ashley Zhangazha's Pericles – blinged up to the nines in his gold-flame decorated jacket and gleaming footwear – begins his journey.
Any project seeking to make a classic accessible must tread a fine line between opening it up and over-simplifying it, and this company – sponsored by Public Acts, a nationwide initiative to combine theatre and community – walks that line well. That's not least because it combines straightforward humour in song lyrics, 'Pericles likes to play/Pericles likes to woo/Pericles never pauses to think things through' with the refusal to duck more challenging concepts of exile and personal accountability in the script.
Lim has also worked hard to creatively exploit the cornucopia of skills that exists among the different groups involved (which range from the Bhavan Centre Drummers to the Archetype Dance Team). This pays off brilliantly, not least in a sparky set piece that converts a jousting competition to a dance-off, in which a samba number, moonwalking, barn-dancing and a mini break-dancer represent different attempts to woo Naana Agyei-Ampadu's Princess Thaisa.
As the central couple, brought together and divided by maritime misfortune, Zhangazha and Agyei-Ampadu bring both pathos and gumption to their roles. Agyei-Ampadu in particular transcends the original play's thin characterisation to convert the role of tragic princess into that of sister-with-attitude. It's difficult not to steal scenes when you're wearing more sequins than anyone else on stage, but even so, Kevin Harvey (see image below) also deserves much credit as the transvestite pimp Boult, increasingly exasperated at the virtue of Marina, Pericles' daughter. And while the adult Audrey Brisson tackles Marina's simultaneously difficult and improbable journey with aplomb, Helen Adesanya, who plays Marina as a child, has a direct cute-as-a-button charm that reverberates around the Olivier.
Perhaps appropriately, though, it's the group scenes that resonate as Pericles' ship – along with his fortunes – is washed up in different communities. The Youthsayers Ska Band, clad in black and white, bring an appropriate choreographed madness to the scenes in which the adult Marina is stranded on Mytilene. The Ascension Eagles cheerleaders, who add – possibly for the first time ever – small girls doing the splits on top of human pyramids to Shakespeare, also heighten the collective energy. Many of the cast members are in wheelchairs or on crutches, which seems no impediment to their being swept up in the action. One girl on crutches in the chorus – not separately named in the programme – has a clarity of delivery that clearly marks her out for a future on stage.
For all the evening's diversity there is no virtue signalling. The overall sense is of a large company having an absolute ball. Yes, sometimes there is a little flagging of energy, but the abiding impression is of ingenuity, generosity and more than a little chutzpah, not least in the success of unexpected elements such as the addition of a Bulgarian choir. It bodes extremely well for future collaborations between Public Acts and the National.
The abiding impression is of ingenuity, generosity and more than a little chutzpah
rating
Explore topics
Share this article