Classical CDs Weekly: Louis Couperin, Pärt, Bruce Levingston |

reviews, news & interviews
Classical CDs Weekly: Louis Couperin, Pärt, Bruce Levingston
Classical CDs Weekly: Louis Couperin, Pärt, Bruce Levingston
The lesser-known Couperin revealed, early and late Arvo Pärt, plus piano music refracted through church windows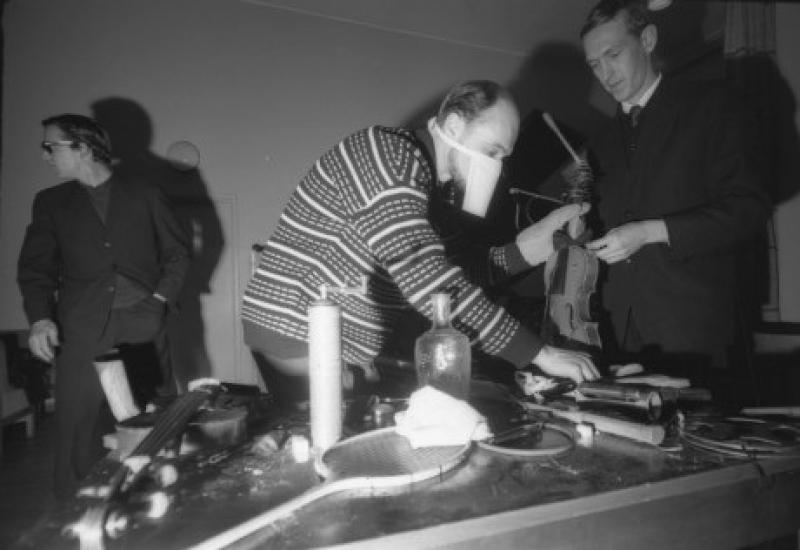 The man who burns violins: Arvo Pärt gets up to mischief in 1968
Louis Couperin: Dances from the Bauyn Manuscript Pavel Kolesnikov (Hyperion)
Louis Couperin: Dances from the Bauyn Manuscript Pavel Kolesnikov (Hyperion)
We'll get the entertaining trivia out of the way first, namely that the musical Couperin dynasty came from Chaumes-en-Brie. I'm struggling to think of another example of cheese/classical music crossover – please leave feedback if you've any examples. Plus, 17th century French musicians referred to F sharp minor as the "key of the goat". No explanation for this is given here. Pianist Pavel Kolesnikov's sumptuously recorded disc focuses on dances by Louis Couperin (1626-1661), the short-lived uncle of the better-known François. Kolesnikov has compiled three suites of dances taken from the Bauyn Manuscript, the only surviving collection of Louis's music. The original copyist left no hint as to the pieces' chronology or how Louis may have ordered them, Kolesnikov's neatly organised sequences collecting sets of pieces in the same key. Two of the suites open with "unmeasured preludes". Have a look online at one, and be baffled: how on earth does one approach baroque keyboard music with no note values or bar lines? Kolesnikov makes it sound easy, his improvisatory freedom hand-in-hand with shrewd musical intelligence. He knows just how long to sustain the notes, the squelchy dissonances resolving to enchanting effect. How could this music have been written in the mid-17th century?
Moving from the unmeasured D minor prelude to the ensuing "Allemande" takes us from deliciously hazy uncertainty to clear outlines and springy rhythms. Kolesnikov never forgets that these are dance movements and invests each one with character. It's all wonderful, but if pushed to suggest highlights I'd opt for the D minor suite's bumptious gavotte and the sprightly gigue in the middle of the G minor sequence. Louis's humanity shines through in the touching Tombeau de Mr de Blancrocher, a tribute to a celebrated lutenist and friend who died in 1652 after a disastrous encounter with a flight of stairs. Magical stuff: to be consumed with red wine and thick slabs of brie.
Arvo Pärt: The Symphonies NFM Wrocław Philharmonic/Tõnu Kaljuste (ECM)
Crank up the volume and listen to the opening track of this disc blind, and you'd be forgiven for spilling your coffee. This music's propulsive energy is infectious: a percussive, trombone-infested torrent of dissonant noise. The forward motion makes it compelling, the clever contrapuntal writing and use of canons drawing the listener in. Open the CD booklet and there's a photo of its grinning composer, looking like a member of an early 1960s Californian surf combo. Improbably, this is the young Arvo Pärt, his spiky two-movement Symphony No. 1 a million miles away from what we've come to think of as his mature style. Its successor, written two years later in 1966, is even more striking. Pärt's percussion writing occasionally suggests birdsong and rainfall, and near the close of the first movement there's a fruity climax which could have been stolen from a 1950s biblical epic. Stranger still is the Tchaikovsky quotation near the symphony's close, described in Wolfgang Sandner's notes as "a gesture of innocence in a world full of aggression". Innocence wins out, though only just.
Pärt's Symphony No. 3 followed in 1971 and takes us into (slightly) more familiar territory, its unabashed tonality and use of plainchant looking forward to his mature style. The brassiness is exhilarating, the ungainly chorales suggesting Bruckner. Just when you think it's all over, there's a thrilling, sonorous coda. These three symphonies are a real find, wonderfully played by Toñu Kaljuste and the NFM Wrocław Philharmonic. Symphony No. 4 has been released on this label before. I'm still not entirely convinced. Sonically, it's exquisite, Pärt's delicate scoring for strings, harp, timpani and percussion balm to the ears. The writing for marimba in the central movement, or the string chords which open the final section are incredibly affecting. But this piece suffers when compared with the earlier symphonies' boldness. A self-recommending anthology though, the four works comfortably squeezed onto a single disc and blessed with glowing, detailed sound.
Bruce Levingston: Windows - piano music by David Bruce, Schumann and James Matheson (Sono Luminus)
Matisse's last work was the creation of a stained-glass Rose Window for a New York church, a memorial to the founder of the Museum of Modern Art. Several years later, Marc Chagall was commissioned to create more, each of his nine stained glasses depicting biblical scenes. James Matheson's Windows followed in 2015, a musical celebration of the church's centenary. Matheson's sequence of five piano pieces recalls Messiaen and (appropriately) Glass, responding to each window with music which is uncompromising but approachable. Chagall's "Crucifixion" is spare and melancholy, the minimalist riffs of "Good Samaritan" consolatory without sounding glib. Matisse's "The Rose" is the longest movement, an incandescent blast of sound in pianist Bruce Levingston's hands. Close your eyes and you can see the colours. Sono Luminus have missed a trick by not including photos of said windows in their otherwise exemplary booklet, but they can be found online easily enough.
Windows is the last item on the disc, Levingston preceding it with other composer's responses to art forms, specifically poetry. David Bruce's The Shadow of the Blackbird is both a response to Wallace Stevens' poem Thirteen Ways of Looking at a Blackbird and to Levingston's playing of Schumann. Bruce's allusions to 19th century romantic piano music come thick and fast in the opening movement, the second movement's spare, melodic opening a stark contrast. There's some ravishing soft playing from Levingston, who also throws in admirably clear-headed performances of Schumann's Kinderszenen and Arabeske. He doesn't pile on the sentiment; numbers like "Traumerei" and "Am Kamin" played with simple grace and warmth. Sono Luminus's engineering is impeccable – play this anthology at any volume and it sounds good.
This is the young Arvo Pärt, his spiky two-movement Symphony No. 1 a million miles away from what we've come to think of as his mature style
Explore topics
Share this article