Pagliacci, Scottish Opera review - roll up, roll up for opera like never before! |

reviews, news & interviews
Pagliacci, Scottish Opera review - roll up, roll up for opera like never before!
Pagliacci, Scottish Opera review - roll up, roll up for opera like never before!
A stand-out promenade production of Leoncavallo's masterpiece with all the fun of the fair
Ronald Samm and Anna Patalong lead the travelling players into town
Yes it's opera, but not as you know it.
The
circus
-tent style structure, pitched on the grounds of Seedhill sports complex and dubbed "Paisley Opera House", was home this weekend to
Scottish
Opera's incredible, immersive production of Leoncavallo's
Pagliacci
. With the opera itself set both onstage and backstage, it was impossible to distinguish between the audience, chorus, cast and crew. The performance truly enveloped the audience, bringing them right into the magic of the storytelling.
At its heart, Bill Bankes-Jones's production sought to be fun for everyone involved. The pre-show entertainment featured magicians, a Punch and Judy show, face-painting and even boxes of novelty hats for people to wear. I donned a policewoman's cap, while my friend wore a beret made of something resembling astroturf with a golf tee in the centre and a miniature golf ball swinging from a string; sadly, the queue for the face painting was a bit too long. At this stage, Scottish Opera's Music Director Stuart Stratford introduced the orchestra, whose players sat, in civvies, on the only bit of staging that looked like an actual stage. Members of the crowd were invited to have a shot at conducting the orchestra, adding to the friendly, laid back feel of it all.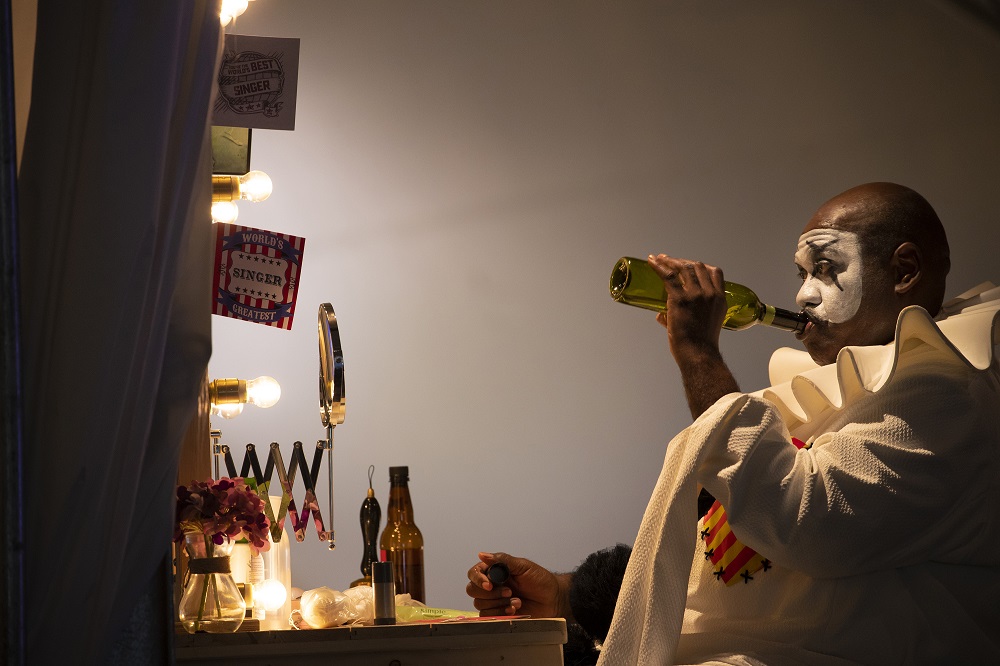 As the overture began, bass baritone Robert Hayward, singing the role of Tonio, emerged, not from behind the curtain, but from a Scottish Opera trailer parked in the area, with the character's reminder that actors are people, with real emotions too. The role of Canio – Pagliaccio when we get to Act Two's "play within a play" – was sung by Ronald Samm, whose rich, bold tenor was perfectly suited to the role (pictured above for the big aria). The chorus, comprising professional singers and members of the local community, were interspersed throughout the audience, and burst into song in a sort of flash mob fashion. As I wandered round the arena it was lovely to hear individual voices and snippets of each part sung so close to me, an experience which could never happen within the confines of a traditional opera house.
The chorus singers then took audience members, some by the hand, round to where Canio's wife Nedda, sung by Anna Patalong, awaited a visit from her lover Silvio. Dressed in shorts and a Scottish Opera crew T-Shirt, with a toolbelt round his waist, Australian baritone Samuel Dale Johnson looked every inch the theatre techie as he climbed up to Nedda's window. His duet with Patalong, as the characters planned their elopement, was charged with a real, raw emotion as they honestly illuminated the all too human issues of forbidden lust and illicit thrills. Left in despair at the discovery of his wife's infidelity, Canio, ironically, must prepare to play a clown, and Samm gave a strong portrayal of the character's anguish in his aria at the end of the first act.
The second started with a bit of a (planned) commotion as benches were carried through the crowd and placed in front of the stage, which was made from aforementioned trailer. The show is about to begin! Nedda's character Columbina (Patalong pictured above), Pagliaccio's wife, wore a sugar-plum fairy type dress, with a skirt which resembled pink fluffy candy floss under a Tunnock's teacake wrapper. With the set's bright blue and yellow walls, and Pagliaccio's clown suit, visually, the scene popped. It was no less impressive musically, with stellar performances from the cast, and the orchestra adding vibrant swathes of colour as the opera drew to its tragic close.
Performances such as this are often difficult to get right. Anything that's "immersive" can often be awkward, cringeworthy, and even a bit rubbish. This was none of these. Both artistically and practically everything went off without a hitch, and above all, it was brilliant fun.
The chorus, comprising professional singers and members of the local community, burst into song in a sort of flash mob fashion
rating
Explore topics
Share this article