Khovanshchina, Birmingham Opera Company
Khovanshchina, Birmingham Opera Company
Musorgsky problem opera takes on new life in the big top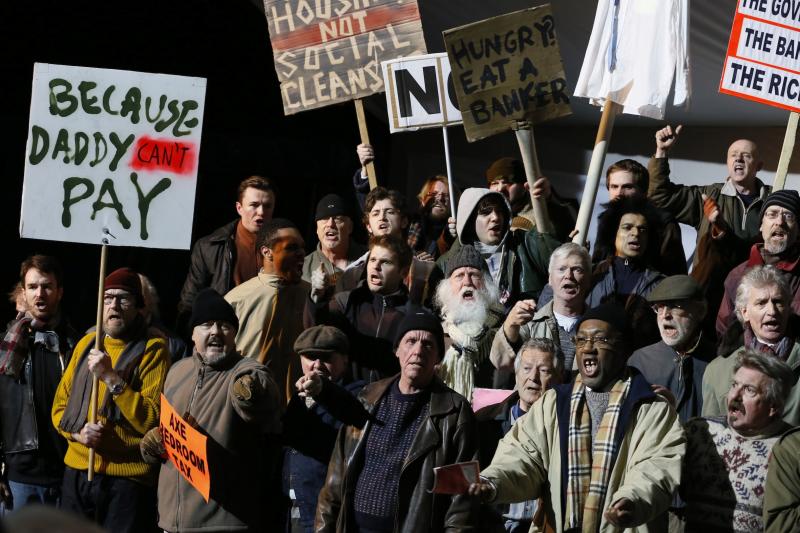 Khovanskygate: the woolly-hatted, flat-capped protesters make their points
Has anyone ever sat through Musorgsky's last, not quite finished, opera about the struggle for power in Moscow at the time of Peter the Great's accession in the 1690s, and come away with the slightest idea of what it's all about? If Khovanshchina had depended for its impact on any kind of Verdian clarity or dramaturgical shape, it would long ago have sunk without trace.
But then there's the music, page after page of inspired, vivid, unforgettable choral writing and solo portraiture that at times even matches Boris Godunov in sheer immediacy and power. It's a work that, against the odds, demands performance; and of all operas it's one that justifies rethinking, which is what Graham Vick brings to it in his spectacular production for BOC in the Freedom Tent of Edgbaston's Cannon Hill Park.
Vick cleverly rechristens the piece Khovanskygate: A National Enquiry (for Musorgsky's National Music Drama) and half-transplants it to modern Russia, where the Khovanskys ("say no to change") are engaged in a violent campaign to seize the throne from the modernizing Tsar Peter (still so-called), in the face of the corrupt liberal politics of the west-sympathizing Prince Golitsyn and the ultra-conservative, banner-waving True Believers ("homosexuality is a sickness"). There are armies of uniformed, dayglow jacketed, peak-capped British-style police, continental riot police (of course), and crowds of woolly-hatted, flat-capped leaflet-distributing freedom protesters ("Hungry? Eat a banker"), both inside and outside the tent.
This is all very exciting, though it can't be said to clarify a great deal. On the contrary it introduces further layers of confusion. For instance, one can understand the drunken orgy of the streltsy (Ivan Khovansky's private militia) in the original; but, whatever you may think of the Met, the idea of them rollicking en masse on the streets, and being bashed and berated there and then by their wives is pure cloud cuckoo land. If only! Max Hoehn has produced a partly recomposed English text to match Vick's concept, but since it's as indecipherable as most sung texts one is still baffled as to what all these characters are arguing about.
Meanwhile the improbable emotional subtext – Andrey Khovansky's drooling, unrequited and very public obsession with a young German girl, Marfa's highly sexed and (in this production) possibly lesbian form of religious hysteria – remain as mysterious as Musorgsky, who spent years researching the Old Believers and the socio-ethnic context of late seventeenth-century Moscow, made them.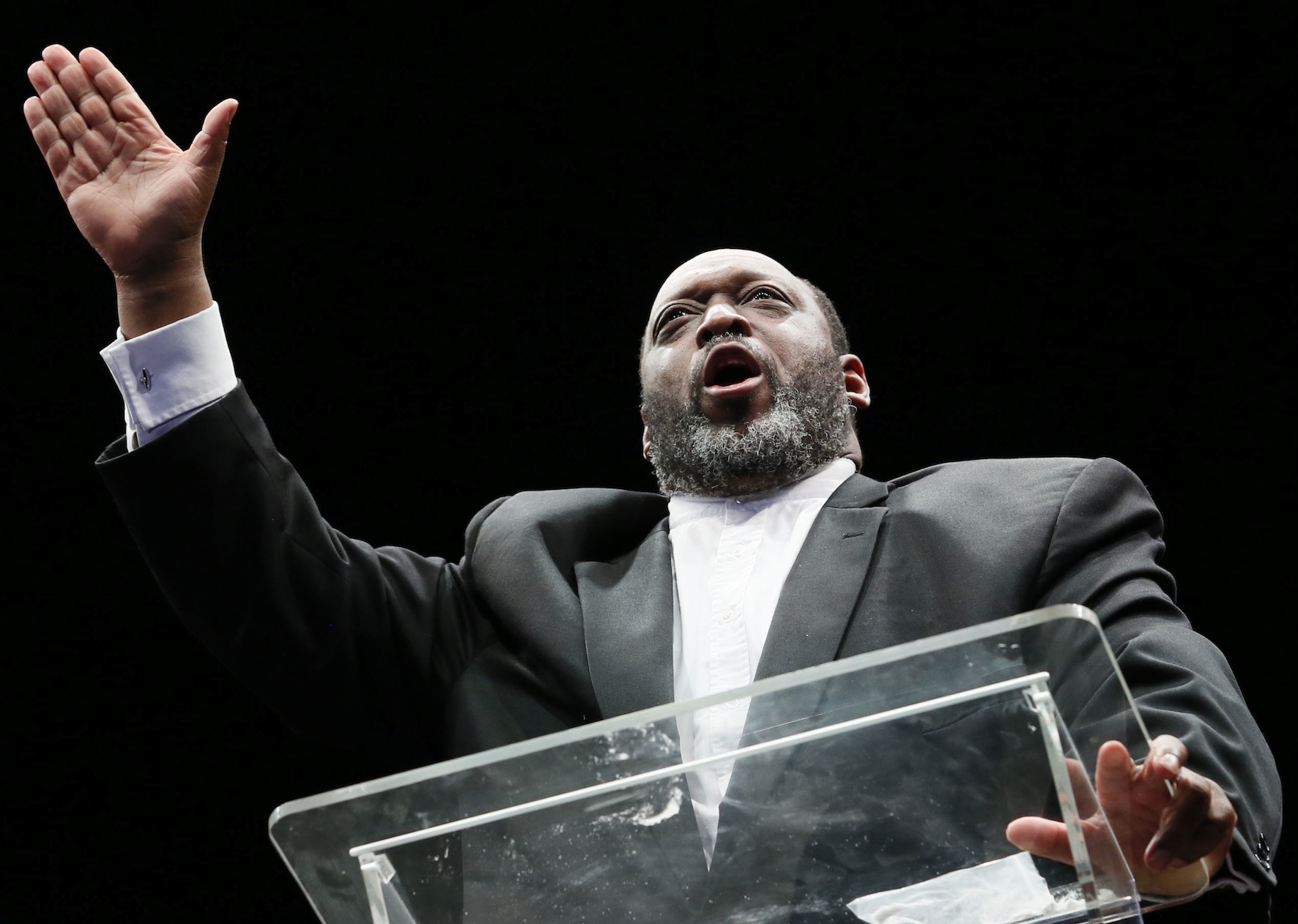 So why is this production by a long way the most gripping of the half dozen or so I've seen in the past thirty-odd years? The uniformly superb quality of the singing and playing is obviously the most important factor. Without that, Khovanshchina would crash on take-off: a less performance-proof opera hardly exists. But I have reluctantly to admit that it also responds brilliantly to the mobile context. In the Freedom Tent the audience stands for the entire three hours of Musorgsky's score, turning this way and that to face a series of platforms and arenas (designers Samal Blak and Giuseppe Di Iorio), being pushed around and kettled up like any crowd of innocent bystanders at a perfectly legal demonstration. The choral scenes, especially, take on terrific energy from the sense of mobile space and the sheer presence of top-class choral singers elbowing their way through the audience, or popping up next to you, so that for a minute you wonder if you aren't supposed to be joining in (I did once – the music is so irresistible.
Another factor to do with this extraordinary space is the placing of the orchestra, on a rostrum along one side of the tent and a good ten or twelve feet up. To be able to hear the orchestra in this way – in Shostakovich's powerful if sometimes anachronistically scored version – is a marvellous bonus which, on the whole, doesn't prejudice vocal balance or (with some minor exceptions) ensemble. The playing by the City of Birmingham Symphony Orchestra under Stuart Stratford is beyond praise. And in this version we hear so much music that Rimsky-Korsakov, in his original "completion," left out, including the marvellous, incomprehensible scene in which the Scribe is tormented by a crowd of Muscovy homeless and his booth smashed up. Oh dear! Why couldn't Musorgsky have lived to be seventy instead of dying of drink at 42?
The cast needs listing in detail: Eric Greene's majestic, larger-than-life Khovansky, Robert Winslade Anderson's sinister, trilby-hatted Shaklovity (described here as the tsar's "policy adviser," though in Musorgsky his allegiance is much less clear), and Keel Watson's stately Dosifei (pictured above). These three wonderful black singers hint at a modern political dimension very far from the Moscow of any age. Also excellent are Jeffrey Lloyd Roberts's shambling Golitsyn and Paul Nilon's nervy Scribe, one of several sharp-eyed character inventions in a scenario whose main personages are (more or less) historical figures.
Musorgsky saw Marfa as a complex, sexually motivated thirty-somethingBut the best of these inventions is certainly the contralto, Marfa, whom Musorgsky saw as a complex, sexually motivated thirty-something, but who is usually played as a frumpish matron with no more than the embarrassing memory of a glad eye. Claudia Huckle's reading of this role brings it to life for the first time in my experience. She makes Marfa both physically attractive and believably a hysteric, without over-playing, but with superb vocal sonority and control. She even – with a lot of help from Hannah Mason – manages to give her strictly irrelevant scene with fellow Old Believer Susanna some dramatic point, though the lesbian implications perhaps raise more problems than they solve. The scenes with the German girl Emma (Stephanie Corley) and Andrey Khovansky, excellent though Joseph Guyton is in the role, remain problematic.
Finally the Birmingham Opera Chorus, brilliantly stage managed by Vick and the movement director Ron Howell, sing their hearts out, inspired – one would like to think – by their proximity to the paying customers. More Russian opera, please, in the Freedom Tent.