Red, Wyndham's Theatre - Mark Rothko drama paints a vivid picture |

reviews, news & interviews
Red, Wyndham's Theatre - Mark Rothko drama paints a vivid picture
Red, Wyndham's Theatre - Mark Rothko drama paints a vivid picture
Alfred Molina gives a towering performance as the self-absorbed artist
Art attack: Mark Rothko (Alfred Molina) challenges his assistant Ken (Alfred Enoch)
The band's back together. Alfred Molina plays Rothko for the third time in Michael Grandage's revisiting of John Logan's richly textured two-hander, first seen at the Donmar in 2009 and then bypassing the West End for Broadway.
Another excellent Alfred – Alfred Enoch, of the Harry Potter films and American TV series
How to Get Away with Murder
– succeeds Eddie Redmayne as Rothko's assistant, forming a compelling duo in this 90-minute meditation on the nature, process and purpose of
art
.
We're in Rothko's New York studio in the late 1950s, where he's working on a major commission: grand murals to be displayed in the Four Seasons restaurant at the cutting-edge Seagram Building. The $35,000 fee, notes Rothko, is more than any other artist has received – and this is a man intent on keeping score. But discussions with his new assistant, Ken, lead him to question whether the commercial project is in fact devaluing, or in some way betraying, his work.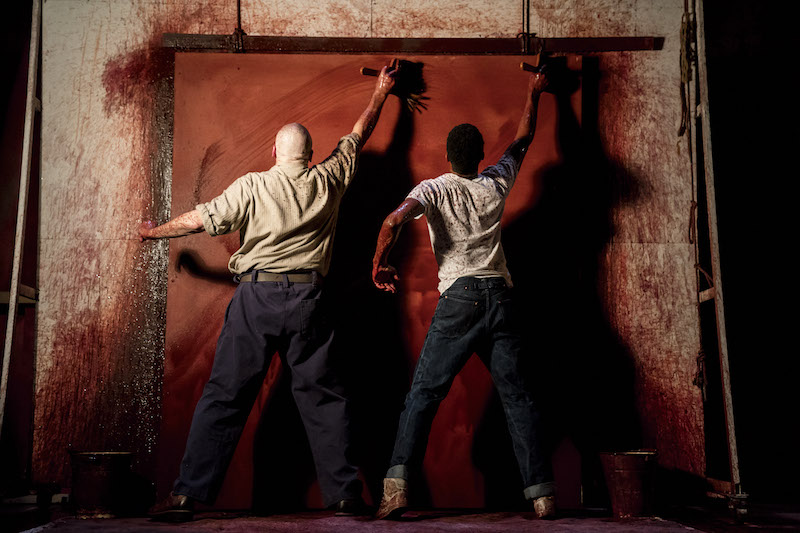 As expected, Logan's piece is teeming with ideas, but a surprising pleasure is the physicality of what otherwise might feel like a one-on-one tutorial. In Christopher Oram's spectacular re-creation of Rothko's studio, a cavernous former gymnasium, we see not just the finished thing, but also hues being mixed, canvases stretched and hammered into frames, giant paintings hauled on pulleys, and – in a bravura, dance-like sequence – the duo rigorously priming a canvas by applying a base layer. (Alfred Molina and Alfred Enoch pictured above and below)
It's a rare moment of harmony in this combative mentorship; though Rothko claims Ken is merely an employee, he certainly speaks to him like a teacher. But as well as representing idealism, Ken is a symbol of the next generation and of Rothko's primal terror that he will become obsolete: "stomped to death" as his Abstract Expressionism did Cubism, reduced to an "over-mantle" status symbol, or simply not understood.
Rothko feverishly controls how his art is received, from sympathetically low lighting, which makes colour pulsate like a living creature, to the cultural reference points he forces on his protégé. When the new arrives in the form of cheeky Pop Art, he's horrified at what he deems a loss of serious purpose. But the no longer submissive Ken is there with the necessary counter-argument: who is he to dictate what art should be, and what people should want?
Alfred Molina is a necessarily monumental presence – right from the opening, as his Rothko stands squarely before his creation preparing to do battle. That laser-focussed pugilism extends to rapid-fire speech hurled at his assistant, but even his egotistical, mercurial rages are understandable as passion. These paintings really do feel ripped from the soul – his children, his identity, his faith – and the moment when he absentmindedly reaches out to stroke one is stirringly tender.
Evident, too, is the depressive side of the artist, who fears that one day "the black will swallow the red"; in just over a decade, Rothko will have spilled a different red by slashing his wrists. Logan's play contorts too much in order to give Ken a parallel, colour-evoked tragic backstory (swiftly forgotten), but Alfred Enoch is nevertheless impressive, athletically zipping around the studio and also magnetic in the still moments, as when Ken gently washes the red from Rothko's hands. It's not merely a generational war; the young can learn from the old, and vice versa too, and those instances where the pair find a compassionate understanding linger on.
Grandage's production uses music beautifully, the soundtrack of mainly classical work swelling from the (red, naturally) record player – until Ken supplants it with Chet Baker. But most magical is Neil Austin's lighting, which quite literally illuminates the art in new ways, transforming shape, colour and our emotional response. Rothko's question "What do you see?" echoes and reforms each time, demonstrating that art may need to escape its creator's control in order to survive – born again for each generation. Red paints just as thought-provoking a picture in 2018, cementing its status as a modern classic.
Red at Wyndham's Theatre until 28 July
The depressive Rothko fears that one day 'the black will swallow the red'
rating
Explore topics
Share this article