You Were Never Really Here review - a wild ride to the dark side |

reviews, news & interviews
You Were Never Really Here review - a wild ride to the dark side
You Were Never Really Here review - a wild ride to the dark side
An intimidating performance by Joaquin Phoenix as a remorseless lone avenger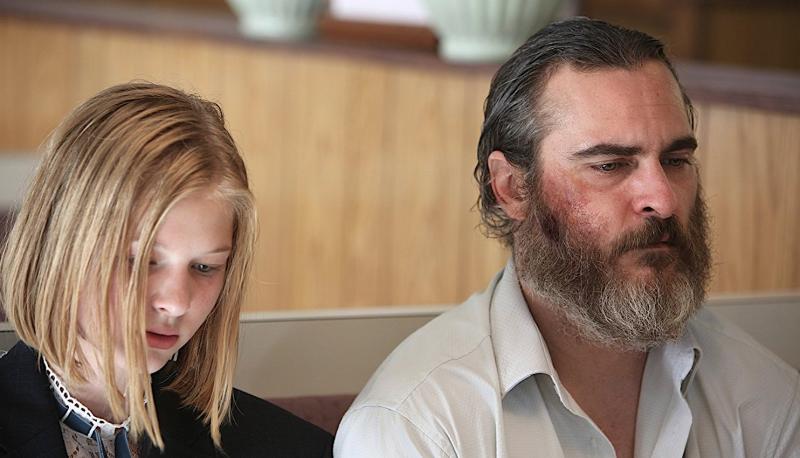 Beyond redemption? Nina (Ekaterina Samsonov) and Joe (Joaquin Phoenix)
Adapted from Jonathan Ames's novella, it's a film distinguished by the force of its images and the compression of its narrative, and while its impact leaves you dazed, you can't quite believe that what you've just seen ever happened.
Even its running time is designed to provoke. At a mere 85 minutes, it rejects the creeping bloat which has become endemic in Hollywood, and the shock of its abrupt ending leaves you feeling as if you've just staggered out of some terrible accident, and you're trying to put the shattered pieces together in your mind.
Thus, Ramsay cunningly insinuates you more deeply into the mind of her protagonist than feels either comfortable or healthy. Joe (Joaquin Phoenix) is a lone wolf for hire, specialising in the recovery of abducted girls. His life is a solitary, shadowy one of cheap hotels, rented cars, fast food and airports, punctuated by episodes of unforgiving violence. Heavily bearded, his features shadowed by a baseball cap, he radiates a powerful air of menace and mental disturbance. His only emotional attachment is to his infirm, eccentric old mother (Judith Roberts, pictured below with Phoenix), on whom he dotes with child-like single mindedness, though when she tells him she's been watching Psycho on TV even this relationship becomes suspect.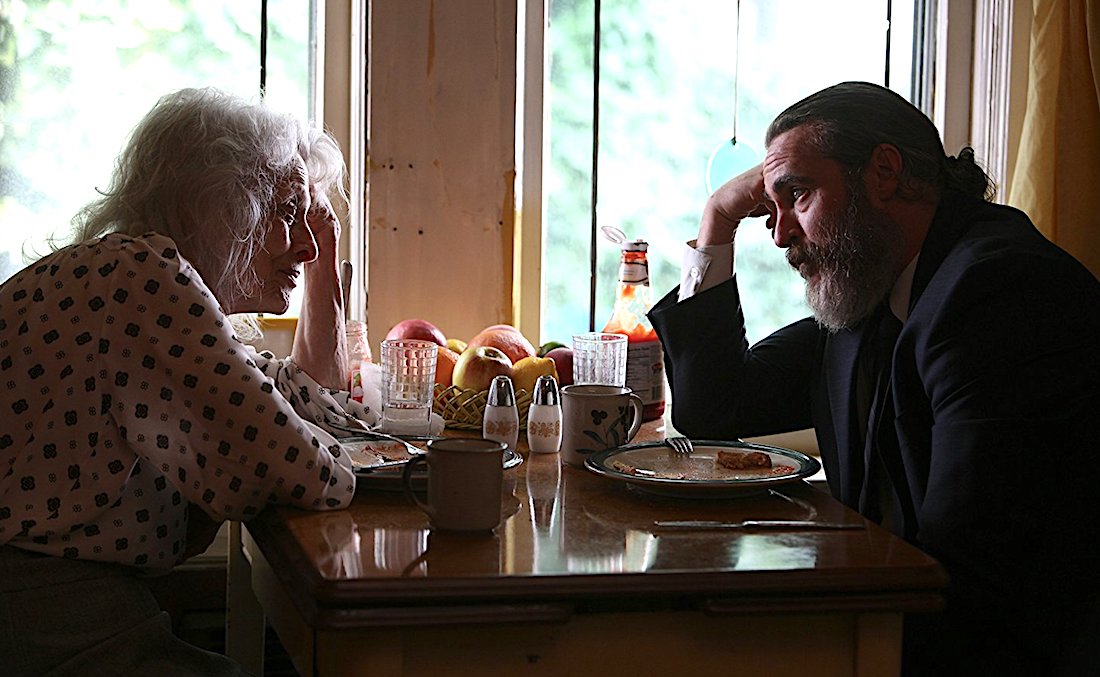 Ramsay doesn't offer the viewer much for free, and at times the film feels as if it's been cut too close to the bone, leaving you to unpick what you can from the brief clues that flash past intermittently. There are glimpses of an abused childhood, featuring torture by near-suffocation, and it has left him with an adult habit of wrapping plastic bags around his head and breathing until the air runs out. The image of a man advancing slowly with a hammer is freighted with dread, and now a hammer has become one of Joe's favourite tools (though not for DIY jobs around the house, obviously). It seems that Joe is a military veteran too, suggested by his scarred body and shots of soldiers in the desert. Images of terrified girls and a container full of children's corpses sizzle across his fevered, sometimes drug-addled brain.
Joe's special skills and reputation for ruthlessness lead to him being hired by John McCleary (John Doman, pictured below), who acts as his off-the-radar booking agent, to find the missing teenage daughter of Senator Votto (Alex Manette). The fee is $50,000. Finding the abducted Nina doesn't take Joe long, and we watch dispassionate black and white CCTV images of him robotically meting out lethal violence as he rescues her from a paedophile lair. However, it transpires that this is only the beginning of the quest rather than its end, and Joe finds himself treading a blood-drenched trail that leads him into the deep waters of political power and sordid high-level corruption. The way Nina (Ekaterina Samsonov) clings to Joe, then mechanically begins to caress him as she's evidently been groomed to do for her abusive adult clients, is a moment of particular horror.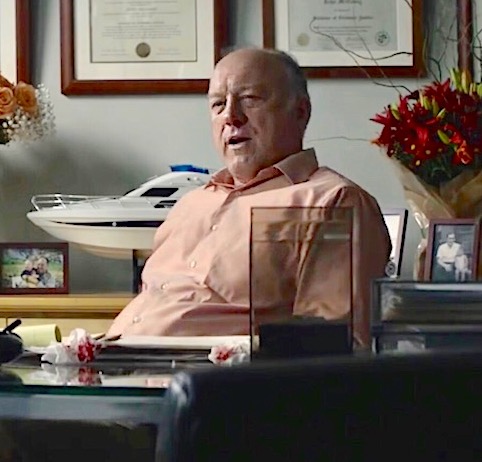 But Ramsay is never lured into the over-familiar exposition of the standard thriller, leaving you instead to mull over her glimpses into Joe's dark heart at your leisure as they resonate in your mind. Though there's ironic space for old doowop songs and even the cloying Seventies ballad "I've Never Been to Me", the sense of a world out of kilter is intensified by Jonny Greenwood's startling soundtrack, in which electric guitars clang as if raked by ragged claws, and violent orchestral chords suddenly burst over the action.
Joe is a man permanently on the brink of extinction, sometimes driving through New York's streets by night in sequences recalling Scorsese's Taxi Driver (whose screenwriter Paul Schrader has surely left his mark on Ramsay), experiencing hallucinations of suicide and toying with death by drowning. Ambivalent to the last, Ramsay offers us an ending which might be some kind of beginning, though surely not an auspicious one.
Director Ramsay insinuates you more deeply into the mind of her protagonist than feels either comfortable or healthy
rating
Share this article