Fanny and Alexander, Old Vic review - agile but shallow Bergman adaptation |

reviews, news & interviews
Fanny and Alexander, Old Vic review - agile but shallow Bergman adaptation
Fanny and Alexander, Old Vic review - agile but shallow Bergman adaptation
Three strong performances weakened by miscasting elsewhere and restless soundtrack
Dance around the Christmas table in Act One of 'Fanny and Alexander'
On one level a slow-burn, pre-World-War-One family saga, on another a timeless human comedy pitting cosy security against unbalanced seeming austerity, resolved by the decisive intervention of the supernatural, it couldn't be radically reimagined for the stage in the way that Ivo van Hove did so unsettingly with
Persona
– another one on the top 10 list – by linking it with a relative Bergman rarity,
After the Rehearsal
.
That said, Stephen Beresford's filleting and adorning do a good job, preserving the eloquent ambiguities of master dramatist Bergman's key one-to-ones with plenty of authentic text to take us straight to the heart of the human condition, and Tom Pye's clever set designs conjure the different worlds with smooth transitions between economical stage compositions. The weaknesses lies elsewhere.
On stage with various Swedish companies as on screen, Bergman built unique ensembles backed by months, sometimes years, of hard work. That sort of thing isn't a luxury we have in the UK, though it still survives in pockets on the continent like van Hove's Toneelgroep Amsterdam with its long-term rehearsal periods. The Old Vic group marshalled by director Max Webter is hardly ideally cohesive, and it's seriously hampered by some woeful miscasting.
Let's get that out of the way first. No-one's saying the performers playing the three sons of veteran actor Helena Ekdahl should resemble their peerless screen counterparts. But two of them, Thomas Arnold as bitter failure Carl, locked in a typical Bergman/Strindbergesque marriage of hate with his long-suffering German wife (Karina Fernandez, not always clear with the German-accented text), and Jonathan Slinger as libertine epicurean Gustav Adolf don't hit the right spots in their pared-down roles here. Slinger conspicuously lacks the testosterone and the ruined charm of the ageing Don Juan with high blood pressure (not for nothing had Jarl Kulle in the film played the great lover in an underrated earlier Bergman bagatelle, The Devil's Eye).
The biggest misalliance is in the relationship between Fanny and Alexander's parents, the lovely, wilful Emilie and Helena's third son Oscar (the girl's father, by the way, is explicitly labelled as "Another" here). He's supposed to be old beyond his middle years, an ideal father but no longer a lover to his young wife, albeit still loving; Sargon Yelda conveys none of this (Slinger might have been more appropriate, if at all, for the role). The wonderful scene where Oscar creates story-telling magic out of a bedroom chair goes for nothing; there is no real sadness about his ghost appearances (Yelda pictured above, left, while Kevin Doyle's Bishop encourages family prayer).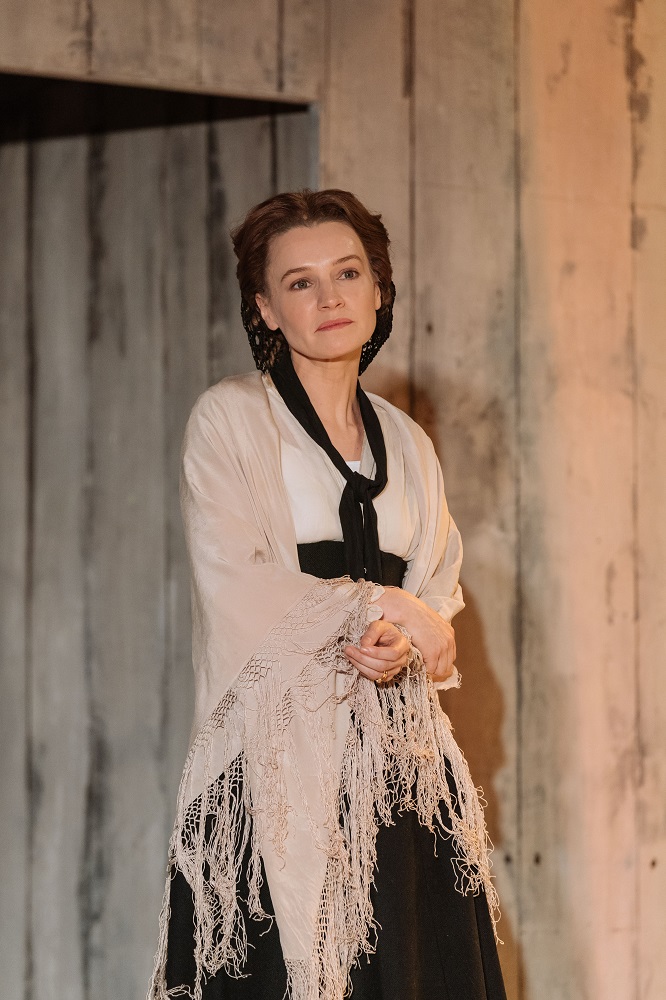 Fortunately Catherine Walker's Emilie (pictured left) is a vibrant, very different character from that of the film's more contained Ewa Fröling as the young woman whose restless search for meaning leads her into a disastrous second marriage with the Bishop of Uppsala, Edvard Vergérus. Her central scene when she comes distraught from her living hell in the Bishop's Palace to see her mother-in-law is one of the highlights of the evening. Predictably Penelope Wilton makes Arkadina-like capital of the retiring (in one sense only) actor-matriarch. She lacks the luminous fragility of Bergman's Gunn Wållgren (terminally ill at the time of filming), but her barbed wit still goes hand-in-glove with human sympathy. We all relish her slightly beefed-up theatrical references and interjections; the comedy certainly gets the laughs.
Walker's Emilie is almost too strong for Kevin Doyle's Vergérus. Doyle may have been suffering from impending voice loss on the first night, undermining the cold authority which turns out to be a mask burned into this anguished human being's face (Bergman split the character of his pastor father between kind Oscar and the sadistic Bishop). There's some pathos here, but we never tremble before his commands; he's clearly no match for the burning hatred of his stepson Alexander ("Don't play Hamlet," Emilie advises Alexander, 'I'm not Gertrude and the Bishop isn't Claudius"). The role was played, out of four young actors, by Misha Handley on press night: an utterly believable portrayal of sensitivity and rage. He sets up the show very well in a new, short prologue, and is utterly believable throughout. Fanny is a much smaller role – the "normal" sister – but Katie Simons did what she had to do very well.
Later key scenes are marred by music and sound. Bergman was always economical with his scores, in this case using only the chilly-versus-warm moods of the slow movement from Schumann's Piano Quintet and the strangeness of Britten's First Cello Suite for the third (fourth) dimension. So why does Webster encourage endless background and foreground wash from composer Alex Baranowski?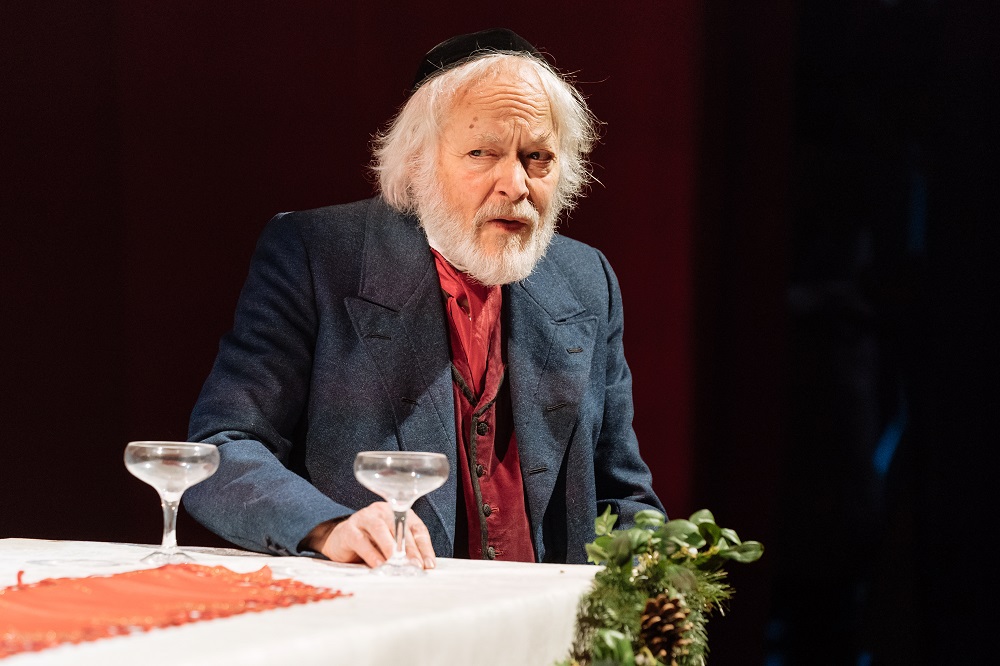 It looks as if the narrative of Isak Jacobi, taking the children into the magical world of his shop and son Aaron's puppet theatre, and unfolding the fable of the dry and dusty road of life versus a forest with fresh springs once glimpsed in childhood, is going to be a much-needed highlight for Michael Pennington (pictured above). But in sweeps the music to obliterate some of the words and undermine with its banality the strangeness of the mystic Jewish fable. The crucial scene between Alexander and the locked-up Ismael begins well, too, with Gloria Obianyo providing her own well-modulated version of the androgynous figure played so compellingly in the film by Stina Ekblad. But the scene is too rushed, the soundscape too noisy too soon, for dramatic effect. And the unnecessary dry ice of the denouement overhangs the next scene. Scrap it; red lighting is enough.
Webster is efficient enough at the group scenes and in moving on the action. The menus of banquets for Christmas, a funeral, a wedding and a double christening are wryly recited into microphones dwonstage left and right – a neat bonus. But a lot of the hinterland, the meditative eternity beneath the busy surface, is lost in excessive theatricality. Yes, this is a play about actors in all walks of life – the church as much as the stage. But the truth should be revealed more profoundly; as Liv Ullmann puts it in a memorable programme quotation, Bergman's films are "about you and me, about finding wisdom, about striving to connect". Something of this does come through, but not often enough. You may want to catch this production for the performances of matriarch, daughter-in-law and grandson (though I can't vouch for the three other Alexanders, nor which you might see when); or you may do better simply to sit down with the full five-hour version of a film that repays constant re-viewing.
Penelope Wilton makes Arkadina-like capital of the retiring (in one sense only) actor-matriarch
rating
Share this article