Bach Cantatas - not just for Christmas |

reviews, news & interviews
Bach Cantatas - not just for Christmas
Bach Cantatas - not just for Christmas
Plan a year of listening to the greatest music known to man
Bach's statue outside the Thomaskirche, Leipzig
Faced with yet another new work premiered by the Borodin Quartet, Shostakovich asked a daunting question: "but have you played all of Haydn's quartets yet?". Of course they hadn't, and felt justly rebuked.
As a listener and sometime performer, I feel the same anxiety about living long enough to experience
Bach
's 200-plus sacred cantatas, the largest, most ingeniously varied and certainly greatest body of religious music in the western world - and if there's a dud, I haven't heard it yet.
Planning your audio adventure should be easy enough: resolve to take in a cantata on every Sunday and other holy day throughout the church year. There are plenty of online guides to tell you what Bach planned for when. Christmas is a good time to start, though Advent would have been more official, and in 1723 Bach launched into the first of his three great cantata cycles for Leipzig after Trinity. Anyway, you have multiple options - not just the greats composed for the churches of St Thomas and St Nicholas but many earlier cantatas from the composer's time in Mühlhausen, Weimar and Köthen. I started in late December 2013 with John Eliot Gardiner's Christmas Oratorio, which in effect is made up of discrete cantatas each playable over six days (you can also take your pick from the official cantata series). I got as far as Easter of the following year.
What stopped me? Partly a fatal lack of organisation in buying in the right cantatas ahead of the Sunday or holiday in question. I became an addict of Gardiner's famous Bach Pilgrimage series, each two-CD set illustrated by a superbly-photographed face from around the world. Up to Easter, I also took what I already had on the shelves from other series - Masaaki Suzuki's, Ton Koopman's, chiefly. Instrumentally, all were good, but all had variable vocal soloists, which discouraged me from investing in complete box sets. YouTube would be able to furnish a performance of each cantata, but not always the ones you'd want.
Then, this November, I picked up in a charity shop two LPs of Helmuth Rilling's Bachakademie Cantatas with Stuttgart forces. Snobbery tended to have dictated that only the latest period-instrument approaches would do, but what I heard amazed me: top singers including Helen Donath, Helen Watts, Peter Schreier and Dietrich Fischer-Dieskau, flowing tempi and a real sense of meaning in the German texts from both the choral and solo voices. Only listeners hellbent on hearing countertenors than the more varied tones of contraltos could possibly be disappointed.
There seemed to be a consensus that Rilling's interpretations are consistent throughout. What's more, they're available very cheaply from Hänssler Classic in two CD box formats - either as part of the complete Bach on 172 CDs, which is bound to leave you with some less than top performances in other spheres, or as "The Complete Cantatas," both sacred and secular, which would give you a much better overview than any other series.
Having dipped in, and starting today with the Weimar Cantata for the fourth Sunday in Advent, "Bereite die Wege, bereitet die Bahn" ("Prepare the paths, prepare the road," appropriately enough), BWV 132, I know I won't be disappointed. The oboe solo at the start of this Advent cantata is full and bright; the soloist is the late, great Arleen Auger, and you'll never hear a finer soprano stylist in this music.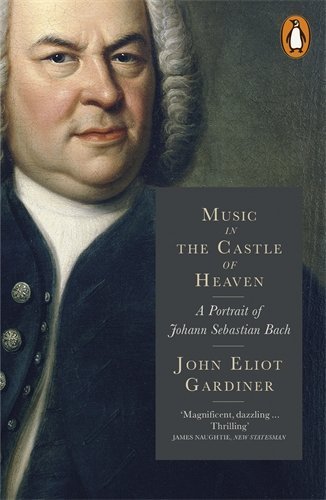 What's more, that opening aria is so typical of the distinctive invention you hear in just about every number - and there certainly isn't a single cantata without some rare combination of instruments or some startling pointing of the words. In a Montepulciano lecture as captivating and as accessible as his TV documentary or his superb book Music in the Castle of Heaven, Gardiner used carefully selected examples to emphasise his main point: that each cantata is a superb music-drama, never in need of staging because it's all there to work on your imagination in the way the notes are delivered.
The recorded excerpts ranged from the splendid depiction of the calm at the eye of storm-tossed billows in the tenor aria from BWV 81, "Die schäumenden Wellen von Belials Bächen", to the profoundest poetry of BWV 105's "Wie zittern und wanken, die Sünder Gedanken" - oboe as soul, soprano as human, with only light string accompaniment, the hovering between major and minor anticipating Schubert.
Moments like these make us echo what Gardiner writes in the preface to his book: "we want to know what kind of a person was capable of composing music so complex that it leaves us completely mystified, then at other moments so irresistibly rhythmic that we want to get up and dance to it, and then at others still so full of poignant emotion that we are moved to the very core of our being". It's the task of Music in the Castle of Heaven to try and get to the core of the person, and yet - as in the listening or the playing, for which a lifetime isn't long enough - the essential being remains both human and divine, unknowable other than in the mystery and transfiguration of the musical moment. A cantatas journey is the right way to extend that understanding. So get hold of the Rilling box, make way the path and clear a time for listening every Sunday or festival day morning.
There isn't a single cantata without some rare combination of instruments or some startling pointing of the words
Share this article