The Secret Theatre, Sam Wanamaker Playhouse review - a ferocious topical satire dressed up in period costume |

reviews, news & interviews
The Secret Theatre, Sam Wanamaker Playhouse review - a ferocious topical satire dressed up in period costume
The Secret Theatre, Sam Wanamaker Playhouse review - a ferocious topical satire dressed up in period costume
Finally, a new play worthy of the Globe's Wanamaker Playhouse
Queen and courtier: Elizabeth I (Tara Fitzgerald) and Walsingham (Aidan McArdle) go head-to-head
The Globe's Sam Wanamaker Playhouse may be a historical recreation, but the same shouldn't be true of the plays staged within it.
Since it opened in 2014, this
atmospheric space
has spawned a whole sub-genre of historical
new-writing
– works that have too often been respectfully inert, struggling to find a contemporary voice among so much authenticity. That voice shouts, screams and swears its way in startlingly colourful terms through Anders Lustgarten's
The Secret Theatre
: a passionate, politically loaded and gleefully counterfactual take on Elizabethan England.
Taken from a John le Carré quotation ("Espionage is the secret theatre of our society"), the title sets us up for Smiley dressed in doublet and hose, and the transposition doesn't disappoint. Lustgarten takes the grains of historical truth – Elizabeth I's spymaster Francis Walsingham, a politically precarious England, two warring religious factions – and weaves a work whose facts work alongside fictions to offer a muscular critique of contemporary British politics and society.
Unprecedented surveillance; hot-button immigration issues; fake news; a nation divided in two: The Secret Theatre isn't afraid of hitting its allegorical drum hard, and were it not for the crisp, clean dialogue, and the seam of wry wit that dimples its way through the play, things might get a little strident. As it is, Lustgarten gets away with his contrivance, giving us a drama full of allusions and echoes, whose shadows are even more loaded than those of this candle-lit space.
Taking the Wanamaker's lighting down to its lowest level since the theatre's inaugural Malfi, director Matthew Dunster (with a little help from Alexander Balanesu's jittery score) gives us Gothic without the ghosts; the terrors that lurk in this thick darkness are all the more horrifying for their familiarity – instruments of the state, both legal and human. Stabbings, hangings and an extended torture scene all take place in full view; but nothing is as it seems, and even blood can lie in this world of double-crossing and double-agents.
A controlled Aidan McArdle plays Walsingham (pictured above with Colin Ryan and Edmund Kingsley) as a loyal subject and fanatical bureaucrat, ruling over his paper-kingdom with obsessive care. A sort of Tudor Alastair Campbell, he's always got one eye to the spin, and is not above staging a bit of political theatre of his own, should situations need manipulating. His crafted life and lies are challenged by Cassie Layton, passionately sincere as his daughter Frances – a living pawn in his political power games.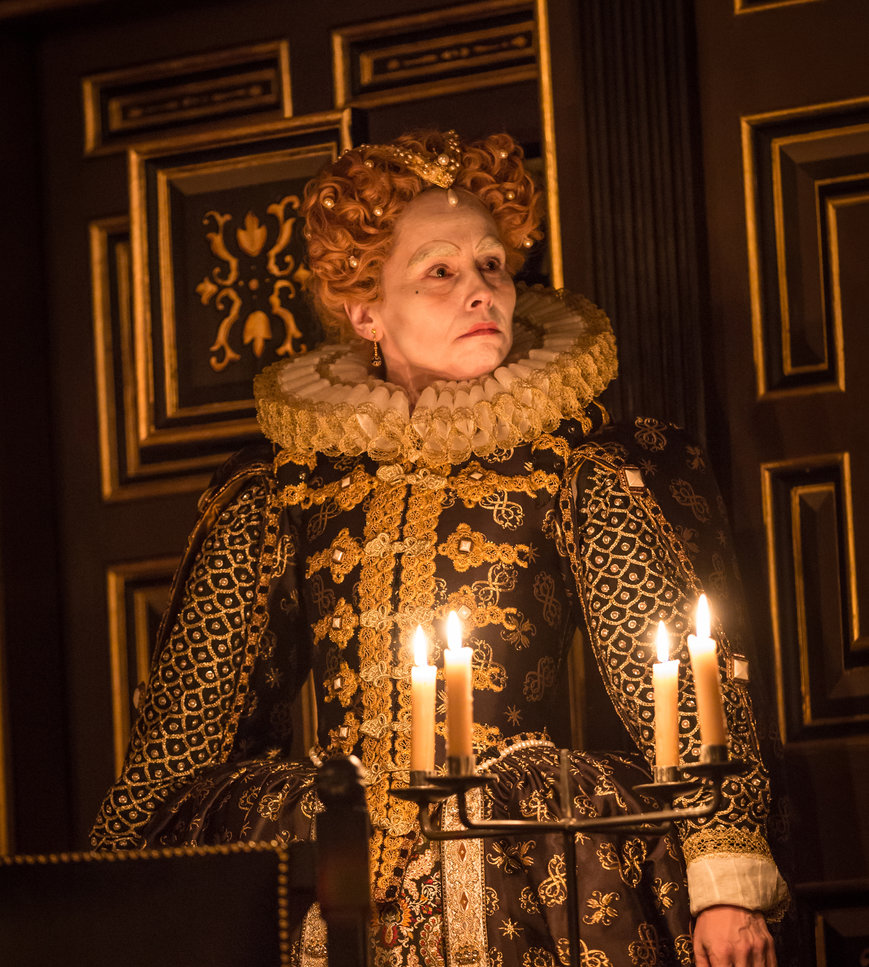 Ian Redford strikes a nice balance between bluff courtier and smiling Machiavel as Sir William Cecil, and Edmund Kingsley's Pooley is so smoothly plausible as to inspire suspicion every time he steps on stage. But it's Tara Fitzgerald's Elizabeth I (pictured right) who threatens to run away with the show. There are shades of Mark Rylance's Olivia in her waxwork doll of a Queen, whose perfectly painted face and immaculate dress conceal a fierce, foul-mouthed harpy, urgent for sexual gratification, one who "likes a bit of rough".
Dismantling the polite legends and conventions of Tudor England from the Virgin Queen down, Lustgarten takes infinite care and pleasure in his dystopian rewriting of history. His grubby, dark irreverence is tempered by Jon Bausor's deft designs, which achieve moments of really startling beauty and drama from just some candles and cardboard models. The Secret Theatre is a show worthy of the Wanamaker – not flawless, but with something real and current to say. Leaving the waxworks to the museums, Lustgarten has given us living history, a period thriller and a topical satire all in one. Catch it if it doesn't catch you first.