Network, National Theatre review - Bryan Cranston's searing London stage debut |

reviews, news & interviews
Network, National Theatre review - Bryan Cranston's searing London stage debut
Network, National Theatre review - Bryan Cranston's searing London stage debut
Seminal 1976 film resonates anew as Breaking Bad star gets 'mad as hell'
Tuesday, 14 November 2017
Spectator sport: Bryan Cranston as Howard Beale in 'Network'
Outrage knows no time barrier, as the world at large reminds us on a daily basis.
So what better moment for the
National Theatre
to fashion for
the internet
age a stage
adaptation
of
Network
, the much-laureled 1976 celluloid satire about lunacy and, yes, anger in the televisual age. For a generation or more of filmgoers (myself among them), Peter Finch's Howard Beale ranting "I'm mad as hell and I'm not going to take it any more" was part of our cultural DNA, and the first thing to be said about Ivo van Hove's theatrical iteration of the film is that its star, Bryan Cranston, does that totemic outburst proud.
Indeed, pretty much everything the Breaking Bad star (and Broadway Tony winner) does hits the bullseye in what surely constitutes the most impressive British stage debut from an American actor in years. Far more even than I recall from the late, much-lamented Finch (who had died by the time he won an Oscar for the film), Cranston communicates fury where necessary, of course, but also panic, anxiety and against expectation a gathering zen.
Most importantly given the whirligig of a staging that surrounds him, he remains throughout an interval-free two hours the crumbling but also surprisingly cool epicentre of a production busily competing for attention on multiple fronts. The visual melee includes spectators to one side who are seen eating a gourmet dinner while they watch the show – a gambit that gives new meaning to that time-honoured American notion of the TV dinner. The same crowd gets an up close and personal view of the play's most graphic sexual encounter, though several among the press night attendees seemed determined not to look.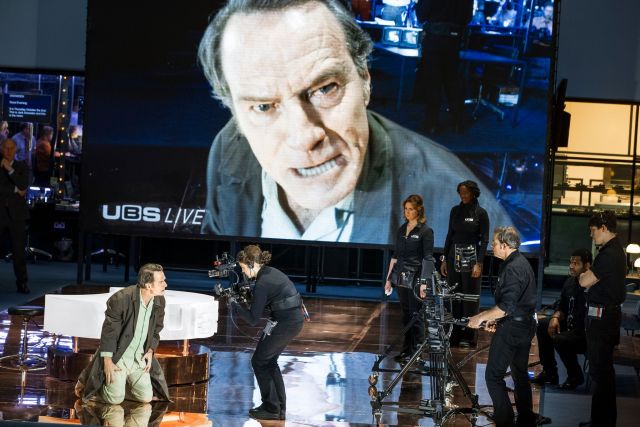 Cranston maintains riveting command over the rise and fall and unexpected rise of the emotionally bottomed-out Beale, whose suicidal despondency ("I just ran out of bullshit") casts him as a media sensation in "this demented slaughterhouse" that we call life. Maybe it's because this is happening in a building that knows its classical repertoire, but Cranston at various moments puts one in mind of Beckett and even Lear in his embrace of the nothingness that Beale sees before him. And when he references with preternatural calm "the final revelation [that] is at hand", we feel as if we are listening to both the smartest man alive and also one of the most disturbed. (In physical terms, devotees of the film may be amused to note how much the actor in fact resembles not Finch but his craggy, firm-jawed co-star, William Holden.)
Cranston is the main draw in a stage premiere that marks van Hove's continuing embrace of celebrity (his forthcoming All About Eve will star Cate Blanchett). But the director also leaves his signature imprint on material that more or less demands the technological legerdemain we have often seen from van Hove and his designer Jan Versweyveld. The Lyttelton stage seethes with activity that looks as if it might just burst the back wall. That is precisely what happens when Howard's fellow newsman Max (Douglas Henshall, making something newly vivid out of Holden's screen role) pursues his adulterous liaison with Howard's producer, Diana, via an intimate chat that takes the pair out the door of the National and into the night air.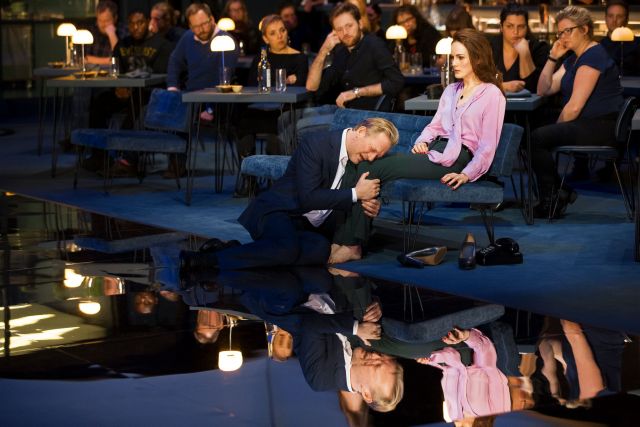 It's only a shame that Michelle Dockery (pictured above with Henshall), following on from Faye Dunaway's matchless rapacity onscreen, registers not as the "wasteland" she is said to be but as a comparative nonentity who is also saddled with the more boilerplate passages in Lee Hall's rewrite of Paddy Chayefsky's era-defining screenplay. How much could anyone do with stuff like "It's been handed to us on a plate; let's not blow it."
Nor, given that both Dunaway and co-star Beatrice Straight also won Oscars for their performances in the film, can Caroline Faber make much of the pro forma despair of Max's long-suffering wife. The men grab pride of place – not just Cranston and Henshall but also the terrific Richard Cordery as the Southern-accented bigwig (Ned Beatty's role in the movie) who holds forth on a climate in which nationhood and politics are subsidiary to the all-consuming power of money. That pronouncement certainly registers in our Trumpian times, which perhaps explains the closing video sequence of presidential inaugurals that elicits cheers at the sight of Obama and boos and catcalls for 45. (Presumably this production doesn't have a tour of America's red states on the cards.)
What are we left with once the smoke and mirrors of the techno-wizardry clears, and those of a certain age have got over the excitement at projections of banner American TV commercials of the era (Almond Joy! Charmin toilet paper!)? Replace the call to arms about resisting the sinuous allure of TV with today's far wider incursion into our lives of gadgetry, and the play makes many a valid and powerful point. By the time we get to Howard's climactic appeal to humankind as the last bulwark against the everyday onslaught of the impersonal, a play steeped in one man's capacity to be "mad as hell" leaves us sad as hell.
Network at the National Theatre until 24 March.