Howards End, BBC One review - EM Forster adaptation is finding its footing |

reviews, news & interviews
Howards End, BBC One review - EM Forster adaptation is finding its footing
Howards End, BBC One review - EM Forster adaptation is finding its footing
The Schlegel sisters are back, but Julia Ormond (so far) steals the show
Emma Thompson redux? Hayley Atwell plays Margaret Schlegel in 'Howards End'
Can it really be a quarter-century since that finest of all Merchant-Ivory film adaptations, Howards End, was first released?
So it is, astonishingly, which surely means the time is ripe for a fresh celluloid take on EM Forster's enduring 1910
novel
about morality, love and loss in Edwardian-era England. The current outing grants the creators of this collaboration between the
BBC
and the American channel Starz four Sunday nights to capture what the glorious Anthony Hopkins/Emma Thompson film conveyed in half that time. The verdict so far: compelling stuff that doesn't as yet fully connect.
Give it time, and one suspects director Hettie Macdonald and her unexpected screenwriter, American Oscar-winner Kenneth Lonergan (of Manchester by the Sea renown), will have tapped into the unique power of a novel that does nothing less than refract English society, mores and values through the homestead of its title.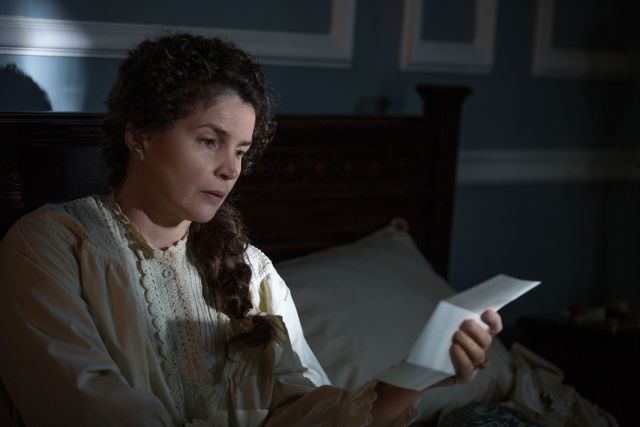 Barely has episode one begun before the family pile of the title is conveyed in careful detail, as seems appropriate given the disparate people who will gather under its roof. The reporter on the scene is Helen Schlegel (the lively Philippa Coulthard), the younger of two orphaned sisters who is writing with characteristic impetuosity to her older sibling, Margaret (Hayley Atwell, inheriting Thompson's breakout role that won her an Oscar). Living in rented Georgian splendour in London (Clerkenwell here doubles as the fictional Wickham Place of the novel), the artsy, impassioned Schlegels soon become intertwined with the far more brash and money-minded Wilcoxes, a brood led by Matthew Macfadyen in hearty form as the cheerfully scornful paterfamilias and a severe-seeming Julia Ormond (pictured above) as his ailing wife, Ruth.
Helen has a brief fling with the younger Wilcox son, Paul (Jonah Hauer-King), but a more promising rapport is established between Atwell's rather determinedly sparky Margaret and the mysterious Ruth, whose imposing facade gives way in Ormond's altogether terrific performance to reserves of self-doubt and anxiety that her formidable manner has attempted partially to disguise. (At this point, Ormond is the only one to rival in one's affections the 1992 Merchant/Ivory cast, which had Vanessa Redgrave as Ruth.) Fussing around the periphery of the Schlegel household are Tracey Ullman in almost self-satiric form as that eternal busybody, Aunt Juley, and Alex Lawther as the youngest Schlegel (and only male), Tibby, a piano devotee whom Lawther invests with the forlorn countenance of an embryonic Alan Bennett. And If you ever wanted to hear Ullman speak the word "disaggregated", here's your chance.
This first episode, one felt, didn't make a point once if it could belabour it for effect, whether the subject to hand was the quasi-reactionary Henry's dismissal of all manner of causes as "bosh", or a degree of simpering from Tibby to make one wonder why his elder sisters didn't simply disown him. But that would be to contravene the ready-made decency and amity that drive Margaret, in particular, ever onwards, her insistence on good manners the mechanism that brings this kindly soul into the wary orbit of the (occasionally) bedridden Ruth, with whom Margaret is soon going Christmas shopping.
It's too early to tell what impact Joseph Quinn's Leonard Bast will have on proceedings, that character's defining relationship with Jacky (Rosalind Eleazar, pictured above with Quinn) deferred for the most part to subsequent episodes. For now, Quinn communicates a nascent sadness to this hapless insurance clerk that seems prophetic, to say the least, even if one can't quite intuit the kinetic attraction that draws the Schlegel women towards him beyond their often-expressed desire to do the right thing, which in this instance means reuniting him with his umbrella. The series for its own part is being billed by the BBC as "an early Christmas present", and there's certainly enough so far to heighten anticipation while we struggle a century on from Forster's novel to discover whether it will be the Schlegels or the Wilcoxes amongst us who inherit the earth.