Trump: An American Dream/Angry, White and American, Channel 4 review - a timely look at Trump and the causes of Trump |

reviews, news & interviews
Trump: An American Dream/Angry, White and American, Channel 4 review - a timely look at Trump and the causes of Trump
Trump: An American Dream/Angry, White and American, Channel 4 review - a timely look at Trump and the causes of Trump
A sober reflection on the US president and the people who put him in the White House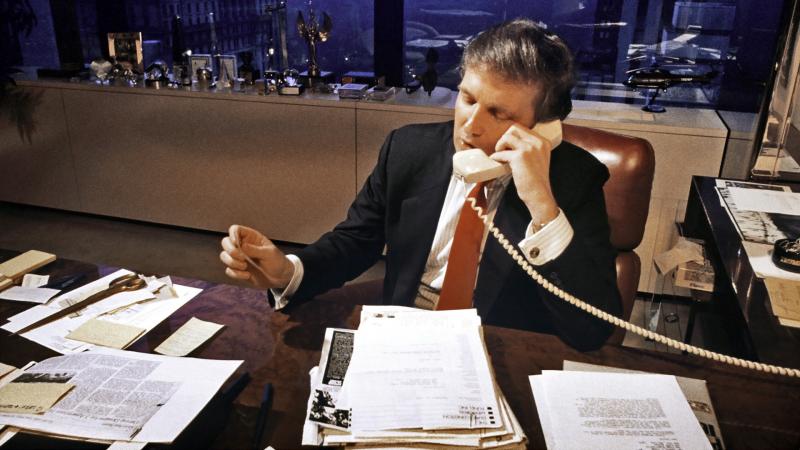 'Hi, yeah… I found your number in a phone box...'
There are, as I'm sure many of you are aware, four key stages of political change. Denial, anger, acceptance and, finally, documentary film-making.
Now that
the Donald
has been ensconced in the White House for over a year,
Channel 4
's,
Trump: An American Dream
, has completed the change transition and is ready to take a look at his life in a series spanning five decades of US history.
The first episode focused on Trump's career in the family building business, which he took over from his father, Fred. Trump Sr, apparently, told his children at a young age, "You are killers, you are kings." In our current era of teaching kids yoga, crochet and how to make a decent sourdough starter, this seems an almost comically Machiavellian throwback, but young Donald took at least some of it on board. He clearly has a killer instinct, and is capable of cutting people off without a second thought. Indeed, his former associate, McCarthy attack-dog, Mob lawyer and all-round massive shit Roy Cohen, claimed Trump "pisses ice water" after he turned his back on him.
There was a depressing back-and-forth between a talented journalist and a man who is little more than an Ivy League Tommy Robinson
However, one would expect a king to be a slightly less parsimonious presence. As well as demanding (and being initially refused) a 40-year tax break on Trump Tower, that famously philanthropic pinnacle of social housing, it became apparent that all that glittered wasn't gold – or indeed gold plate. The interview with Trump Tower build boss Barbara Res was illuminating, to say the least. While the public spaces of the tower were all top-notch workmanship and high-grade finishes, she told us, the apartments themselves were all laminate flooring and formica kitchens. Not that this bothered the high-rollers who bought them, of course. It was all style and no substance, much like Trump himself.
OK, so style is pushing it, but the archive interview footage showed a man much more comfortable in conversation than he is now. He even seemed reasonably eloquent back then, explaining how his knowing "no comment" reply to rumours of the Queen wanting to take up residence in Trump Tower caused a media storm and, in the process, showing himself as a true visionary in the world of fake news. Most prescient, perhaps, was this quote, when faced with the possibility of a land deal going south, "I'll wait for bad times. When bad times come, I'll get what I want."
And from one hate-filled huckster finding a foothold in the cracks of an economically depressed and divided country, to another: Richard Spencer, the man who coined the term "alt-right" and is single-handedly – well how else would you do it? – trying to rebrand the sieg heil, making it the go-to salute of choice for put-upon nationalists everywhere.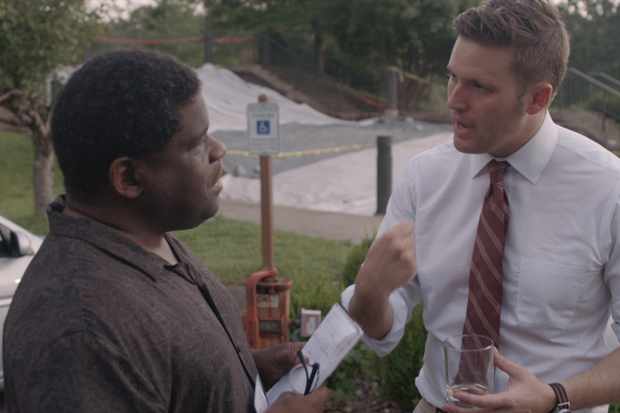 In a great piece of programming, Channel 4 followed their tour of Trump's past with Gary Younge's Angry, White and American, a fascinating look at the anxiety plaguing many white communities in the US, and how this fed into Trump's electoral campaign.
Younge met Spencer early on in a segment that has been shared far and wide and gained huge publicity for the show (Younge and Spencer, pictured above). It told us very little really, other than that there are people deluded enough to think that black people benefitted from slavery.
"Slaves didn't build the White House," claimed the poster boy for facism 2.0, insisting that the credit should go to the people who made them do it. Leaving aside, for a moment, the idea that white slave-owners were like some kind of proto Carl Andre, we were left with a depressing back and forth between a talented journalist and a man who is little more than an Ivy League Tommy Robinson.
Elsewhere, there was much to recommend. Younge covered opioid addiction, privilege and the decline of the US manufacturing base in a wide-ranging but carefully focused film. His trip to former steel-mining town Johnstown was typical of the approach, showing a more diverse spread of opinion than one might have at first expected, with participants willing to discuss openly their worries about white culture being lost alongside jobs and security. These people have been brought up on the American Dream – an unsustainable promise of year-on-year improvement. Like shareholders of a too-big-to-fail company, they expected their return to keep growing. When it didn't, they voted for change. Sadly, they are only now realising that, without a seat on the board, their vote is worthless. They were lied to. Somewhere, presumably, a bunch of Native Americans are looking up the Navajo translation for schadenfreude.