Steely Dan / The Doobie Brothers, Bluesfest 2017 review - brilliant Dan, delicious Doobies |

reviews, news & interviews
Steely Dan / The Doobie Brothers, Bluesfest 2017 review - brilliant Dan, delicious Doobies
Steely Dan / The Doobie Brothers, Bluesfest 2017 review - brilliant Dan, delicious Doobies
Scintillating show from contrasting Seventies veterans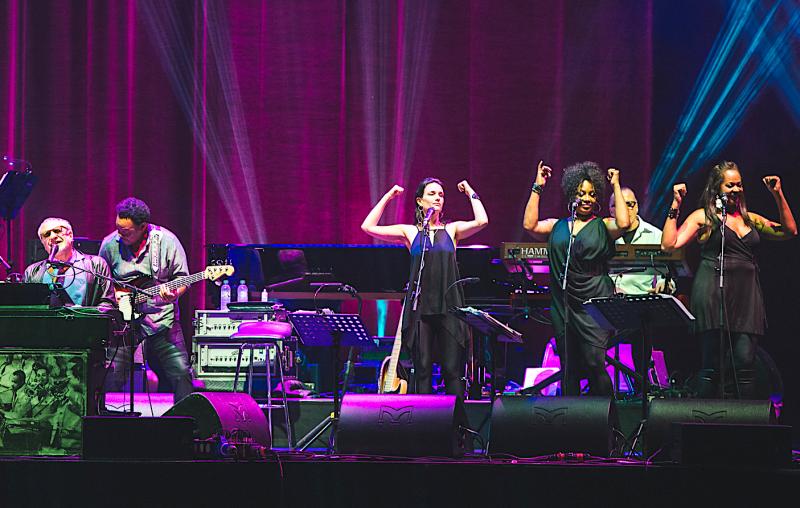 Steely Dan at the O2: Donald Fagen (left), bassist Freddie Washington and the Dan-ettes
Following the recent death of the band's co-founder Walter Becker, it seemed faintly remarkable that Steely Dan went ahead with this O2 show at all – it was the closing night event of Bluesfest 2017 – but Becker's absence wasn't allowed to detract from the sustained brilliance of the performance.
The Dan's surviving guru, Donald Fagen, has announced that "I intend to keep the music we created together alive as long as I can with the Steely Dan band", and surely it has never sounded better.
Becker and Fagen always loved the idea of the great jazz orchestras, not least Duke Ellington's band, and the current lineup (the core of which has been together for about 15 years) is about as close as you could get in the modern era. It bristles with expertise, from the glorious four-piece horn section to female vocal trio the Dan-ettes and all points in between. In guitarist Jon Herington (pictured below), they've somehow managed to find a guy who can comfortably tackle all the famous Steely Dan solos which aspiring guitarists have struggled with down the decades, and always find a fresh spin and new harmonic thinking.
With Fagen at the keyboards, rocking and dipping in his seat like a latterday Ray Charles, the band ripped into an urgent and fluid "Bodhisattva" (from 1973's Countdown to Ecstasy), now tweaked to resemble a slice of high-speed jive. They would return to that album a little later, with a riotous blast through the horn-powered stomp of "My Old School", but much of the set comprised songs from their later albums Aja and Gaucho, when their private musical vocabulary had evolved into something both gauzy and diaphanous, but also taut and funky.
Thus, we were treated to the vaguely menacing "Black Cow", where Fagen's floaty piano figures were anchored by the hard-as-nails beat from drummer Keith Carlock, and a super-sharp "Hey 19", a bittersweet meditation on age and hedonism ("the Cuervo Gold, the fine Colombian") with the cobwebs blown away by the brass ensemble. In "Peg", Herington raised the bar a notch or two higher with a corkscrewing solo of infinite cunning. In "New Frontier", from Fagen's solo disc The Nightfly, the guitarist was at it again with clipped, finely-detailed playing that studied the song like a running commentary. When he played the first solo from "Kid Charlemagne" as a note-for-note replica of the recording, it felt perversely avant-garde.
Obeisance was paid to ancient history, but with a bit of added spring-cleaning. "Dirty Work" is now sung by the Dan-ettes like an old soul classic, with a few new chords for good measure, while the concluding "Reelin' in the Years" was like the original but 50 times more so. "Are you ready for it on a Sunday night?" yelled Fagen, like an old Borscht Belt emcee. Yes we were, I think.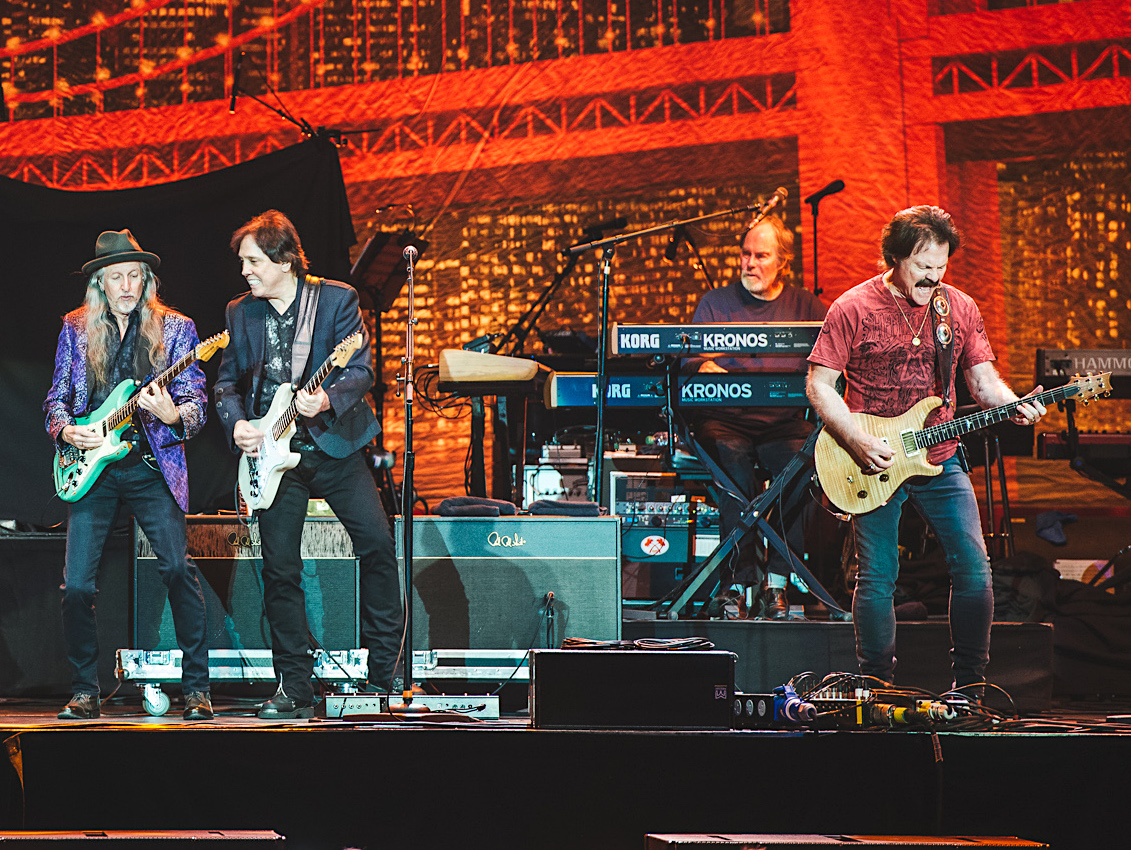 The night had begun with a deliciously breezy set from the Doobie Brothers, who are nearly five decades older than when they began, but could still make you believe it was 1973 if you closed your eyes (though live concert sound was never this good back then). Built around original members Tom Johnston and Pat Simmons and the slightly later arrival John McFee (pictured above, with Bill Payne on keyboards), they hark back more to the band's original rock-country-blues incarnation than their more soul-influenced later work. Their instrumental expertise applied to a batch of glisteningly melodic songs proved an intoxicating combination.
Lyrics like "music is the doctor of my soul" (not to mention Simmons's long silvery hair, purple jacket and stetson hat) left little doubt that we were in the heart of old hippie country here, but the band's evident enthusiasm for their work carried all before it. In "Black Water", they moved with ease from mystical folkiness to Cajun hoedown, while in "Clear Driven Snow" Simmons and McFee's elegantly entwining acoustic guitars suddenly parted to let Johnston's raging electric solo come charging through the middle.
There was a little treat for Little Feat nostalgics in the shape of Bill Payne, and his nimble piano solo launched them into "Takin' It to the Streets". They saved their juiciest hits until last. "Long Train Running" has got faster and grown a long instrumental coda, while "China Grove" still packs noisy powerchord wallop. They closed with a sublime "Listen To the Music", repeating the chorus over and over as if they couldn't bear to end it. "Keep rockin' people, don't ever stop!" Johnston commanded as they left the stage. Havin' a ball, y'all.