Albion, Almeida Theatre, review – Victoria Hamilton's epic performance |

reviews, news & interviews
Albion, Almeida Theatre, review – Victoria Hamilton's epic performance
Albion, Almeida Theatre, review – Victoria Hamilton's epic performance
Doctor Foster writer explores Englishness with enormous metaphoric zeal
Wednesday, 18 October 2017
Soiled dreams: Christopher Fairbank and Victoria Hamilton in 'Albion'.
Prolific writer Mike Bartlett is the most impressive penman to have emerged in British theatre in the past decade. The trouble is that his work is so uneven.
Although he wrote the amazingly imaginative play,
Earthquakes in London
, and the Shakespearean West End hit,
King Charles III
, he has also been responsible for the preposterous improbabilities of the second series of the BBC's
Doctor Foster
. Is his new play, a three-hour state-of-the-nation epic billed by the
Almeida Theatre
as the story of one woman searching "for seeds of hope", a triumph or another trawl through improbability?
Albion begins with Audrey, played with indefatigable energy by Victoria Hamilton, in the garden of her deceased uncle's family home, deep in the English countryside. She has bought the property, which boasts a historic 1920s garden, now much overgrown, which a First World War veteran once formed into a paradise fit for heroes. Given that the garden is called Albion, and is divided into themed areas, it is not hard to see that Bartlett has created a powerfully metaphoric play, one with shades of Tom Stoppard's Arcadia, Charlotte Jones's Humble Boy and Jez Butterworth's Jerusalem.
Soon the garden itself becomes a metaphorical battlegroundAudrey, who is the wealthy fiftysomething head of a design company, is taking time off work to pursue her pet project: the restoration of Albion gardens. This brings her into conflict with friends and family. Although Paul, her second husband, supports her emotionally, Zara, her daughter from her first marriage, has doubts about village life, while Anna, the partner of her dead son, killed in Iraq, only wants to honour his memory. The garden becomes a battleground as the competing wants of these three women clash repeatedly.
Soon a fourth woman, Katherine, a famous novelist and a very old friend of Audrey's, arrives, and Zara, who is a Cambridge graduate with aspirations to write, is attracted to her. As you'd expect, class is an issue so all of these privileged folk must also interact with others from less exalted backgrounds. There's Matthew, an old gardener, and his wife Cheryl, Gabriel the 19-year-old neighbour, Krystyna the Polish cleaner and Edward, who owns the house next door. As well as family tensions, there are social concerns: Edward wants the grounds to be open to the local community while Audrey wants them for her private use; the Polish cleaner does a better job than the English cleaner; the working-class writer is patronised by his social superiors.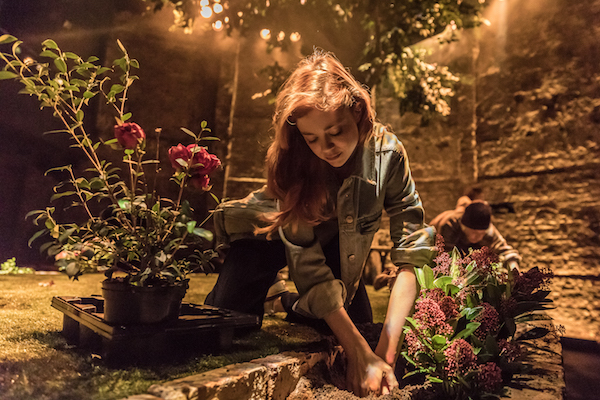 Over about nine months, the project of restoring Albion gardens rises and falls, while family conflicts sharpen: where will Audrey decide to scatter the ashes of her soldier son and will Anna, his lover, or Zara, his sister, have any say in the matter? In one of the play's four acts, the characters hold a 1920s fancy dress party, emphasising the fantasy aspect of trying to recreate a lost world, and the inevitable shades of Downton Abbey haunt the play. There are passionate passages about Brexit, about the economy and about creativity. A nearby music festival, commercial rather than nostalgic, threatens the peace; female friendship is anatomised.
Spending most of the play centre stage, Hamilton's Audrey is a wonderfully theatrical monster. Imperious, opinionated, selfish and offhand, she strides about, firing off cutting comments and giving orders, a Thatcherite Tory in, during one fiery scene, a bright red dress. As a matriarch, she believes that she knows best what her 23-year-old daughter wants, but does she know the first thing about either Zara, or about her closest friend? A passionate nostalgic, she truly believes that she can restore the past in all its English glory. But theatre is a liberal space, and we know that no one can put the clock back.
Albion is a tragic comedy which is bright with insights and one-liners. While not entirely free of preposterous moments, with the storytelling occasionally getting bogged down in exposition and clunky declarations, the play is breathtaking in its ambition and at its best achieves a neat balance between believable family drama and a more metaphoric state-of-the-nation resonance. It's enjoyable, humane and highly symbolic.
Along with Hamilton's sterling performance, Rupert Goold's whole cast acquit themselves well. As well as doing some heroic gardening during the scene changes on Miriam Buether's green and pleasant set, they provide a series of supporting cameos. Helen Schlesinger (Katherine), Vinette Robinson (Anna) and Charlotte Hope (pictured above) are particularly convincing, while Edyta Budnik (Krystyna), Luke Thallon (Gabriel) and Nicholas Rowe (Paul) are often a delight to watch. Christopher Fairbank and Margot Leicester give the old gardener and his wife a deservedly sympathetic air. Albion is a very long evening, but a heartfelt and satisfying one.
There are passionate passages about Brexit, about the economy and about creativity
rating
Explore topics
Share this article