Oedipe, LPO, Jurowski, RFH review - Enescu's masterpiece glorious and complete |

reviews, news & interviews
Oedipe, LPO, Jurowski, RFH review - Enescu's masterpiece glorious and complete
Oedipe, LPO, Jurowski, RFH review - Enescu's masterpiece glorious and complete
The London Philharmonic's Principal Conductor probes a complex idiom commandingly
Monday, 25 September 2017
Vladimir Jurowski and Paul Gay as Oedipe
It's official: Romanian master George Enescu's four-act Greek epic lives and breathes as a work of transcendent genius. It took last year's Royal Opera production to lead us further along the path established by the magnificent EMI studio recording with José van Dam as protagonist.
But La Fura dels Baus's brave and sometimes disorienting vision was incomplete, shorn of some bewitching dance-music, and fine young conductor Leo Hussain couldn't hope to reach the total understanding and mastery of a unique style – or styles – that only Vladimir Jurowski could achieve with his musical partner of a decade's standing, the
London Philharmonic Orchestra
.
Their towering concert version, first performed in Bucharest and here dramatized by glorious lighting of the Festival Hall organ from Chahine Yevroyan, had one casualty along the way – its original Oedipus, a colossal role Enescu once envisaged for Chaliapin (too old to sing it when the work was finally completed in 1931). Teddy Tahu Rhodes's replacement, French bass-baritone Paul Gay, certainly has the stamina, and took us from perplexity and bleakness – those quarter-tones when Oedipus arrives at the Gate of Thebes appropriately strange – though breakdown of regal control to the very emotional catharsis at Colonus. The range, though, is extreme, and Gay doesn't quite have what it takes at the very top and bottom of the range. There were a couple of more impressive male voices here, namely those of In Sung Sim, reprising the role of Phorbas he sang at the Royal Opera, and Boris Pinkhasovich as Theseus. Not a bad actor, Gay also needs the last inch of charisma. Is this a role for Gerald Finley, if there are ever the resources to mount the work again?
French poet Edmond Fleg's beautiful libretto for Enescu - never too flowery and so often simply, devastatingly human, as when the blind Oedipus describes daughter Antigone as "light of my eyes" – takes us from the cradle to the grave, or wherever it is Oedipus goes in his final apotheosis. The malign wonderland of the second act gives opportunities for Enescu to work atmospheric magic on the pre-storm oppressiveness at the wooded valley where three roads meet, the ominous sleep of the Sphinx and the majestic terror of her awakening. Justly cited as an example of Enescu's instrumental wizardry, the riddle scene was appropriately climactic last night, with iconic Hungarian mezzo Ildikó Komlósi amplified and aloft in one of the Festival Hall boxes, musical saw player beside her.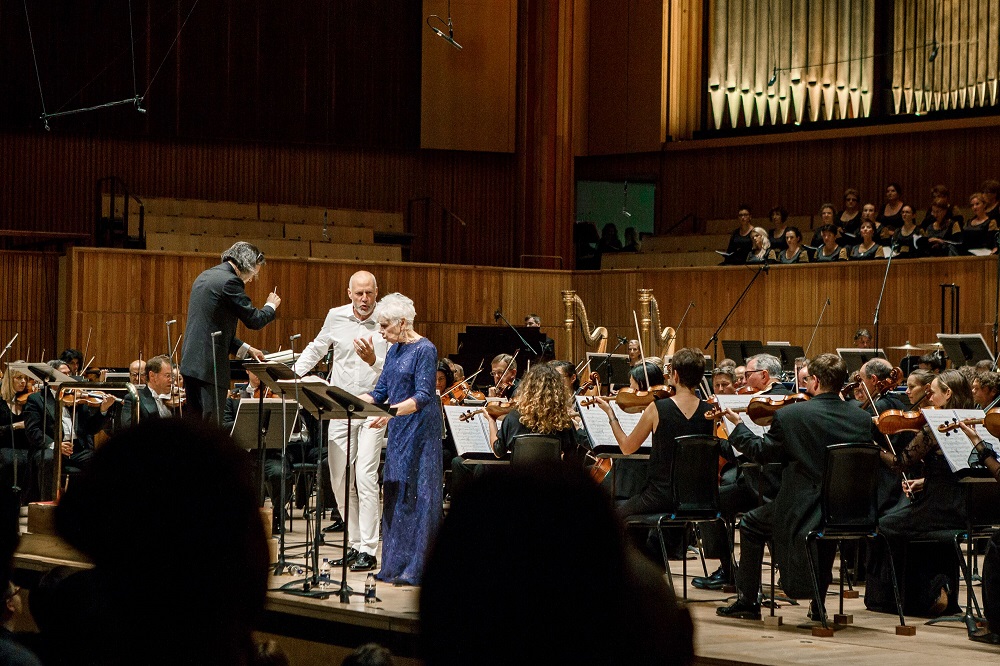 Yet everything is, on its own terms, at the same level of invention. Act One, beginning with the short-lived optimism of Theban celebrations for the birth of Jocasta's and Laius's son, ripples at first with a French freedom of movement and limpidity of scoring – an individual nod to the example of Ravel's Daphnis and Chloe rather than Stravinsky's Rite of Spring. And how could we have been deprived of the dances at Covent Garden, so exquisitely led here by recent LPO arrival Juliette Bausor's mystic flute? The doom already established by the evocative low instruments in the Prelude returned in the effortless Tiresias of Willard White, one of many assumptions from veteran singers (Felicity Palmer, as Oedipus's adoptive mother Merope, pictured above with Gay, still sounds as distinctive as she always did). In some cases, though, you wondered why younger singers hadn't been given a look-in.
That heart of darkness's black mass comes, of course, in the "Oedipus Tyrannos" act, parallel to Stravinsky's single action of 1927 but so different in the way Enescu shapes the tension and rings so many changes on the massive sound now centre-stage. Ruxandra Donose brought much-needed lustre in Jocasta's slinkier solos alongside gorgeous orchestral colours. And then the redemption of "Oedipus at Colonus", anticipated by the three melting "I shall follow you"s of Gabriela Iştoc's lovely Antigone. This last act is the most wonderful thing about the score, a pastoral with a dark intermezzo shaped by the arrival and dismissal of Creon (Christopher Purves) and a massive metamorphosis as Oedipus vanishes in the Athenian cave, having proved what he told the Sphinx, that Man is more powerful than Destiny.
Jurowski had the measure of every mood, conducting with his usual clarity and supple authority, no doubt bringing his experience of another supremely complex and fantastical operatic score, Strauss's Die Frau ohne Schatten, to bear; how easy it was to take for granted the orchestral miracles he conjured. If the Choir of the George Enescu Philharmonic came and went in levels of intensity – disappointing in the welcome to Thebes, fired up again during the peripeteia – the LPO never ceased to project extreme beauty and extreme violence. It's the highest compliment to all that one came out thinking not so much "what a magnificent performance" as "what a great masterpiece".
The Sphinx's riddle was appropriately climactic, with iconic Hungarian mezzo Ildikó Komlósi amplified and aloft
rating
Share this article