Prom 10 review: Aurora Orchestra, Collon – a revolution taken to heart |

reviews, news & interviews
Prom 10 review: Aurora Orchestra, Collon – a revolution taken to heart
Prom 10 review: Aurora Orchestra, Collon – a revolution taken to heart
Beethoven's breakthrough 'Eroica' Symphony swings and dances – all from memory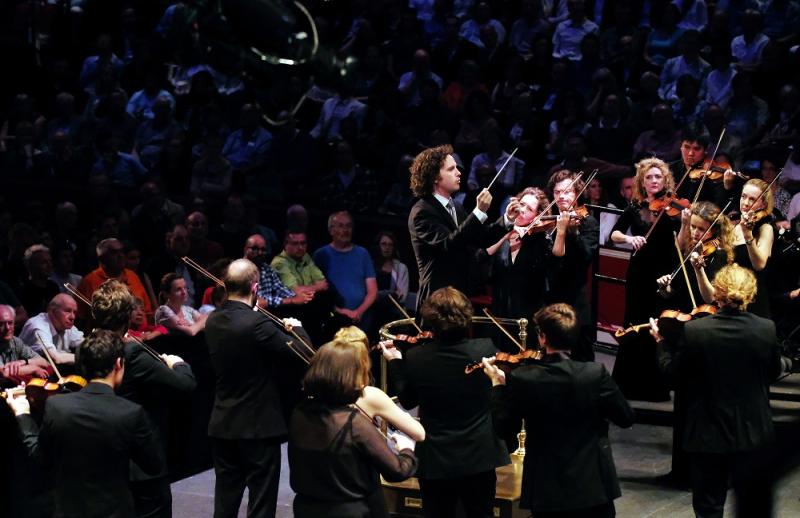 Upstanding for a change: Nicholas Collon and the strings of the Aurora Orchestra
When a trail-blazing orchestra takes on a world-transforming work, it would be pointless to leave the staid old rules of concert etiquette intact. Not only did the Aurora Orchestra under Nicholas Collon stretch their repertoire of symphonies performed from memory to cover the epic expansiveness and ear-bending innovations of Beethoven's Third, the Eroica.
For half an hour, as this
Prom
began, Collon and presenter Tom Service also turned the Royal Albert Hall into Britain's biggest classroom as they sought to scrub the crust of over-familiarity from Beethoven's breakthrough monster from 1803, and show how the composer edified its rhythmic and harmonic complexities from the simplest of musical building-blocks.
So the audience got to sing, and to clap, as the Aurora musicians processed around the empty stage to deliver phrases and chunks of the score (thanks to movement director Struan Leslie for nifty traffic-management) while our didactic duo told the Eroica story. Choreography aside, this felt like a pretty old-fashioned session of music education in the noble tradition of Leonard Bernstein's Young People's Concerts – and their many imitators. The chessboard movements, though, let us visualise the drama of the score: what a fugue looks like, not just how it sounds. To their credit, Collon and Service didn't let the corny anecdotal stuff – Beethoven's scratched-out dedication to Napoleon Bonaparte, the encroaching deafness confronted in 1802 in his Heiligenstadt Testament – distract too much from the music.
So we learned how that shocking C sharp in the early bars – as much of a sonic grenade in its way as Wagner's Tristan chord – snags the ear, breaks the rules and inscribes its own kind of revolutionary manifesto. Sadly, the "premature" horn entry later in the first movement, when the first theme seems to return, almost comically, too soon, went unmentioned. Service stressed that the "hero" monumentalised in this work is more Beethoven himself than Bonaparte – but, as we later found out in performance, this hero can tell jokes, lay traps and let his hair down, peasant-style, as well as storm the symphonic barricades with outlandish novelties.
Before the Eroica proper came the haunted hiatus of Richard Strauss's Metamorphosen for 23 strings (scores allowed this time). Much of the Auroras' brand identity stems from the alert, collaborative to-and-fro required by their playing of much-loved orchestral favourites by heart. Revealing, then, to see them rise to the challenge of a piece that allows each instrument to speak in a lonely, private voice. This is the voice of mourning: Strauss wrote Metamorphosen as the Second World War ended and the Third Reich – which he lived under but detested – collapsed.
He stages an intimate conversation among ruins. Here it throbbed with a grief that never became mawkish. If there is honey here, it is honey laced with hemlock. With the violas led by Max Baillie singing out their despair, and Liseanne Soeterbroeke steering the violins through the abyss, the colours felt suitably rich but bright enough to avoid that late-Strauss indigestion of post-Romantic melancholy. Metamorphosen, however, begins down among the cellos, and to those depths it returns to finish with a muffled quotation from the Eroica itself. When, at the end, the three double basses and five cellos excavated the bone-fragments of Beethoven's Marcia funebre theme from the charred soil of a wrecked culture, it felt like hearing a rasping breath of hope at the bottom of Pandora's Box.
It took an emotional gearshift, as well as the interval, to rejoin the exuberantly fresh soundscape of the Eroica. From this smallish band with a close rapport and unique commitment to playing from memory (not to mention upright), you would expect a tight and swift Eroica, unencumbered with grandiose, show-off gestures but held together with enough mutually responsive give-and-take to keep us on track as Beethoven veers merrily off into fugues, dances, funeral marches, surprise codas – all his various excursions. So it turned out. But does memory, by itself, lend extra enchantment to the view? At the outset, the twin punch of the E flat chords augured well. Briskly swinging strings reminded us – as Collon did throughout – that much Classical architecture remains in place here despite all the proto-Romantic annexes and extensions. Later portions of this multi-faceted movement showed a tendency to drift and stray, though Collon rounded things off with focus and spirit.
The slow-movement funeral march gave us swagger as much as sorrow, an even tread that slowed into rapt stillness. For a work of this scope and this familiarity, though, did the Aurora formula unlock new treasures? The jury remained out in the scherzo, maybe because the triple horns of its trio sounded a touch subdued. In the rip-roaring Finale, though, Collon's strong pulse and the players' mutual understanding proved a liberation. The Auroras exulted in this movement's crazed variations, from rustic tavern stomp to spiralling fugue, Jane Mitchell's skittish flute and Thomas Barber's tender oboe standing out. Prometheus, the fire-stealing titan whose myth lies embedded somewhere in this music, was given fancy foot-work on top of sheer audacity. Although lean and lithe, this version didn't make a fetish out of pace: Collon, who can do stately as well as hectic, came home in a mainstream 48 minutes. Did the by-heart performance clinch the deal? Leave that for the next lesson: this time, school broke up in a delirious dance to remember.
If there is honey in Strauss's 'Metamorphosen', it is honey laced with hemlock
rating
Share this article