Fahrelnissa Zeid, Tate Modern review - rediscovering a forgotten genius |

reviews, news & interviews
Fahrelnissa Zeid, Tate Modern review - rediscovering a forgotten genius
Fahrelnissa Zeid, Tate Modern review - rediscovering a forgotten genius
How a major 20th century painter was erased from history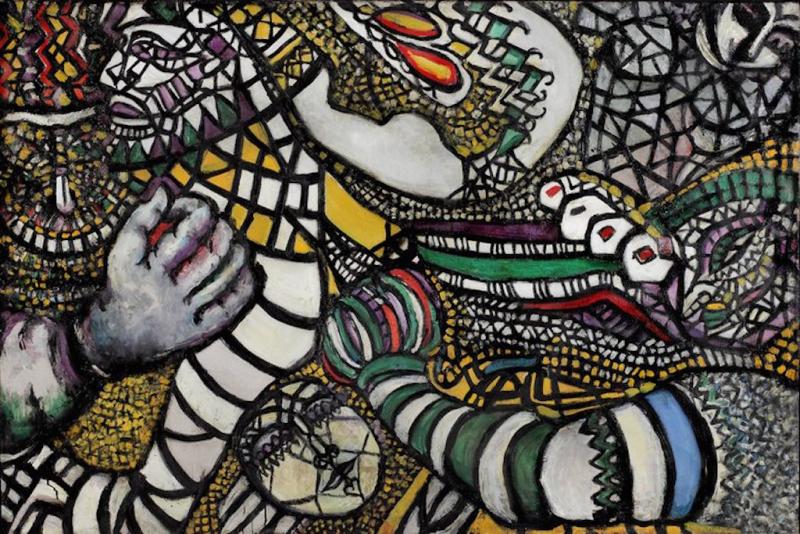 'Fight Against Abstraction', 1947
I can't pretend to like the work of Fahrelnissa Zeid, but she was clearly an exceptional woman and deserves to be honoured with a retrospective. She led a privileged life that spanned most of the 20th century; born in Istanbul in 1901 into a prominent Ottoman family, many of whom were involved in the arts, she died in 1991.
Tate Modern
's exhibition opens with a portrait of her grandmother painted by Zeid when she was only 14, which with its delicate touch and finely observed detail, reveals a precocious talent.
She studied at the Academy of Fine Arts for Women but, when she was 19, married a wealthy businessman and had three children. That could had been the end of the story except that her enthusiasm for art was nurtured by visits to European museums and galleries and she continued to paint; in 1928 she went to Paris to attend the Académie Ranson as a mature student. The following year she was one of the first women accepted at the Fine Arts Academy in Istanbul.
In 1934 she divorced her husband and married Prince Zeid bin Al Hussein, brother of King Faisal of Iraq. From then on, she managed to juggle the dual roles of a diplomat's wife – her husband was Iraqi ambassador first to Germany, then to Britain – and an artist. She kept a studio in Paris to which she would retreat from the social engagements she was obliged to fulfill, worked ferociously on canvases of ever increasing size and ambition, and was exhibited to great acclaim in Istanbul, London and Paris.
During the war years she suffered bouts of depression, which fed into her paintings and lends them a brooding intensity. With its angularity, expressive drama and confrontational stare, her striking Self-portrait of 1944 (pictured above right) reminds me of an Egon Schiele. With its flattened space and oriental flavour, Third-class Passengers, 1943, is like a sombre Matisse. Black lines course like tears down Three Moments in a Day and a Life, 1944; with its figures huddling in flattened space, this symbolic landscape is reminiscent of the darkly introspective paintings of Edvard Munch.
Fight Against Abstraction, 1947 (main picture), reflects Zeid's reluctance to embrace the post-Cubist abstraction that filled Parisian galleries at the time. One can just make out four figures trapped within the densely patterned ground; one hand remains three-dimensional but the other limbs and faces have been flattened and fragmented into a kaleidoscope of tiny geometric shapes framed by black lines resembling the leading in a stained glass window or the cement in a mosaic.
Soon the figures would merge with the ground to the point of being nearly invisible, before disappearing altogether. Resolved Problems, 1948, is like a joyous celebration of a struggle that has found resolution (pictured left). The black lines have disappeared, leaving a crystalline web of vibrant colour that anticipates op and kinetic art but, inspired by Byzantine mosaics and stained glass, creates a unique fusion between Eastern and Western influences.
The black returns with a vengeance in My Hell, 1951 (pictured below). The canvas is over five metres long; Zeid tacked it to the walls of her Paris studio, wrapping it around one corner so that it became as immersive as an installation. Made up of small interlocking shapes in red, yellow, white and black, the picture is like a vast mosaic of forms that tumble and roil with endless dynamism, sucking you into their restless orbit and propelling your eye towards the black, mouth-like shape at the core.
A cross between Western geometric abstraction and the geometric ornamentation of Islamic art, it combines the visual impact of easel painting with the physical experience of design on an architectural scale. The picture was included in Zeid's 1954 solo show at the Institute of Contemporary Arts, then the most progressive gallery in London.
In 1958 disaster struck. Following a coup d'etat, the entire Iraqi royal family was murdered; Zeid and her husband remained unharmed but were given 24 hours to vacate the embassy. Traumatised by events, she stopped painting for two years. "Instead of the brilliant kaleidoscope that once seemed to surround me", she wrote, "I can only perceive... a winding labyrinth of hard and heavy black lines." She started painting again, though, with a renewed vigour and ambition which are evident in huge canvases such as Break of the Atom and Vegetal Life, 1962, whose title suggests a link between her fractured forms and the splitting of the atom.

In 1970 Zeid's husband died, and five years later she moved to Jordan to be near her son, Prince Raad, and his family. She set up a studio in Amman and began to hold classes for women artists. Meanwhile, she had abandoned abstraction to focus on portraits of her friends and family; with their simplified forms and large, black rimmed eyes they are reminiscent of the depictions of the dead painted on Roman sarcophagi or the horribly mannered portraits of Bernard Buffet whose phenomenal success in Paris during the 1950s was part of a backlash against abstraction.
Now that Zeid had quit Europe, the process of erasing her from history began. In Amman she continued to exhibit alongside her students, but in the west her portraits were ignored in favour of her earlier abstracts and, gradually, they too were forgotten. Its a process that happens to many artists, but women whose success often seems to reside on the force of their personalities, are especially vulnerable to it.
This retrospective, therefore, is a welcome reminder not just of a powerful personality and the contribution she made to 20th century art, but also of the ease with which an individual can be erased from the pantheon.
Once Zeid had quit Europe, the process of erasing her from history began
rating
Explore topics
Share this article