Destination Unknown review - Holocaust survivors go back |

reviews, news & interviews
Destination Unknown review - Holocaust survivors go back
Destination Unknown review - Holocaust survivors go back
Emotional documentary is sensitive, without shedding further light on the chaos of liberation
Destination Unknown is a passion project 13 years in production, a documentary featuring moving interviews with a dozen Jewish survivors of Nazi persecution. Elderly men and women describe what happened to them and their families during the war. We see them returning to the slave labour and death camps, driving through the countryside and contemplating their former home towns and villages where they were rounded up for deportation.
Their interviews are intercut with family photographs, ciné film and archive footage. Unlike a history programme made for television, there is no voiceover, no maps or graphics and no historians adding context. This is not the past mediated by experts but a direct recording of the painful process of bearing witness by those who were there and who are now nearing the end of their lives. Several of the elderly survivors have died since these interviews were filmed by producer Llion Roberts.
Among the stories of horror and loss, there are tales of individual kindness and bravery by local people who helped them. Eli Zborowski returns to Zarki in Poland and shows us the house where a bricklayer constructed hiding places in his cellar and attic to shelter his Jewish friends; we imagine what it was like to hide there in the dark with no air for hours, sometimes days. There are descriptions of Nazi sadism, particularly vividly recounted by two survivors of the forced labour camp of Płaszów, where the infamous commandant Amon Göth set his dogs on prisoners or shot them simply for amusement. Destination Unknown includes a very rare interview with the late Mietek Pemper, who was Göth's prisoner-secretary. Pemper helped Oskar Schindler compile the list of Jewish prisoners taken from Płaszów to Schindler's factory, thus saving many of them from deportation to the death camps.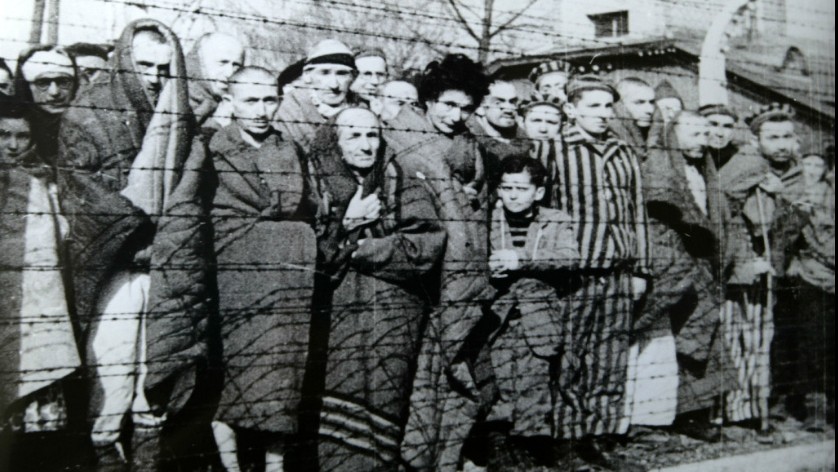 Roman Ferber, the youngest survivor on Schindler's list, gives a very vivid account of losing his father and brother. We meet him as a soft-spoken man living in America; he shows us images from the liberation of Auschwitz in 1945. Ferber holds up a famous photograph taken by the Russian liberators in 1945. Prisoners are pressed up against the barbed wire fence; Ferber is the dark-haired boy staring straight at the camera (pictured above, in the centre).
Moments of reflection like these are profoundly moving and it may not be necessary to overburden them with emotive music as the film-makers have chosen to do. Occasionally archive is used as generic illustration without enough on-screen information about its source; this can be problematic when so much film was shot for propaganda reasons and it's risky to use it as verité without clear attribution. Captions may be disliked by film-makers as they clutter the screen and are associated with TV graphics, but while there are Holocaust denialists in action, any ambiguity about source is risky.
I was a little disappointed in Destination Unknown because the film's promotional material made the promise: "Their stories do not end with liberation. We see how they had to survive the chaos that came afterwards and their attempts to build new lives." Indeed, there are touching accounts of trying to find relatives and friends in the Displaced Persons camps immediately after the war, descriptions of psychological traumas and reasurring home-movie footage of one happy family in America in the 1950s. But what we do not get is the bigger chaos. The struggle that Holocaust survivors faced after the war is a neglected and deeply shameful tale. Survivors returned to their former homes to be met with locals' enduring anti-semitism and resentment that they wanted to reclaim their property.
According to the late, great historian David Cesarani in his book Justice Delayed, post-war Britain took in more East European former Waffen-SS members than Jewish survivors of the camps; the UK authorities obstructed survivors' desire to emigrate to British Palestine. Destination Unknown is a sensitive addition to the canon of films that tell the story of the Shoah, but sadly it doesn't move the story on. Dramas and documentaries about the Holocaust tend to dwell on Nazi atrocities in isolation, rather than confront the uncomfortable story of the world's indifference to its survivors. It's a tale that needs to be told, especially as it mirrors our attitudes to the current refugee crisis.
Overleaf: watch the trailer to Destination Unknown