theartsdesk in Göttingen: Handel for all |

reviews, news & interviews
theartsdesk in Göttingen: Handel for all
theartsdesk in Göttingen: Handel for all
Dazzling singers, clavichord at sunrise and a generous spirit in the heart of Germany
Marie Lys's Adelaide and Sophie Rennert's Lotario throw love-darts to the kids in the 'family version' of Handel's Lotario
"Love is in the air," croons or rather bellows presenter Juri Tetzlaff, getting his audience of adults and children to bellow back the wordless refrain, arms swaying above their heads. Mezzo Sophie Rennert, dragged up as noble Lotario, and soprano Marie Lys as widowed princess Adelaide dance tenderly to the strains.
They're not singing one of the most ravishing love duets in opera this morning because this is the one-hour family version of
Handel
's
Lotario
. And a better advertisement to the parents for the whole thing I can't imagine. The show proper is the best I've seen out of four of the Göttingen International Handel
Festival
's annual productions, and it ranks with four other unforgettable events in two glorious, sun-drenched days.
As someone who's far from a fully paid-up member of the Handel fan club – scorned by a regular for stating the obvious that Bach, not Handel, is God - I love those events which sweep you off your feet and remind you what a great genius the prolific composer from Halle so often was and is. Revelations began with the Brockes-Passion on the evening of my arrival (coincidentally, the cast of Lotario had come as a group on an evening off, and it was clear they adored one another, a good portent for the following night). Faced with a performance as full of conviction and energy as this, you had to ask where this cornucopia of invention from a relatively young Handel has been hiding at Easter time. True, nothing can equal Bach's St Matthew and St John Passions, but the Brockes-Passion came first, in 1719, one of many settings to use the pity-and-terror approach of Hamburg merchant-poet Barthold Heinrich Brockes.
While the choruses are mostly short, often as dramatic as Bach's when it comes to the crowd, they were superbly incised by the professional North German Radio Choir in a whole that owed its vivid, tumbling energy, dramatic pauses included, to festival director Laurence Cummings and the unsurpassable Göttingen Festival Orchestra. The soloists are hard-worked, and less than the best won't do. This line-up was magnificent. We knew from his stepping-in for a crucial role in English National Opera's Partenope revival that Rupert Charlesworth has developed in a year to be a powerful tenor well beyond the bounds of the English choral scholar; the chain of tense, even lacerating arias in which Peter bewails his betrayal of Christ was perhaps the highlight of an exciting evening.
Scarcely less gripping, with even more unexpected modulations in the recitatives, was the parallel guilt of Judas, taken by countertenor David Erler. The main soprano role, that of the commenting, consoling Daughter of Zion, has multiple arias of varying quality, but the best – in conjunction with companionable oboe (Susanne Regel, very much a key soloist) – are meltingly beautiful, and Johanette Zomer communicated with liquid ease. Lovely contributions, too, from Ana Maria Labin, Sebastian Kohlepp - a second tenor of more vibrant timbre than we often get in Handel or Bach - as the Evangelist, and a very impressive Christ from noble baritone Tobias Berndt completed as good a Passion "cast" as you're ever likely to hear. I hope they release a recording. (Pictured below: Charlesworth, Labin and Erler.)
Likewise with the peerless ensemble of Lotario. Time and again you feel let down by commentaries which tell you that this isn't one of Handel's best operas; nonsense. His first opera for the new company of the King's Theatre in the Haymarket, Lotario offers one consistently glorious characterisation, of the steadfast and feisty princess Adelaide complete with jet-black mourning aria and two brilliant showcases, respectively virtuoso and emotional numbers, for the knight in shining armour of the title role; a wicked queen exploiting full contralto reserves (and in one aria a cackling violin rejoinder); and a virtuoso tenor role as her weaker brother. As the dastardly siblings, Jorge Navarro Colorado gave us a breathtaking virtuoso display (while still acting his socks off) at the beginning of Act Two, while Ursula Hesse von der Steinen (pictured below with Lys), though she took some time to get into her vocal stride, was pantomime villain incarnate, all rolling big eyes and arrogant posturing.
Lys was a revelation, a soprano who gives beyond the call of duty but knows how to focus her resources, and Sophie Rennert, whose performance of Dido's Lament at a Europe Day Concert four years ago was simply the best I've heard live, is a mezzo of many colours, subtlety, dramatic intelligence and a crucially brilliant top. If her most serious aria, at the end of Act Two, couldn't be heard so well, that was one of the few faults of the director, Carlos Wagner; anything staged halfway to back on the small stage is surprisingly hard to hear in the beautiful small theatre. Otherwise, you couldn't fault him for the stylised body-language with which the relationships were carved – meaningful personenregie or one-to-ones which held a strong halfway house between over-seriousness and parody. Rifaek Ajdarpasic's set suggested the destruction of war with handsome paintings in a stately room including a minor French work of Aeneas with Anchises on his shoulders fleeing Troy. That was enough to evoke the complicated military manoevres implied in the stage spectacle, keeping focus on acting and singing. All underpinned with irrepressible vivacity, of course, by Cummings and the GFO.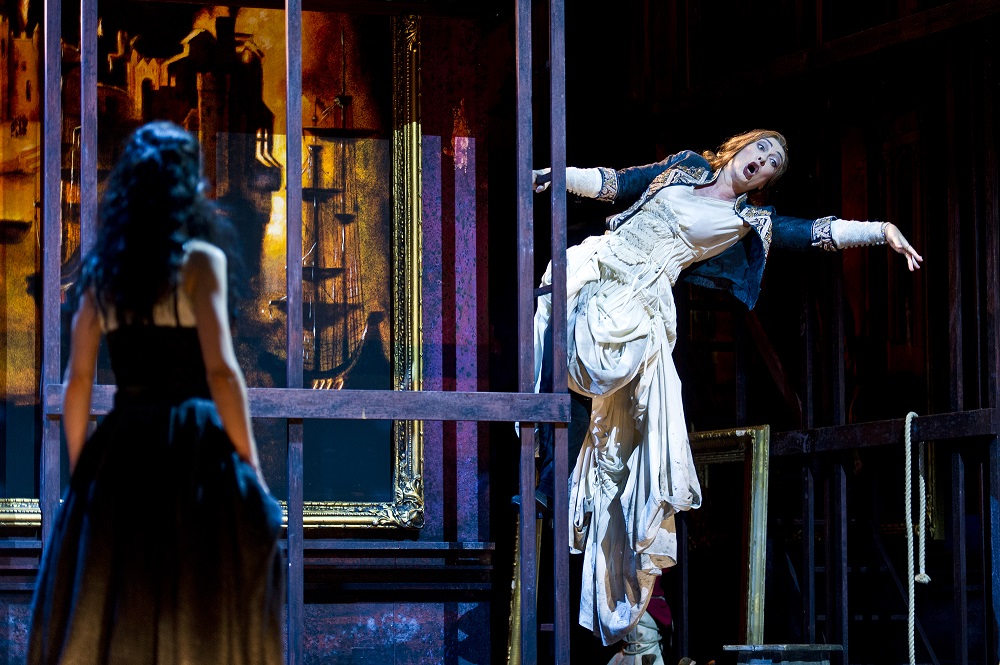 Had the energy levels been lower, and the opera less engaging, I might have wilted after an early start: 3.30am, to be precise, for a sunrise concert by a lake. Knowing from Pierre-Laurent Aimard's all-day Messiaen at Aldeburgh last year that this sort of experience isn't to be missed, it was no great hardship to walk in the dark through the leafy streets of Göttingen to the coach, birdsong already patchily strong in this most avian-friendly of towns. Once arrived at our destination, the Restaurant Graf Isang on the shore of the Seeburger See, the dawn chorus was in full spate, lake warblers included – and the frogs.
We lucky few were treated to a clavichord recital by young award-winner Avinoam Shalev. At nearly 5.30am, in the midst of his Haydn sonata, the sun rose behind the willows to the left (pictured below). It was the perfect early-morning meditation; within the discreet, almost ghostly sound of the instrument, more subtle colours and shades can be made out than you'd ever get on the harpsichord.
Inevitably Bach, in the shape of the C and F sharp major Preludes and Fugues, was an essential component. Magical, unforgettable – and breakfast outside made this very much one of those times when, like Kurt Vonnegut's uncle, you have to exclaim, "If this isn't nice, what is?"
The other excursion of my four days was also remarkable: to the village of Gieboldehausen to hear The Italian ensemble Concerto Romano in the Catholic-baroque Laurentius-Kirche. In predominantly Lutheran Göttingen and environs the Catholic population is around 30 per cent; an exhibition in Göttingen's enchanting museum illustrates the far from peaceful arrival of Lutheranism in 1529.
The setting was essential for gems of Roman splendour. This is a group with a trenchant, suitably piercing voice, with distinctive choral singing from the nine voices and an ensemble underpinned by trombone smilingly responsive to the flamboyant Alessandro Quarta. There were revelations here: who knew Roman anthems of such richness by Cesarini and Foggia, both names unfamiliar to me? Soprano soloist Sonia Tedla Chebreab hit her stride in the second of the two Handel cantatas on the programme, reaching for the stratosphere with an effervescence to match the ridiculously high standards set by the sopranos in the two main festival events.
It's as well that the evening performance of Haydn's Orfeo ed Euridice, a work with long stretches of generic tedium, was a semi-independent venture. Göttingen is lucky have a Symphony Orchestra of such stature under the obviously dynamic Christoph-Mathias Mueller. But he was powerless to deal with the caprices of Simone Kermes, the "star" – in itself a concept which is anathema to the ethics of the main festival. Beloved by a wide public in Germany for her flamboyant antics, she not only sang the role of Euridice in dubious taste but stopped the whole performance mid-flow to complain of a high-pitched ringing. The tenor could hear it; many of us couldn't. Technical sources were checked and no problems found. Possibly it was a hearing-aid. But to fail to move along ten minutes to the end of an act and deal with it then was unforgiveable. I rest content with the five remarkable events which made this year's return so worthwhile.
At nearly 5.30am, in the midst of Avinoam's Haydn sonata, the sun rose behind the willows
Share this article