theartsdesk in Göttingen: HandelFest 2016 |

reviews, news & interviews
theartsdesk in Göttingen: HandelFest 2016
theartsdesk in Göttingen: HandelFest 2016
Two big concert successes atone for one frigid staging in German Arcadia
Waxworks: James Laing, Anna Dennis, William Berger, Stefanie True and Matthew Brook in 'Imeneo'
What Auden called "the sexy airs of summer" arrived early in Göttingen this year. Frog action in the Botanical Gardens of the town's pioneering University may have been less clamorous than when I first came here in late rather than early May (the annual International Handel Festival usually begins whenever the Ascension Day holiday happens to be, so it's a moveable celebration).
Otherwise everything in this green-girt and on this occasion sun-drenched dream town chimed well with the sensuous pastoral elements of two out of the three big Handel dramas of the first long weekend.
The oratorio Susanna and the "operetta" Imeneo, whatever the vicissitudes of their characters, breathe summery happiness. With Berenice we were on sterner ground, and a more dramatic flare-up of belligerence and jealousy, making this year's Handel trilogy an unusually big and varied feast for the opening weekend. (Pictured below: art nouveau statue Ganseliesel in front of the Rathaus)
That said, it would be hard to try and pinpoint precisely how this all linked up with the slightly random theme of "Connections" (Verbindung). Well, perhaps every festival has to have a concept, and that one's no worse than the usual slogans of bigger ventures especially beloved by the Germans and Swiss. The main point is that, in 2016 as in every year there's been a Göttingen International Handel Festival since first steps in the 1920s, the composer is king, even if his links to the town were tenuous. Very much the binding agents are the vigorous and mostly long-serving musicians of the 10-year-old FestspielOrchester – you know you're back on terra firma when those two Italian double-bass players resound so splendidly even in the variable acoustics of the perfectly-sightlined 1970s Stadthalle – and their genial, persuasive music director Laurence Cummings.
All was sweet harmony in the opening performance of Susanna – a late oratorio composed in 1749, the same year as the sublime Theodora, as you could have guessed from the boy Daniel's culminating "Chastity, thou cherub bright"; it has much in common with Theodora's "As with rosy steps the dawn", possibly my favourite Handel aria in the immortal voice of late, lamented Lorraine Hunt Lieberson.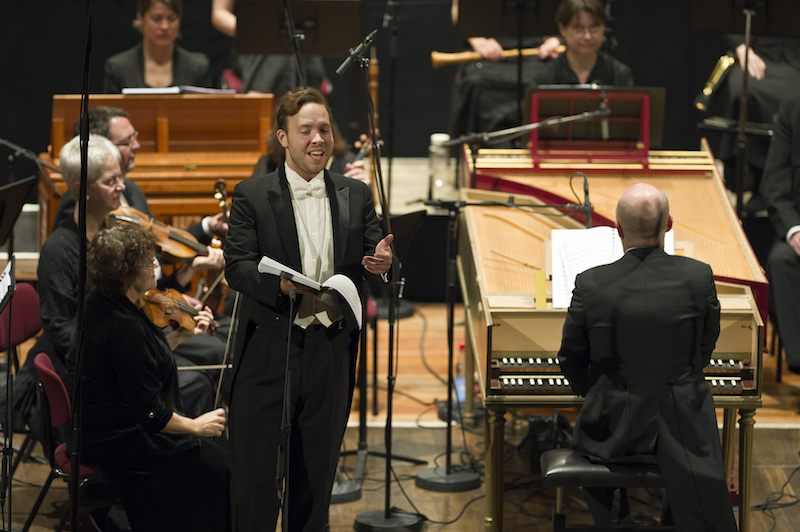 That wasn't vocally a highlight here; a real treble would have been preferable to a self-declared mezzo, Ciara Hendrick, aping one in the Emma Kirkby tradition you either love or hate. Where we found ourselves in peerless hands, apart from the ever-vigilant players and conductor, was in the central trio of Emily Fons's Susanna, Christopher Lowrey as gelded husband Joacim (pictured above left with Cummings) and Colin Balzer undercutting the sweet idylls of the married couple as the First Elder who creeps lecherously upon the sunlit glade. John Mark Ainsley, originally cast, would have had a field day with the psychology of this old creep, but he couldn't have excelled Balzer, and Fons was a revelation following the withdrawal of Lucy Crowe, star of the second festival I attended in 2013.
Fons sounds more like the perfect lyric soprano than another advertised mezzo, but what matter? She and Lowrey, a counter-tenor with muscle as well as musicality, spurred each other on to heights of eloquence; the new energy of the music after Susanna has been cleared of the crime the Elders have invented in the rage of thwarted lust found its crowning glory in these two (pictured below: Fons, Cummings, Raimund Nolte as Second Elder and Colin Balzer as First Elder). Terrible libretto, strange and intriguing structure, great music and performance.
A less than half-good interpretation, on the other hand, can make you doubt the singular virtues of what, in Imeneo's case, is possibly no masterpiece, but no opera-by-numbers like 2013's Siroe, Re di Persia either. You have to hand it to the Festival – it doesn't stick with any one style or kind of director for the annual production in the beautiful Deutsches Theater, inaugurated in 1890 and home to a thriving repertory company but helpfully of perfect baroque proportions within. At Göttingen I've seen a compromise between old (period costumes and sets borrowed from previous stagings) and new (lame video camerawork follwing the singers backstage) in 2011's Teseo, a rather fine piece of regietheater somewhat wasted on a dud in Siroe, and now a frigid piece of semi-authentic guesswork killing a charmer stone dead.
Or so the Anglo-Saxon contingent among the press thought; the continentals loved it. Frankly, after 10 minutes of Flemish director Sigrid T'Hooft's meticulously researched and, in interview, well-argued reproduction of 18th century body language and hand gestures, I wanted to get out an aerosol can and spray expletives all over the very handsome set and costumes of Stephan Dietrich, irreproachable as far as they went. Each movement clearly has its meaning, but one that was rarely visibly connected with the Italian in the way that the Susanna singers had so simply achieved in tandem with their clearly enunciated English, or indeed as the team for Berenice – another concert performance, like the Susanna, but in Italian, like Imeneo – was to manage with equal simplicity. As for candlelit chandeliers, one only has to remember what Royal Opera singers have achieved beneath that lovely effect in Sam Wanamaker Playhouse stagings of Rossi's Orpheus and Cavalli's L'Ormindo.
It didn't help that the countertenor, James Laing (pictured right with Anna Dennis), had two slowish arias one after the other at the start; looking dreadful in the vampirish makeup, Laing was either unwell or undergoing some sort of vocal crisis. Cummings seemed to be having to support him with some surprisingly anaemic tempi. To make amends, we had the ever-dependable William Berger as Imeneo and Anna Dennis as fought-over Rosmene, but their vocal expression was undermined by the insistent gestural nonsense, Dennis having to spin like a top in her scene of feigned madness.
It has to be doubted, too, whether authenticity was involved in having characters upstage the ones singing the arias. And I've never shut my eyes through any inept regie staging, but I had to do so during the second act pirates' ballet. Baroque dance is a particular blind spot of mine, but this might have been booed off the stage in the 18th century, and T'Hooft further crippled the pace of what had been, in a 2013 Barbican concert performance, an especially concise divertissement, by insertion of music for dance from other Handel works. To get through it all without physical pain as a spectator, anaesthetisation would have been the only solution.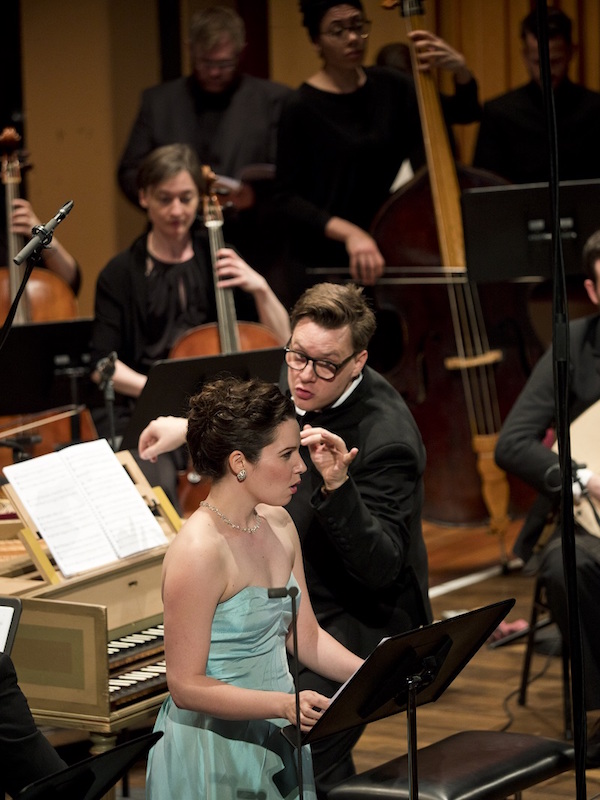 Praise be, then, for a return to true directness of feeling and brilliance of musical execution from a team very welcome to the Stadthalle fresh from London success on the Sunday night, David Bates's La Nuova Musica. Berenice was the odd one out of the three newcomers to the festival in more ways than one; while the complications of love or sex in Imeneo and Susanna are down to the usual triangle – with two old men taking one side in the more unusual of the two scenarios – the plot here, such as it is, finds itself thickened by rather more interrelationships. You hardly need to bother with them when the sentiments of each aria are crystal clear, and the only question, once the burning one of how the hyperactive Bates himself has toned down his sweeping conductor's style since I last saw him (answer: very well), was how aptly cast his singers were.
Not ideally so, in the case of Mireille Asselin's eponymous Queen of Egypt (pictured above left with Bates). Hers is a bright tone, and dramatically Asselin has plenty of temperament. But you really need a creamier, warmer sound, a touch of the Renée Flemings (a big ask, I know). Musicality poured from Anat Edri's trousered Alessandro, too, but shaky technique failed to support her smoother, more lyrical numbers. Giuseppina Bridelli as Berenice's sister Selene was by comparison a little generic. Nevertheless it's a heady conclusion to a marvellous second act of mostly fierce, indignant arias when the accompaniment to Selene's delicious concluding number slips into distinct waltz metre – one of the earliest in music, surely.
Best were the countertenors, returning the voice part to grace after the lapse of Imeneo: I wanted far more of Michal Czerniawski's Demetrio after the superstylish runs and ornamentations of Act Two, but alas, he was musically demoted for the rest of the opera. Raffaele Pe's Arsace made his mark as countertenor number two. The real stars, though, were Bates himself and the plentiful, watchable personalities of his ensemble, not least his palpably committed first cellist and continuo member (no names listed in the programme).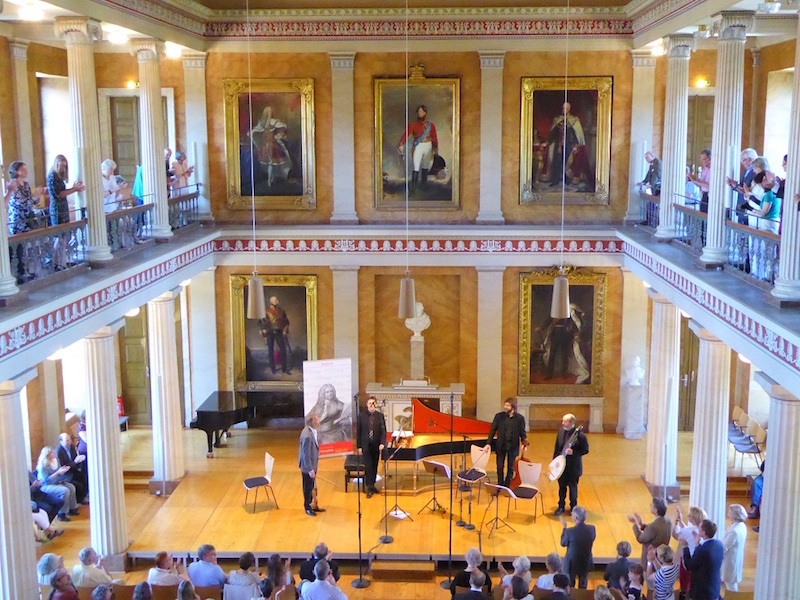 The conductor's engaging sense of nuance put him on a par with charismatic violinist Giuliano Carmignola and his team at the following lunchtime's concert in the University Aula, benevolently overlooked by the Hanoverian royals who forged a momentous link between this part of Germany and Great Britain (pictured above, the end of the concert). With no less than four generous encores to an unusual and imaginative programme, Carmignola's recital proved more than a mere coda to a sunny long weekend in lovable Göttingen. It was rounded off, like other events, by another of those repasts beneath flowering lime trees which double the pleasure of every springtime visit.
Emily Fons and Christopher Lowrey spurred each other on to heights of eloquence
Share this article