Brian Johnson's A Life on the Road review – ripping yarns of rock'n'roll |

reviews, news & interviews
Brian Johnson's A Life on the Road review – ripping yarns of rock'n'roll
Brian Johnson's A Life on the Road review – ripping yarns of rock'n'roll
Veteran rockers reminisce riotously on Sky Arts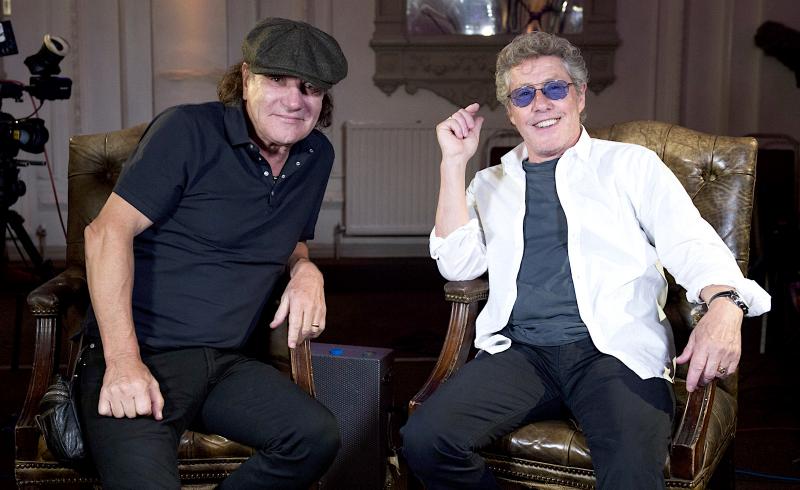 A life of privilege: Brian Johnson (left) with Roger Daltrey
The simplest ideas are often the best. Here's one – take AC/DC's Tyneside-born vocalist Brian Johnson and get him to chew the fat with a list of fellow rock'n'roll veterans. Later in the series he gets to meet Sting, Nick Mason and Lars Ulrich, but for this first show (on Sky Arts) the guest was Roger Daltrey of The Who.
The formula worked remarkably well. Johnson kicked it off by driving down to Daltrey's old stomping ground of Shepherd's Bush in a battered Morris Minor ("that's the first car I bought my missus," Daltrey recalled). After a brisk tour of a few local landmarks from The Who's early years – they used to rehearse in what is now the Bush Hall, but back then it was a bingo joint – they sat down to spin through 50 years' worth of rock'n'roll anecdotes (Daltrey and The Who at Woodstock, pictured below).
Daltrey is 73, and though you wouldn't say he looks half his age he's in remarkably good nick, mentally and physically (even his hair seems to be authentically his own). Perhaps it's because back in 1967 he took the advice of San Francisco's LSD guru Owsley Stanley, purveyor of bespoke psychedelics to the Grateful Dead. Stanley told him to keep away from chemicals – including his own Purple Haze product – and just stick to "the weed". Where many of his contemporaries ended up as addle-brained casualties, Roger marched boldly on, more fond of a pint than STP, smack, quaaludes or what have you ("I was in a band with three alcoholics," he pointed out).
With the aid of some deliciously atmospheric archive footage, particularly effective in evoking the mid-Sixties America that so dazzled the young Who, the programme amounted to a brisk history of the band's golden years, taking in their landmark appearances at California's Monterey Pop festival (where Jimi Hendrix nicked some of Pete Townshend's best guitar pyrotechnic stunts) and 1969's Woodstock, where Daltrey suddenly emerged as the bare-chested, golden-curled Rock God in excelsis as the sun rose over Max Yasgur's farm.
Eagerly egged on by Johnson (pictured below with AC/DC's Angus Young), who evidently regards Daltrey as some kind of patron saint of rock frontmen, the latter refashioned The Who's history with some vivid yarns and a nifty turn of phrase. Townshend's guitar-smashing, he reasoned, "was like the ritual slaughter of some mythological animal" (though, as ex-roadie Bob Pridden explained, the instruments had to be lashed back together with glue and tape before the next gig). Townshend himself "was always off in the clouds and if he felt like it he'd speak to you, and he seemed to be always in a mood." The band's pioneering progress through the USA was (said Daltrey) "like the first wagon trains that went across America".
Some of the themes were familiar, but Daltrey added extra detail to the one about how drummer Keith Moon drove a Lincoln Continental into a hotel swimming pool, and thrilled again to the way groupies used to come tumbling out of wardrobes everywhere they went (though "you can 'ave too much of it," apparently). He was particularly informative about the way hoteliers greeted Moon's arrival with ecstasy, since every time he smashed up a room The Who paid for the damage in cash, and then the hotel would additionally claim on insurance. "When Keith Moon was alive, obviously we had a contingency for hotel damage," confirmed the band's manager Bill Curbishley, in a rare screen appearance.
Johnson started to get a bit emotional on the subject of rock'n'roll casualties (not least AC/DC's Malcolm Young, now suffering from dementia), but Daltrey was philosophical. "You forgive them all their sins and just remember the good bits," he reflected. "We've had a life of privilege, Brian. We've been lucky, old son."