Stoller Hall Opening, Chetham's School of Music, Manchester |

reviews, news & interviews
Stoller Hall Opening, Chetham's School of Music, Manchester
Stoller Hall Opening, Chetham's School of Music, Manchester
New performance venue christened with a high-spirited weekend
Chetham's student quartet test the new hall
The opening of a new concert hall offers two options for opinionizing: the venue itself – or the performances in it? Review the acoustics – or the music? It has to be a mixture of the two, in the end.
Chetham's School of Music, in
Manchester
, has just celebrated (and seen opened by HRH Prince Edward) its £8.7m Stoller Hall – a state-of-the-art, 482-seat performance venue in the heart of Manchester, right next to Victoria Station.
It's been constructed, "box in box" style for perfect sound insulation, inside the main new Chetham's building erected in 2012. The missing ingredient on that previous opening day was the main auditorium at the heart of the original plan, accessible from the outside world like any other, but also part of the educational facilities of the UK's largest specialist music school. The first thing to be said is that it gives central Manchester a resource it has needed for some time: a smallish (but not tiny) venue ideal for chamber music and recording. Those purposes are being emphasized from the outset, and rightly.
The acoustic is adjustable by using mobile sound-absorbent banners, and though the permanent stage cannot take more than a pretty large chamber orchestra and piano (they have their own Steinway D), there is an extension which will allow for a full symphony orchestra when raised up from floor level, though it reduces the audience capacity. (It would also make a nicely springy dance floor, judging from walking on it in its "normal" seat-bearing position, though maybe that will never be put to the test).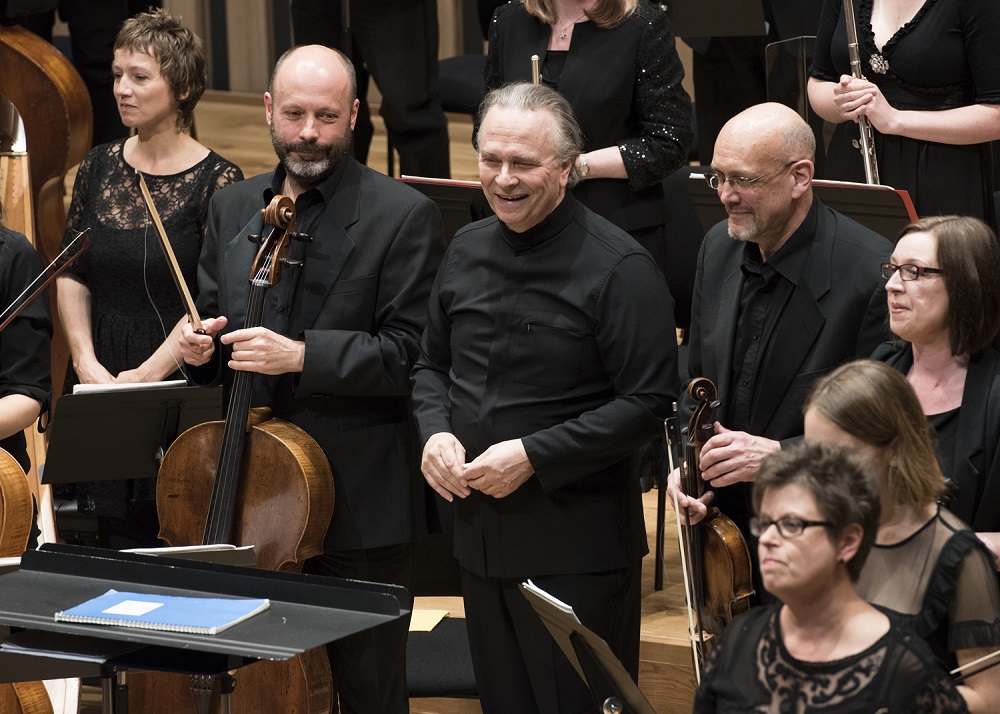 The sound of the Navarra String Quartet was the first chamber music to be officially public in the opening weekend, as they played Schubert's Quartettsatz, Beethoven's Opus 18 No 1 and Shostakovich's Fifth Quartet. In its undampened state, the acoustic was very bright – absolutely clear and if anything slightly over-sympathetic to the higher end of the spectrum. (It's tempting to view things like a hi-fi freak twiddling bass and treble response knobs, and I must admit I wanted to turn the woofer up a bit – but the acousticians tell us they wanted to avoid the sound being "boomy", so that explains the impression somewhat). Sitting upstairs in the small balcony for the second part of the programme, I found the wooden stage and back wall gave a more even spread: I wouldn't be surprised if those 45 seats become the ones everybody wants to have).
As for the performance, the Navarra – a Manchester-formed quartet – played their Beethoven first movement in graceful and genial style, with flashes of fire and fury showing through; their Adagio sensitive and with an appealing cello voice; and their finale working up to a fine peak of emotion just the right side of hysteria. In Shostakovich the slow movement held us in its spell, with technically superlative long, vibrato-less, sustained notes, and the finale was passionate and completely engaging in its self-revelation.
Young musicians of the 10 Greater Manchester boroughs came together for a specially written opening piece called City Always Being Rebuilt, by Michael Betteridge, as the first public orchestral music in the Stoller Hall. It was a reminder that the hall is there for the young and their music as much as for the established professionals, and proved that the acoustic is a match for bigger sounds and wraps them in real warmth.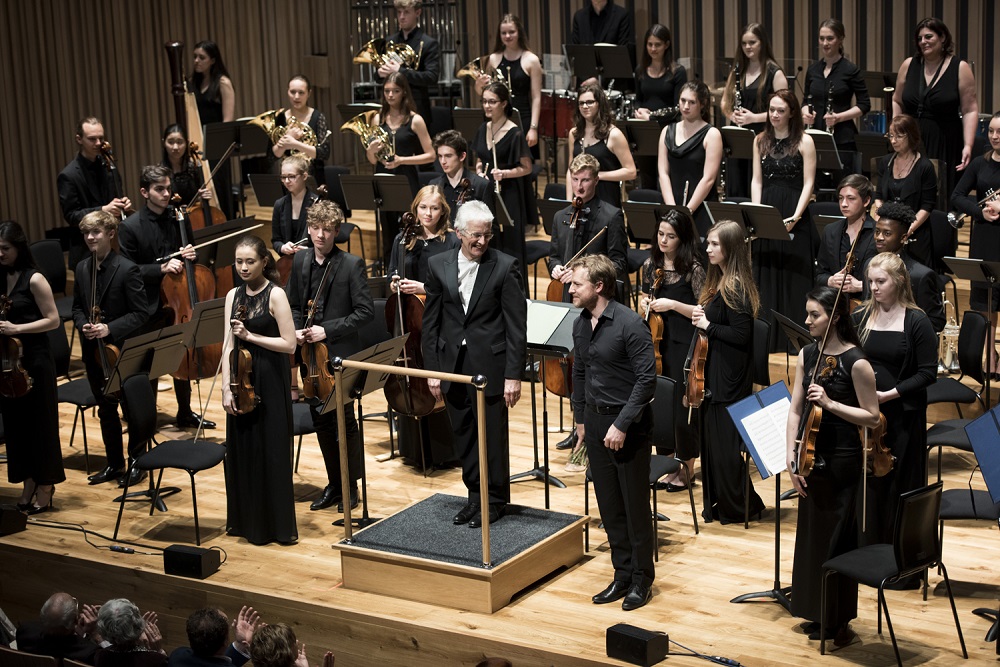 The grand, royal Opening Celebration Concert had two bodies of players: first Chetham's Chamber Orchestra, conducted by their director of music Stephen Threlfall (pictured above), and with Manchester Chamber Choir and guests. Former Royal Northern College of Music principal Edward Gregson wrote them a Fanfare for a New Era, using the balcony to position a solo trumpet on high and answering it with groups of brass and percussion on stage. With the sound absorbers in position, the hall could amply handle that kind of amplitude and thrill with its immediacy.
Samuel West was the ideal narrator for Henry V: A Shakespeare Scenario, containing much of Walton's film music within 30 minutes and combining it with purple passages from the text: triply appropriate as it was St George's Day, also the Bard's birthday, and the music came from one of Oldham's most famous sons – another being philanthropist Sir Norman Stoller, whose foundation donated most of the money for the new concert hall.The Chetham's players made a very splendid job of this, with a subtly voiced string choir for "Touch her soft lips and part", a skilfully balanced full ensemble sound and a highly effective finale, tautly controlled by Stephen Threlfall and confidently played.
Kitty Whately, a Chet's alumna, was soloist in Brahms's Alto Rhapsody, her rich, strong voice quality coming over with beauty and the young orchestra adapting well to the sumptuous writing. Another former student, Paul Lewis, was soloist with the afternoon's second orchestra, a specially formed gathering from the Hallé, BBC Philharmonic, Manchester Camerata, Northern Chamber Orchestra, Chet's own staff and students and others, conducted by Sir Mark Elder (pictured in first image above)and led by Adi Brett. There was an immediate impression, hearing what would have been judged in a large hall to be a relatively small ensemble, that – even sitting on the next-to-back row of the stalls – this acoustic delivers the music as if every hearer is in the conductor's shoes. It's an exciting experience and one worth sharing.
In Beethoven's Second PIano Concerto the Steinway sound was crisp and resonant, and Lewis's interpretation thoughtful and stimulating as always (the pianist pictured above), with some interesting experiments in resonance, provoked by Beethoven's enigmatic instructions, at the close of the second movement. A celebratory, energetic mood pervaded the Rondo.
The last work was Ginastera's Variaciones Concertantes – an inspired choice, as it spotlights many orchestral sounds and their creators, contains the personnel required within reasonable limits for a small stage, and finally delivers a gloriously latin rhythmic punch, apt for a party. Elder was in his element, drawing playing at times as evocative in its way as Walton's tenderest moments, and at times as high-spirited as the occasion warranted. Quite so.
The acoustic is a match for bigger sounds and wraps them in real warmth
rating
Share this article